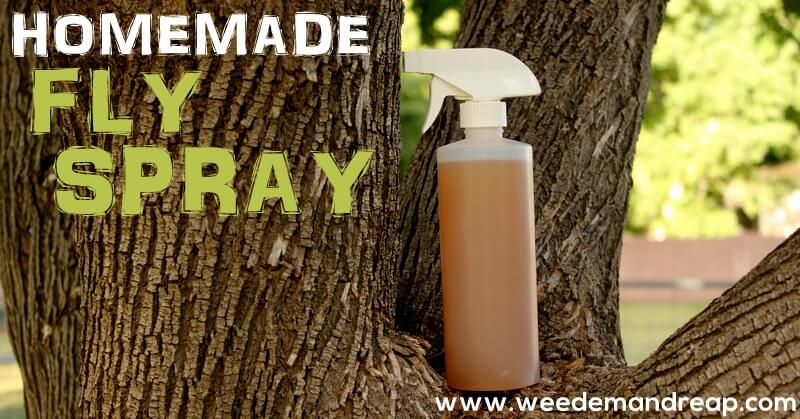 This homemade fly spray recipe is the bee's knees.
But it doesn't keep away bees. At least I don't think it does.
Anyway, I don't care about bees right now. Here in Arizona, we are currently under attack from flies. And it's my homemade fly spray that has come to the rescue.
You've never known frustration until you've tried to milk a goat while swatting away a swarm of flies. Now, we don't have swarms of flies, but they are buggin' us. If you are having an real infestation of flies, try these natural remedies to get rid of flies. Ours aren't quite as bad as all that, but they're still annoying.

Most fly sprays contain chemicals up the shiz, and as much as I love the convenience of those sprays, I don't like to spray chemicals on my animals. Not even on my meanest goat. No, I shall rise above such things. We like to raise our animals humanely and holistically no matter how much they try to kick over the milking pail, knock over their food, scream bloody murder for no reason, or give us dirty looks. even though that last one breaks my heart. Sigh.
I learned how to keep things natural on the farm from my friend, Jill Winger of The Prairie Homestead. She incorporates some great practices and natural products to keep it nice n' natural on the farm. If you think about raising food right in your backyard, you need those animals to be chemical-free. That's the only want to be sure your food is chemical-free.
When it comes to insects, especially flies, it's good to use a homemade fly spray with no chemicals. And BONUS, making your own is cheaper than conventional sprays!
This Homemade Fly Spray uses a combination of apple cider vinegar and essential oils, because I'm all natural and stuff.
Essential oils are the oils found in the bark, stem, root, and leaves of plants. They are 50-70 times more powerful than herbs. So yeah, a couple drops can go a long way.
Homemade Fly Spray Recipe
1 cup of apple cider Vinegar (here's where I buy apple cider vinegar)
1 cup water
20 drops of the best repellent blend, called TerraShield. It's a mix of essential oils that are best for repelling pests!  
TERRASHIELD OIL   ADD TO CART (free shipping)
What the heck is the Repellent blend? Well my friend, I shall tell you. It's a blend of the essential oils Skimmia Laureola, Catnip Plant, Amyris Bark, African Sandalwood, Cabrueva Balsam, Wild Orange Peel, White Fir Needle, Cedarwood, Citronella Herb, Eucalyptus Leaf/Stem, Hawaiian Sandalwood, Genet Absolute, and Rose Flower in a base of fractionated coconut oil.
I mean, you could buy all those essential oils separately and all. But ain't nobody got time for that! I have goats to milk and blog posts to write!
Directions: Mix both ingredients in a 16 oz. spray bottle. Spray 2-3 times per day on your animal, avoiding the eyes. Spray right before milking to deter flies and stop that dang animal from kicking. Keep the spray stored in the fridge.
Easy as 1, 2, 3.
This is why I love essential oils. They have so many uses and they are extremely effective in what they do. I love 'em so much I want to marry them. Sorry, husband. Scoot over and make room for these essential oils.
I especially love the smell of Terrashield. It smells like a combination of vanilla and a tropical rain forest to me. I've never been to a tropical rain forest, but that's what I imagine it would smell like. Just livin' the dream over here, smelling an essential oil bug repellent blend and pretendin' I'm on vacation.
Other ways I use the Repellent blend:
I  mix the Repellent blend in a spray bottle with water, and I've got the perfect bug spray. Mosquitoes can't stand the smell. Bye bye, ticks. I love it.
I use that same spray bottle and spray around the doors of my home to keep out roaches, ants and spiders. Although I don't mind spiders, they eat other bugs. Which is awesome.
I use that same spray bottle and spray on the shelves of my pantry to keep away weevils.
I mix 20 drops of the Repellent blend in my favorite natural garden pest control solution to keep away aphids, caterpillars, slugs, and snails in my vegetable garden!
I rub 2 drops of the Repellent blend on my dog's collar to keep away fleas, ticks and chiggers.
BONUS: If your kid gets lice, or if it's going around the school, you can use 5 drops in a regular shampoo to support a healthy scalp.