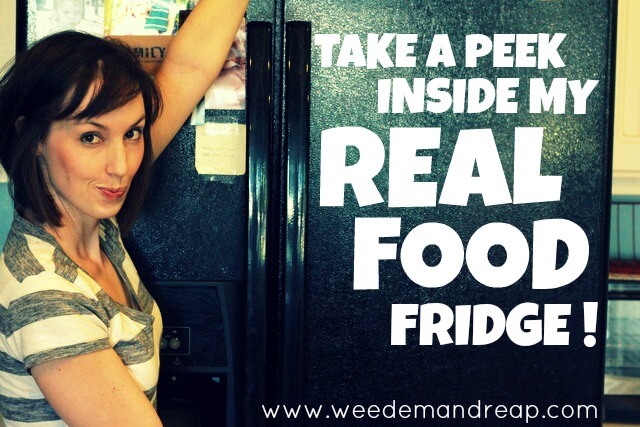 Not gonna lie, I'm a bit nervous showing ya'll the actual insides of my fridge!
Naturally, I scrubbed it top to bottom, removed the mysterious sticky drippings from the bottom & hand washed each shelf. There's other things I found at the bottom of my fridge, but it's so disgusting I can't bring myself to tell you. It was gross, ya'll. Nothin' like a showing your fridge to thousands of people to get you to deep clean it!
So I guess I should say thank you for motivating me to do something I should have done months ago.
Now, before I show you what's lurking behind those big black doors, let me just say that my fridge looks a lot different depending on the season. When I say "season", I don't necessarily mean Summer, Fall, Winter, or Spring. I also mean, the "Seasons of my Life". Sometimes, I'm rocking the homemade mommy role and I make everything from mayo to mozzarella cheese from scratch. Sometimes, I just don't have the time or the energy to be super mama, and that's okay. Lucky for us mamas, there's a lot of GREAT, HEALTHY, ORGANIC products out there to fill in the gaps for us. Instead of feeling bad about not being perfect, I feel glad that I can support companies who are trying to make a difference in this world full of GMOs (affiliate link), BPA, & Artificial everything.
So, without further adieu, I present to you….
My Real Food Fridge!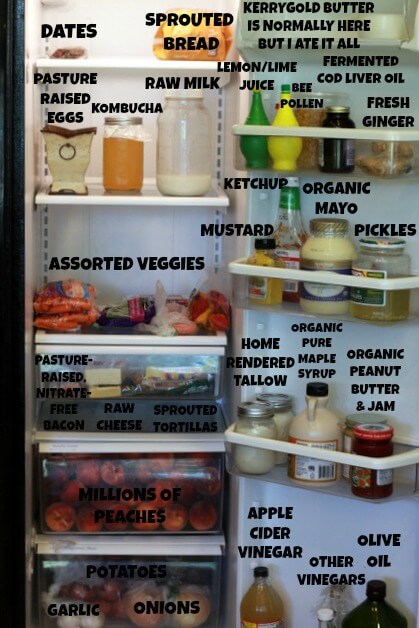 Let's start from the top and go down…
Sprouted Bread is a great alternative when we're out of my soaked homemade bread.
Love Butter. Seriously love it. I buy the Kerrygold brand because it's grass-fed and the closest thing to raw butter, which isn't readily available in my area.
Our Pasture-Raised Eggs come from our own chickens. They yolks are a deep orange, full of pasture-raised goodness. We feed our chickens an organic, soy-free grain blend plus they eat grass and hundreds of bugs.
Kombucha is my favorite drink. It's my alternative to soda pop, and it rocks my world. It's a great probiotic as well. You can learn about kombucha health benefits here.
Our Raw Milk comes from our own goats that we milk every morning. Unfortunately, we're at the end of the season and low on milk. Lucky for us, Lacey our goat is due any day (with triplets!) and her milk couldn't come any sooner. Of course we'll have to wait a bit to let her babies get some first, but after that we'll have milk coming out our ears! You can read more about my guide to raising goats here.
Over in the 1st door shelf we've got some Lemon & Lime Juice on hand for those times when fresh lemon & lime isn't to be found. We've also got some bee pollen, and my favorite supplements, Fermented Cod Liver Oil (yes, the kids eat it too) and fresh ginger (aka my natural anti-inflammatory).
On the 2nd shelf, I like to keep Organic Condiments on hand for those times I can't make any homemade condiments myself. Did you know that you can make homemade condiments and turn them into a super-powered probiotic? See some of my favorite recipes here.
For our Veggies, we usually stick to the basics – carrots, snap peas, peppers, tomatoes, etc. We really try to eat seasonally, and so we're holdin' off because in just a month, our fridge will be packed with produce from our garden.
Below the veggies is my favorite drawer. Bacon, Cheese, Tortillas. What could be better? We make sure to spend more money on bacon that comes from pigs that see sunlight and that isn't chock full of nitrates. We also like to eat raw cheese and buy tortillas that are sprouted. My own tortilla recipe rocks, though. Homemade tortillas are usually my 1st choice.
Over on the 3rd door shelf, I've got Home-Rendered Tallow, which means, I bought beef kidney fat and rendered it down to tallow. It looks & tastes a lot like lard. Read why I eat traditional fats here & here.
Next, I've got some Organic Pure Maple Syrup – this is where I buy mine (affiliate link), along with some Organic Peanut Butter & Organic Jam.
Back to the middle we've got millions of Organic Peaches (I like to buy fruit in bulk and eat off that for a month) and below that are some Organic Potatoes along with onion & garlic.
The last shelf on the door is Apple Cider Vinegar, a staple I use in soaked recipes – this is where I buy mine (affiliate link), other vinegar, and of course, Olive Oil.
What's your fridge look like? Are you rockin' the homemade style or have you found some great real food products?