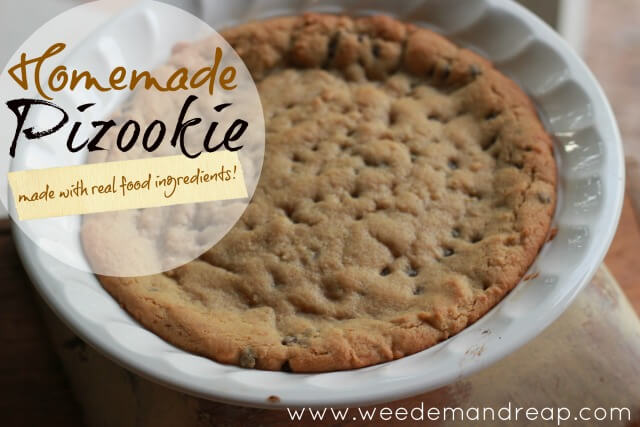 My husband has a weakness. And that weakness is Pizookies.
The man loves 'em, I tell ya'. He just can't get enough.
He has a fever…
and the only prescription is…
well, more Pizookies.
I can understand the appeal. Soft, gooey slightly under-cooked cookie dough, with a nice big scoop (or two) of vanilla ice cream on top. Very delicious, I'll admit, but personally, I'm a pie girl. Pie is my happy place.
After I had my son, my mom made me one huge pie. I could have kissed that woman. The pie was delicious served warm, delicious served cold, & delicious with or without ice cream.
Shut your pie-hole, DaNelle! Let's get on with that pizookie! Okay, okay, I'll stop gabbin' about pie. Did I mention that pie my mom made me was apple? And that it was bigger than a pizza? Okay, moving on.
Today's recipe is all about turning an allegedly "unhealthy" dessert into a healthy one. Now, I'll probably get a few comments that say something in my recipe isn't healthy. And that's okay I guess, if you want me to salmon-slap you. It's not like I'm claiming this is the most nutritious, nutrient-dense food ever, I'm just saying now you can eat dessert guilt-free.
And that, ladies & gents, is freakin' something to celebrate.
So celebrate the fact that you can eat a guilt-free pizookie by, well, making this here pizookie.
Homemade (guilt-free) Pizookie
Makes one mutha pizookie
(Fits a pie plate. 'Cause they don't make pizookie plates. 'Cause pies rule)
1/2 c. of softened unsalted butter (1 stick) or 1/2 c. of coconut oil
1 1/4 c. unrefined cane sugar or coconut sugar
1 tsp. real vanilla
1 egg
1 c. whole wheat flour or spelt flour or sprouted flour
3/4 tsp. salt
1/2 tsp. baking soda
1/2 c. chocolate chips
Directions:
1. Cream butter & sugar, then add vanilla & egg.
2. Add flour, salt, & baking soda and lastly the chocolate chips.
3. Press into a pie plate & bake at 325 for 20-25 minutes. You'll want it slightly under cooked, so you can enjoy it in a delicious gooey mess, complete with a couple scoops of ice cream on top.