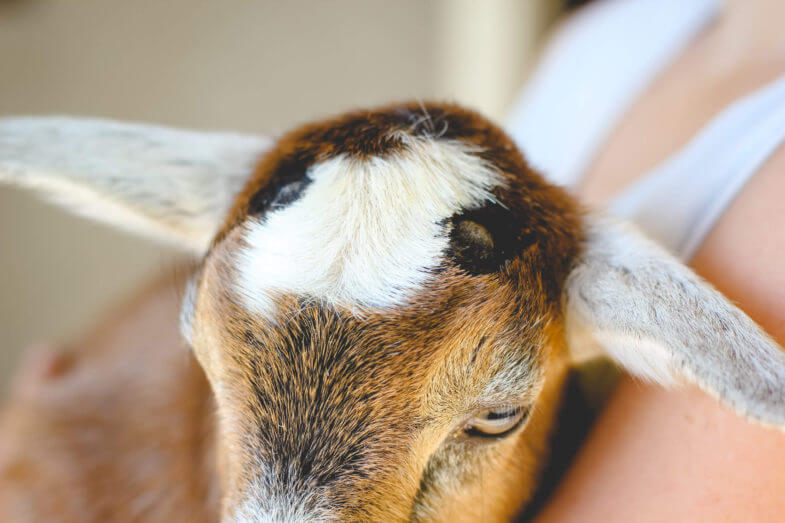 Can you actually stop horn growth with clove oil?
That was the question I had when my friend Angela from Parisienne Farmgirl shared this new research with me.
It seemed impossible. Goat horns are tough little buggers. And the old method (which involves burning the newly formed buds) was working fine for us, though to be honest, it's the worst part of our job here.
When it came to this new clove oil disbudding method, I have to admit, I was intrigued.
Raising goats with horns can become problematic. They continually get caught in fences, and can harm/kill other goats as well as humans.
Imagine, not having to put your goats through pain, but also be able to have a safe no-horn goat farm. Would it really work?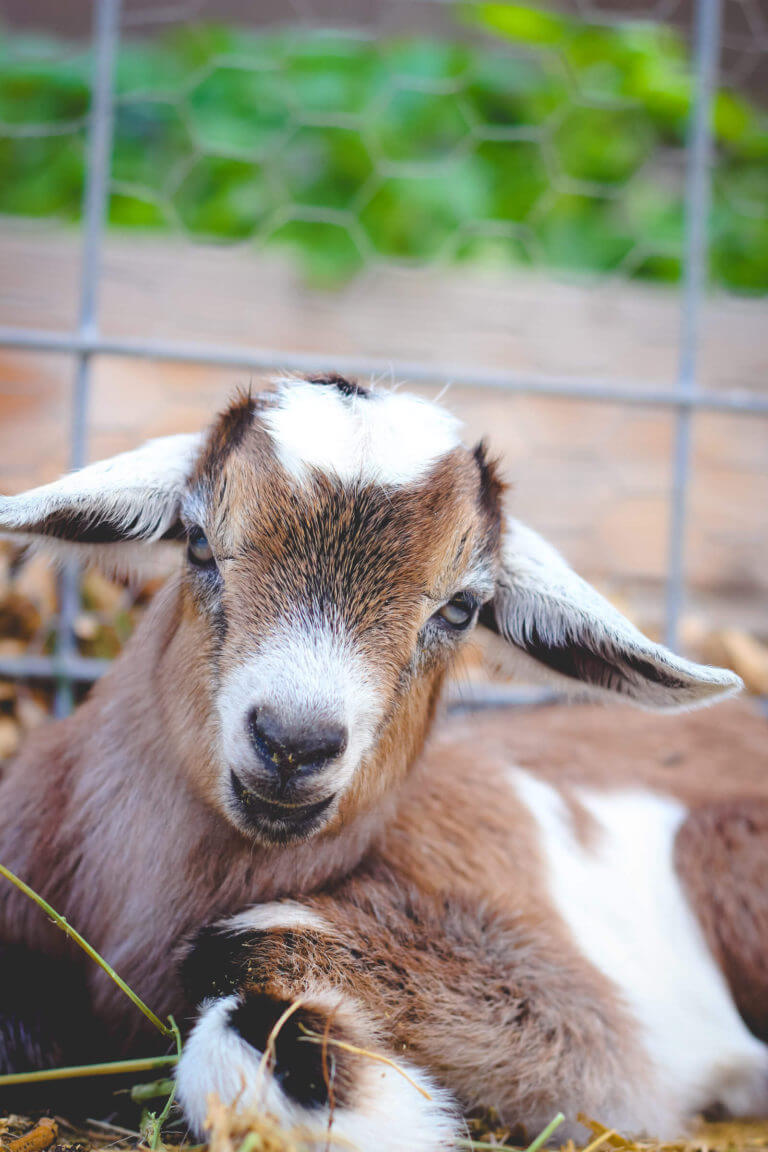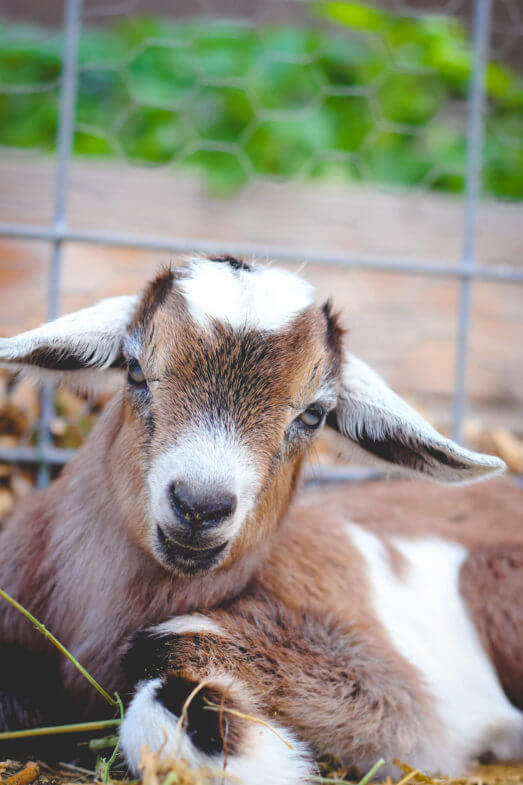 Boy, let me tell you, you guys. I held off on writing this post for a LONG time. I needed to really test out this theory and study the science thoroughly before I presented it as a viable option to people who are looking for a more natural way to raise goats without horns. Now I'm happy to show you my research and personal experience with this method!
The science of disbudding goats with clove oil
In 2014 in Iran, a study was performed using clove oil to disbud goats and published in a Veterinary Research Forum. The results showed 100% success in stopping horn growth before it even started. The clove oil was injected into the horn bud parallel to the skull; it was not applied topically to the bud.
"Histopathological study showed that injection of clove essence caused complete necrosis of epidermis and underlying dermis with collagenolysis in horn bud tissues, 5 days after injection and then progress in healing process was observed after 10 days. According to the results of this study, it can be concluded that the injection of clove essence is an effective method to stop horn growth without any undesirable effects on clinical parameters in goat kids." (source)
During the study, only the left horn was injected with clove oil while the right was injected with saline only, to serve as a control. Every single left horn did not grow, while the right horns all grew to normal length.
Sounds pretty amazing, huh?
The only drawback was that this study included ONLY injections. There were no results of a topical application.
Why does clove oil work so well?
Clove essential oil is distilled from the stem, bud, or leaves and has high amounts of Eugenol. Eugenol at very high percentages can be corrosive to tissues. When clove is made into an essential oil, the percentage of Eugenol is rather high (around 85%). There are other plants that have Eugenol in them when distilled into an essential oil but are a lot lower. (Basil – 15%, Cinnamon – 10%, Jasmine – 3%, Ginger – 1%)
It's the high percentage found in Clove oil that does the job in effectively stopping cell growth within the horn base.
For everyday home usage, Clove is usually diluted before applying to reduce the strong compounds found in it. According to the Essential Oil Safety book, by Robert Tisserand, Clove essential oil is safe for human & pet topical application at a dilution of 0.5% (1 drop of oil in 2 tsp. carrier oil – like coconut or olive oil) We keep clove essential oil on hand for a natural mouthwash, clear skin, and for home cleaning. We don't dilute it when during this disbudding method.
Which Clove oil do I recommend?
The general consensus is to find a brand that will provide you with a GCMS report and that has around 80-85% Eugenol. I used doTERRA's clove essential oil and had successful results. CLOVE OIL ADD TO CART (free shipping)
There are lots of great essential oil companies, and I truly believe if you feel another brand is best you need to stick with your gut. For me, it came down to which worked the best. I tried a few different brands but doTERRA was the oil that I could get the best results overall whether I was using clove for dehorning or lavender for sleep. That spoke volumes to me about their purity.
How to remove goat horns naturally with clove oil
A group of "goat disbudding with clove oil" enthusiasts created a facebook group and started to try out this method. You can join the Clove Oil Disbudding Facebook Group here, though be aware, you need to read the FILES section of this group before asking any questions.
Because we only had the study as our experience and a few vets to ask advice, we had to come up with our own protocol in using this method.
The method:
Amount to inject: The original study used 0.2mL for full size goats. This amount has caused significant swelling on the smaller dwarf goats. 0.1mL has been tried on the smaller goats and seems to work. 0.05mL on Nigerian Dwarfs appears to not be enough as horns grew in those goats. It is important that enough oil is injected. The original study was done on goats that got to about 66lbs. You should adjust your amounts as you feel. Some people have gone back and done a second injection if they see horns starting. (YES, this seems like a tiny amount, but it is correct)
Size of needles to use: Lots of people in the group were using the standard 18 or 20 gauge needles, but I really wanted to use a smaller size for this injection, so I searched around and was able to find 22 gauge needles from Tractor Supply. (I purchased the 22 gauge x 1 inch needles with syringe)
How to inject: This group has done both single location injections and multiple location injections. Below the horn bud, into the horn bud, and subcutaneously at the horn bud. It seems to be one injection site is the way to go as the oil will leak out of the previous injections sites. The angle at which to inject is VERY IMPORTANT! You want the syringe to lie parallel with the skull. Injecting straight into the bud is dangerous because underneath it lies the goat's sinus cavity and if you inject past the bud into that, it could cause respiratory issues and even death, and you risk more issues if your oil is not the best quality. Many people from the group had a vet or vet tech assist during this injection. I felt comfortable doing this myself from my experience in nursing school.

Which brand of oil is best? The general consensus is to find a brand that will provide you with a GCMS report and that has around 80-85% Eugenol. I used doTERRA clove essential oil and had successful results. My opinion on the matter is that the purity of the oil MATTERS. There is a lot of adulteration in the essential oil world and synthetic compounds can produce complications. doTERRA's essential oils were recently found to be completely pure by an Essential Oil Consumer Reports facebook group.
CLOVE OIL ADD TO CART (free shipping)
At what age should I inject?

The original study says 2-5 days old. They did it at 5 days. I, personally, think that to get the right ratio of oil to horn cells it should be done as early as you can. The older they are, or the larger the horn bud, the more cells there are to reproduce, and the more chance the clove oil will not get to all of them, causing scurs.

Is it less painful than burning?

I, personally, would say yes. The kids certainly do not like getting poked, but it is not the same screaming that happens with burning, and IMMEDIATELY after the needle is out, the kid is acting 100% normal. There have been reports of swelling that appears to cause some discomfort in the kids for a day or two. You are removing a natural appendage on an animal, there will be no 100% painless, risk free, way to do this.

Does it work?

Yes, it appears the injections do work, though there have been both successes and failures, which could depend on the how the injection was performed. Topical has not had much (if any) success.
My experience removing goat horns with clove oil
There were a few people in the group who were wanting to try topical. Although I really wanted to go this route, I had two bucklings, and if you've owned goats before, you know that bucklings grow horns faster than doelings, because of their dominant male hormones.
I decided to inject the clove oil into the two male goats, and try topical application on the female. I also decided to inject on a day earlier than in the study.
On Day 1
I did nothing more than check their buds and assess where the starting point was. This is our adorable Nubian doeling who was sick of me taking pictures of her ?. This is a picture of her just a few hours after she was born.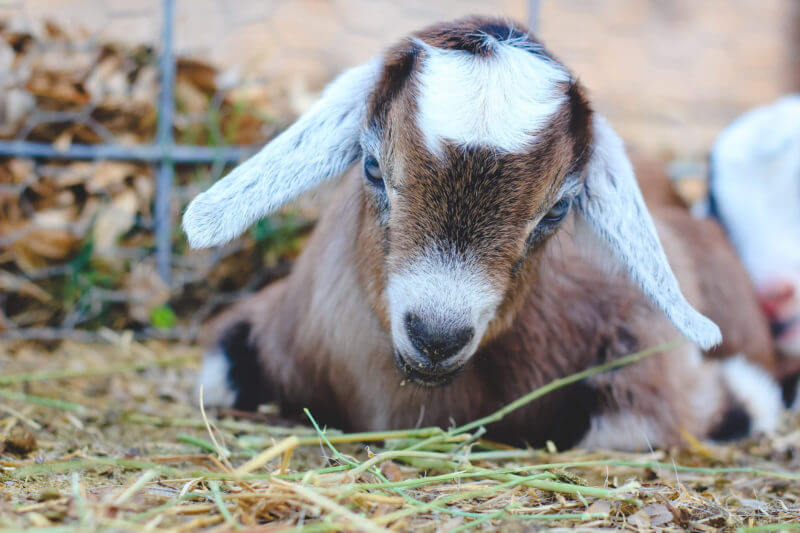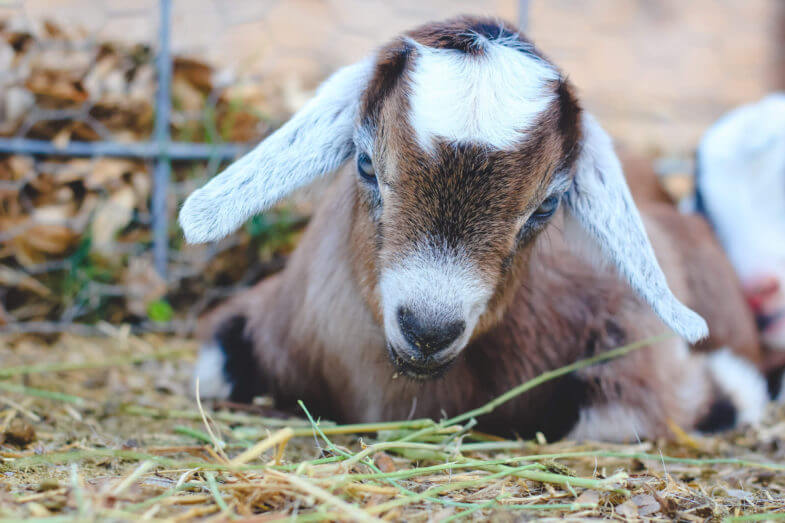 On Day 3 and 4
I decided to get a head start on all their buds and start applying the clove oil topically to every baby goat. I started off by shaving their heads so the oil wouldn't just absorb into the hair. (This was the general consensus from the members of the group)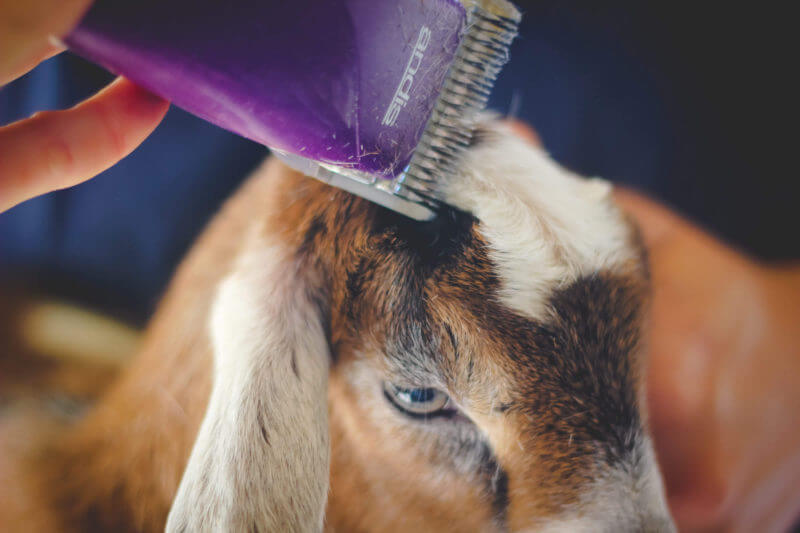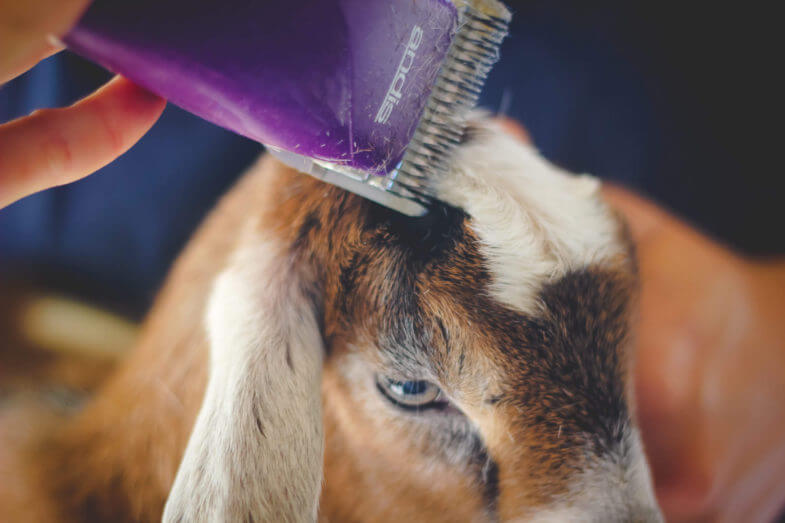 On Day 5
It was time to inject the males. I was more nervous than I have ever been with standard disbudding. I don't know why, I guess because I had seen so many people have various issues. Some tried multiple injection points and the oil leaked out. Some had the clove oil burst out of the bud and spray into their eye (eek!), so I was definitely cautious when doing this. I made sure to have protective eyewear and from my nursing experience, I knew that a little amount could go a long way. I stuck to the study's recommended amount, which was 0.2mL for a full size breed. (On a Nigerian, I would use 0.1mL) I prepped the bud by wiping with an alcohol swab first.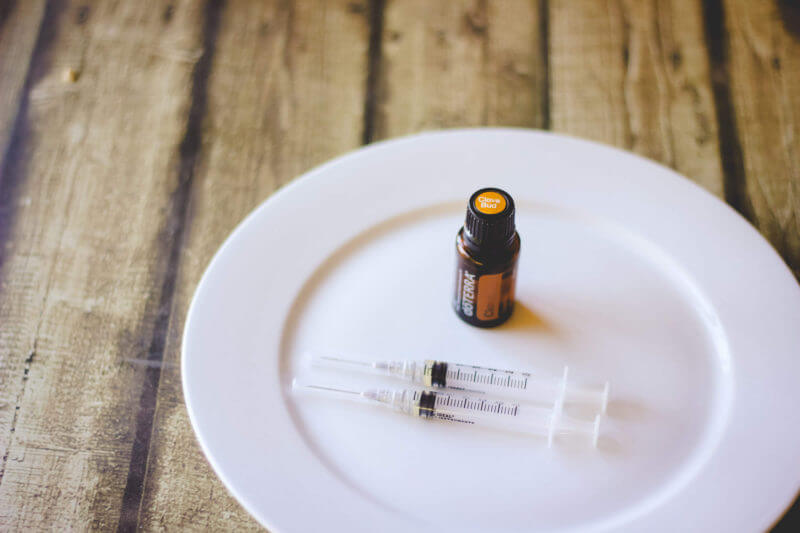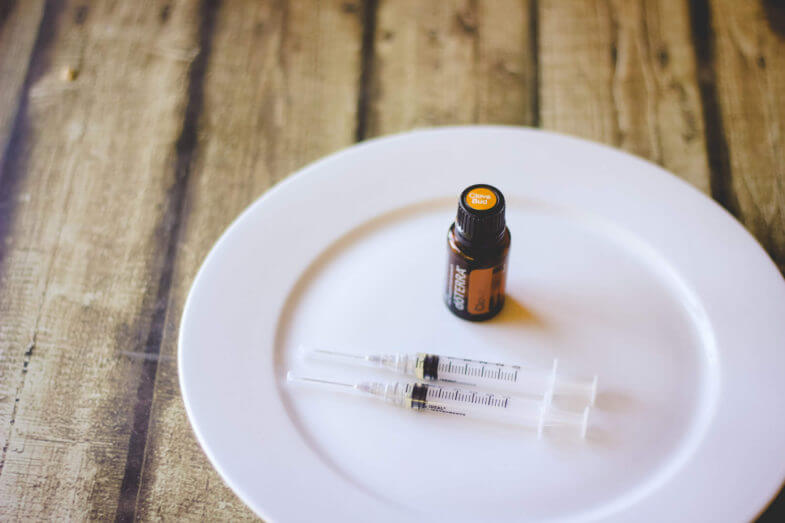 We initially thought we would place the baby goats in the disbudding holding box, but that became problematic for the injection. I wanted to inject from the behind the buds on these males, so we abandoned that idea and instead my husband just held the baby goats tightly in his arms, while my son held the baby goats head.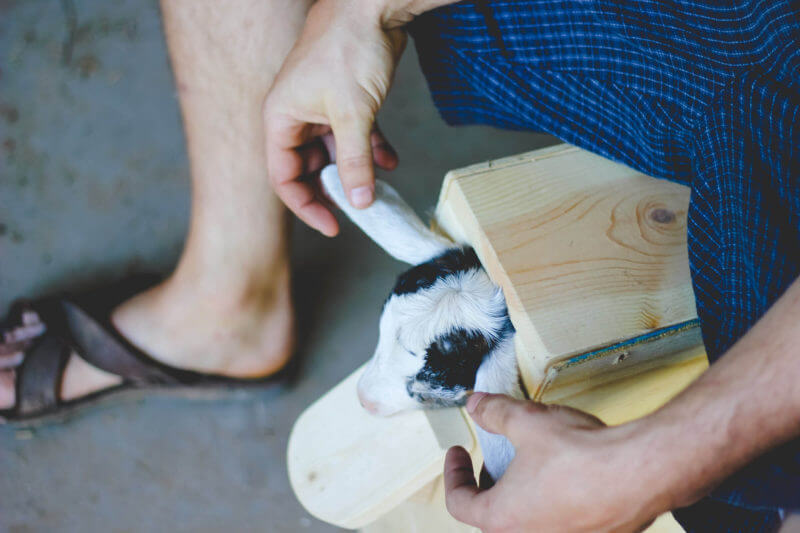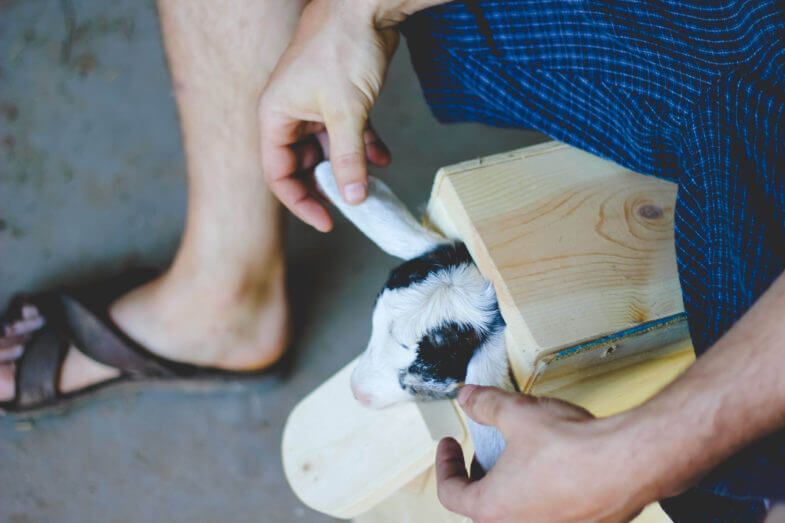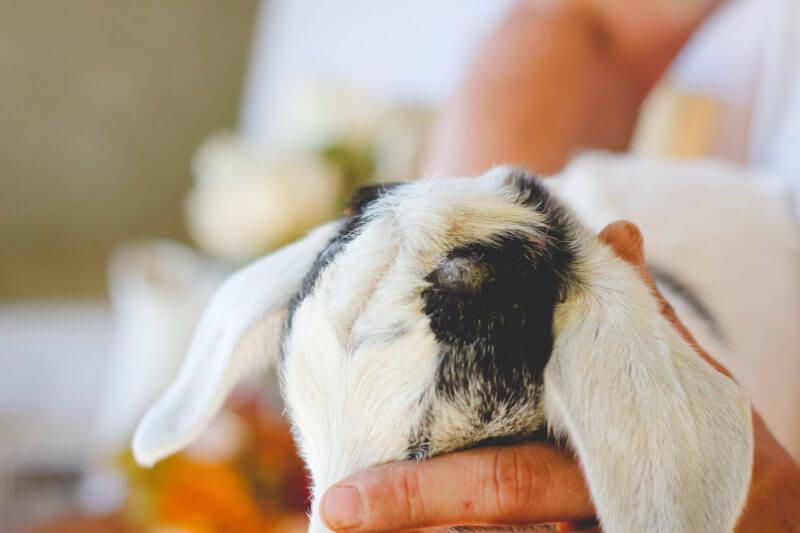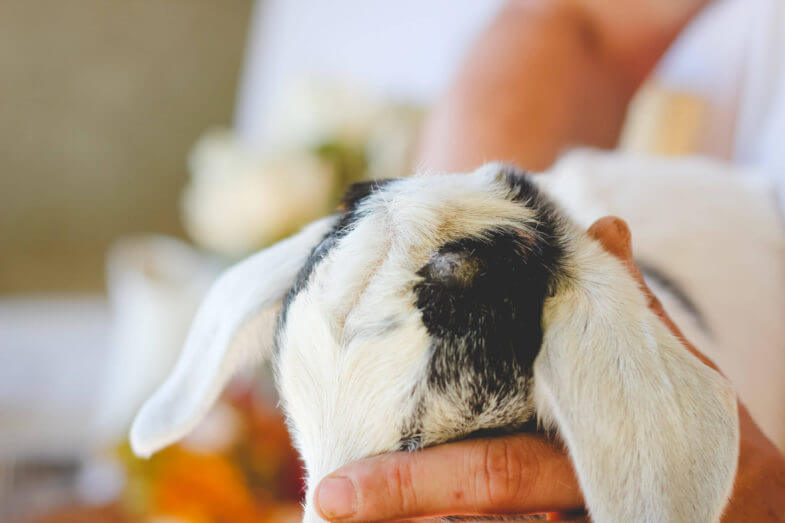 I apologize for this horrible blurry picture below! It's tough to have a kid take the picture of a squirming baby goat. (Baby goats squirm around if you try to hold them still at all, so this little guys was confused as to why we were holding him down)
I injected from the back the best I could and it seemed to go well except for his squirming. Compared to disbudding with a hot iron, this seemed really similar in his reaction (he let out a good yelp when I injected) but then he calmed down right away. Not much different than anybody receiving any kind of injection:)
In hindsight though, I wish I would have put him in the holding box and done the injection from the front. I think that would have made a less squirmy goat and a more accurate injection.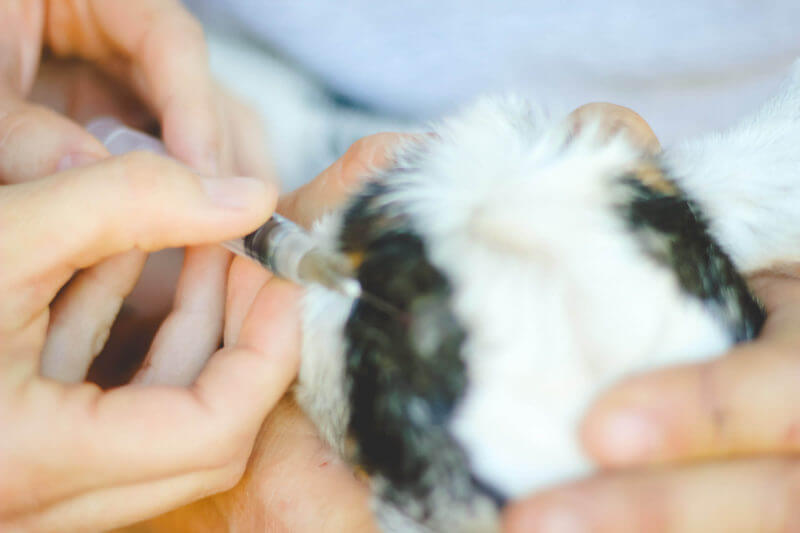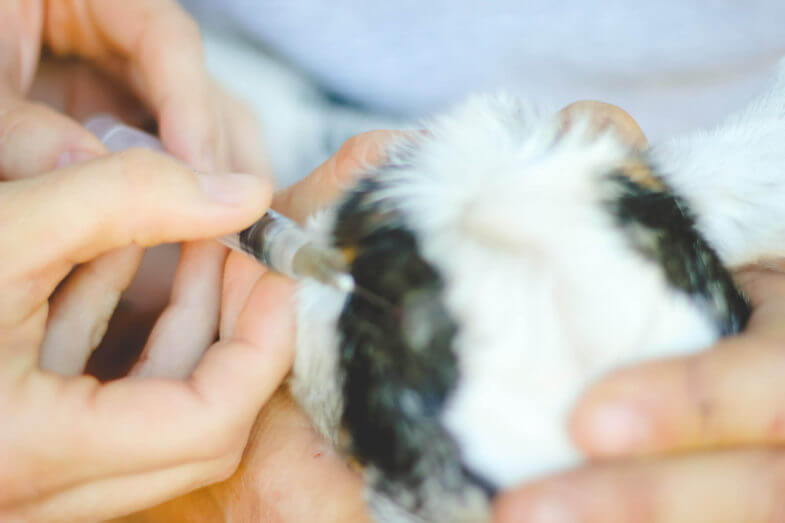 We did the same exact method on the second male. He was less squirmy but that's because he's a sweetheart:) Ah, goats. You come with all sorts of different personalities, don't you?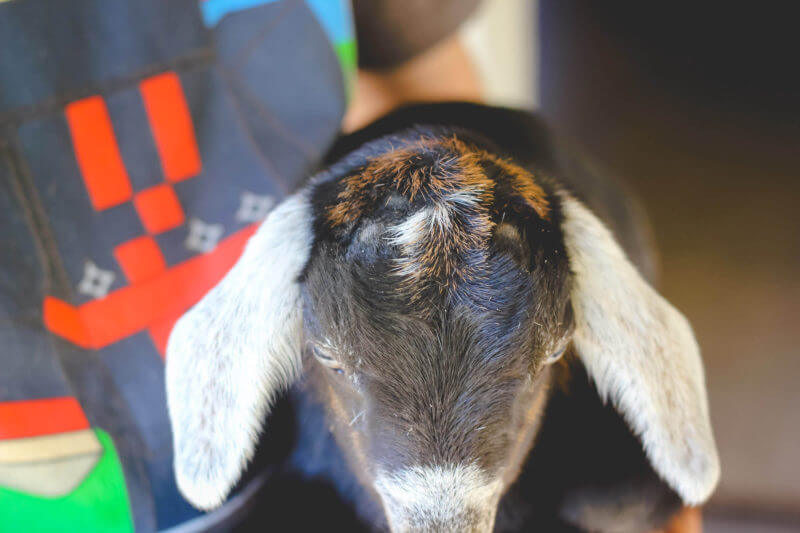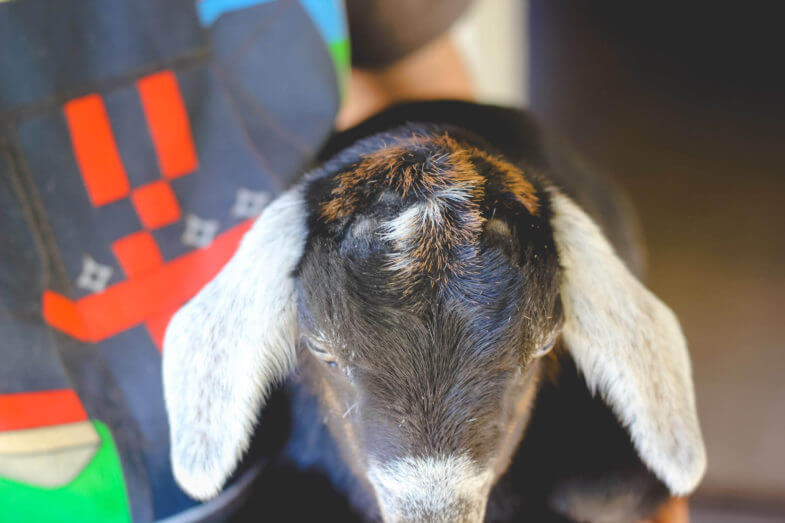 For the female, I continued to apply topically from Day 3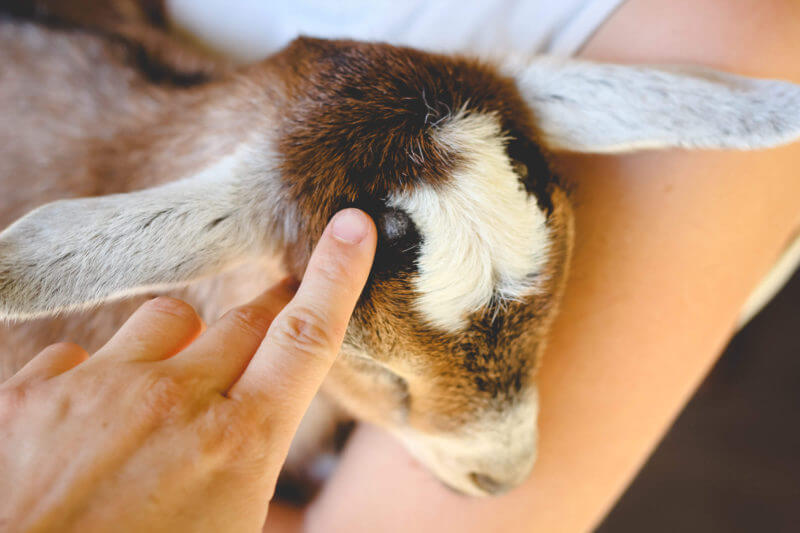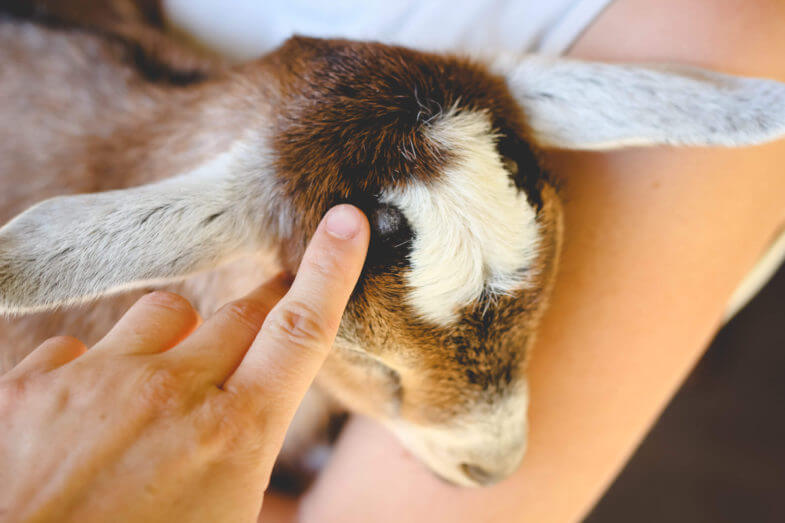 That's pretty much it!
The results of my clove oil disbudding
Just to review, we injected each male's buds with 0.2mL clove essential oil on Day 5, and applied only topically to the female's buds from Day 3-14. When I applied topically, I simply had somebody hold her and I let 2-3 drops from the bottle drip directly on her buds, then I rubbed it in with my finger.
The mother of the goats didn't reject the babies from the smell, though I was careful not to get it anywhere near their behinds as I know mothers typically sniff in this area while a baby is nursing to determine if it's their baby. I also let Luna sniff the bottle of Clove towards the end of her pregnancy to get her used to the smell just in case she had an issue with her babies smelling like it — she didn't.
On the males that I injected, the horns stopped growing. On the female, hers continued to grow, but at a very slow pace.
When the babies were about 4 weeks old, I realized a bigger mistake of mine. I was planning to sell these goats. We weren't going to keep any to raise to adulthood, so I was caught in a conundrum. Would the new owners be okay with this method? Could I advertise them as "disbudded" goats? Hmmm. That was a tough one for me to figure out. I decided to leave it up to the new owners.
In the end, each new owner prefered a "real disbudding" with the hot iron, so we obliged. One thing was pretty amazing though! Since the buds on the males were as small as a 1 week old's, I could disbud them with an iron at an older age with no problem. Also, when we disbudded the males with the iron, they didn't hardly make a peep or act like it hurt them. And when I cut the bud off after the initial burn, it was a very pale white underneath and no blood whatsoever, which is very uncommon in male goats. So, I truly believe these buds were successfully halted in growth by only the clove essential oil.
For the female, by day 14 we knew the buds were too large and the topical simply wasn't going to work and that we were going to need to hurry and disbud with the iron, which we did.
Words of caution & advice
Just like any kind of disbudding, there are risks involved. The primary risk is if you inject at an angle that will introduce clove oil into the sinus cavity, it will cause swelling, pain, and possible death. I've seen this happen in the group and it's incredibly sad. My opinion on the matter is that the purity of the oil MATTERS. There is a lot of adulteration in the essential oil world and synthetic compounds can produce complications. doTERRA's essential oils were recently found to be completely pure by an Essential Oil Consumer Reports facebook group.
If you don't have a medical background, I'd highly suggest having a nurse, vet tech, or vet assist with this procedure. Although the needle is long, you are only inserting it maybe a 1/4 of an inch into the bud, no more. It's a very small amount that you insert and a very small amount of clove oil that you inject, but it takes understanding of goat anatomy and knowhow with injections to properly do this method.
Also, the age of the baby goat matters. Somewhere between Day 3-5 is best and if you wait further, the success drops dramatically. I applied topically to all starting on Day 2, then injected on Day 5.
If you'd like to see more results from people who have tried various methods, or to ask questions, I urge you to join the Clove Oil Disbudding Facebook Group here.
Which disbudding or dehorning method is right for you?
You may want to try this method, the old method of disbudding with an iron, or you may not want to remove the horns from your goats at all. I firmly believe that a goat owner needs to do what feels right for their situation. There's no pressure to be like anybody else, only to take care of your animals in the best way possible. I hope this tutorial helps those who are interested in learning more about their disbudding options, whether they do it this way or not:)