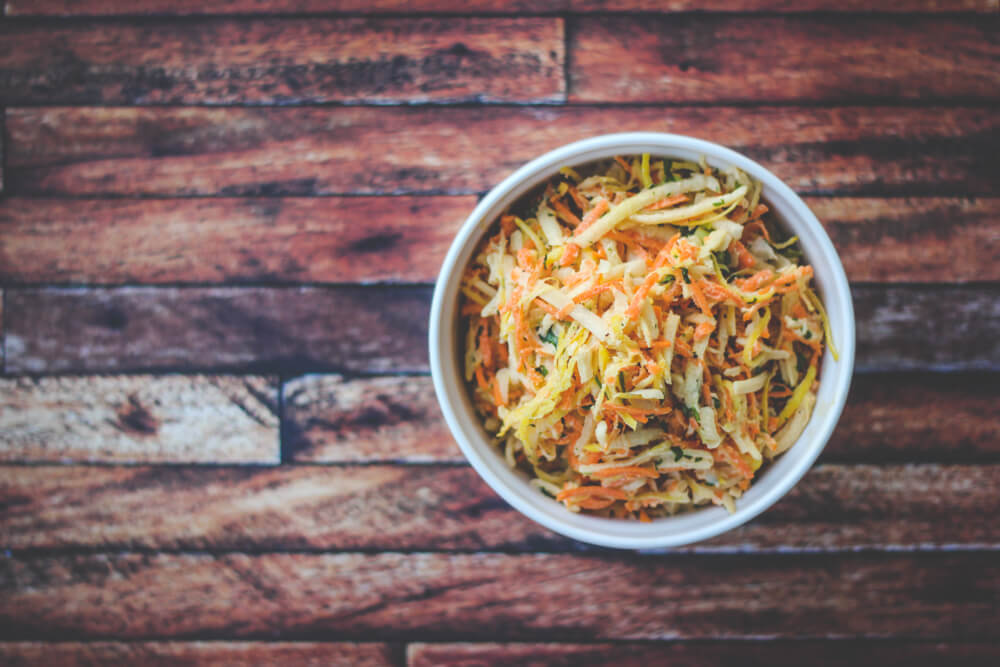 What do you do when you've got cabbage haters in the house?
You make jicama slaw, that's what!
I feel like jicama is that forgotten introvert friend who quietly sits on the couch during parties.
"Oh there you are, Jicama! How could I have forgotten about you!"
If you're not familiar with jicama, it's a root vegetable that can be eaten fresh. It's got a crunch & texture like an apple, but it's not sweet in any way, and it's 100% awesome.
Jicama is a great replacement for cabbage and actually, our family just voted and then decreed that from now on our household shall henceforth only eat jicama. Cabbage shall be thrown out into the streets for good. Jicama slaw is all we shall know.
Did you know that jicama is a great prebiotic? A prebiotic fuels the beneficial bacteria in your gut. So, while probiotics help colonize your intestinal tract with good bacteria, prebiotics are special compounds that feed those bacteria buddies.
What makes a great Jicama Slaw?
Jicama is such a refreshing vegetable, that you really need to add bright flavors to the dish to compliment it. I think what makes this dish so great is the cilantro. Cilantro makes everything better, am I right? For this dish, it adds the perfect amount of bright flavor & freshness. Enjoy!
Shredded carrots are a must in any slaw, so they go perfectly in this set up as well. I considered adding zucchini, but I forgot to get it at the store, so it had to be left out. I'm glad I didn't add it, though, because zuchinni would have been a bit limp and we want this jicama slaw fresh, bright, and crunchy, don't we?
The last star of the dish are golden beets. Hear me out on this one. I know what you're thinking, "Beets in a jicama slaw?! Blasphemy!" Oh, but just you try it! Golden beets are mild in flavor and give a big boost to the nutritional content of this slaw. Don't leave it out!
To shred it all as quickly as possible, you can use a veggie shredder or just take a veggie peeler and go to town.
How to prepare Jicama
When you start prepping the jicama, you're going to be reminded of that time you tried to slice fresh butternut squash and you bent your knife and said a few choice words.
This will not be like that time.
The best way to prepare jicama is to first peel it, then cut it into smaller pieces, about 1/2 inch thick. After that, you can use a veggie slicer or shredder to get your jicama all shredded. No choice words necessary.
Jicama Slaw Recipe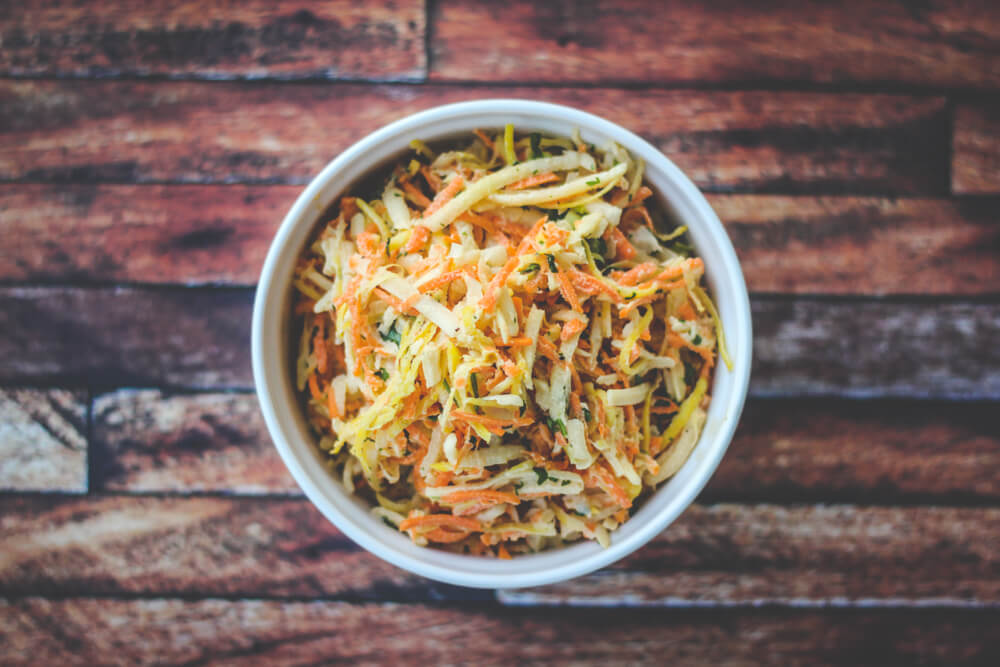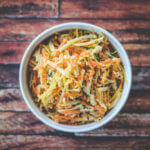 Jicama Slaw
A fresh, bright side dish with the perfect amount of crunch!
Print
Ingredients
Jicama Slaw
1

large bulb of jicama

, shredded

4

large carrots

, shredded

1

golden beet

, shredded

1

bunch diced green onions

1/2

c

minced cilantro
Instructions
Combine shredded veggies & cilantro in a bowl.

Mix dressing ingredients in blender and pour over slaw.