.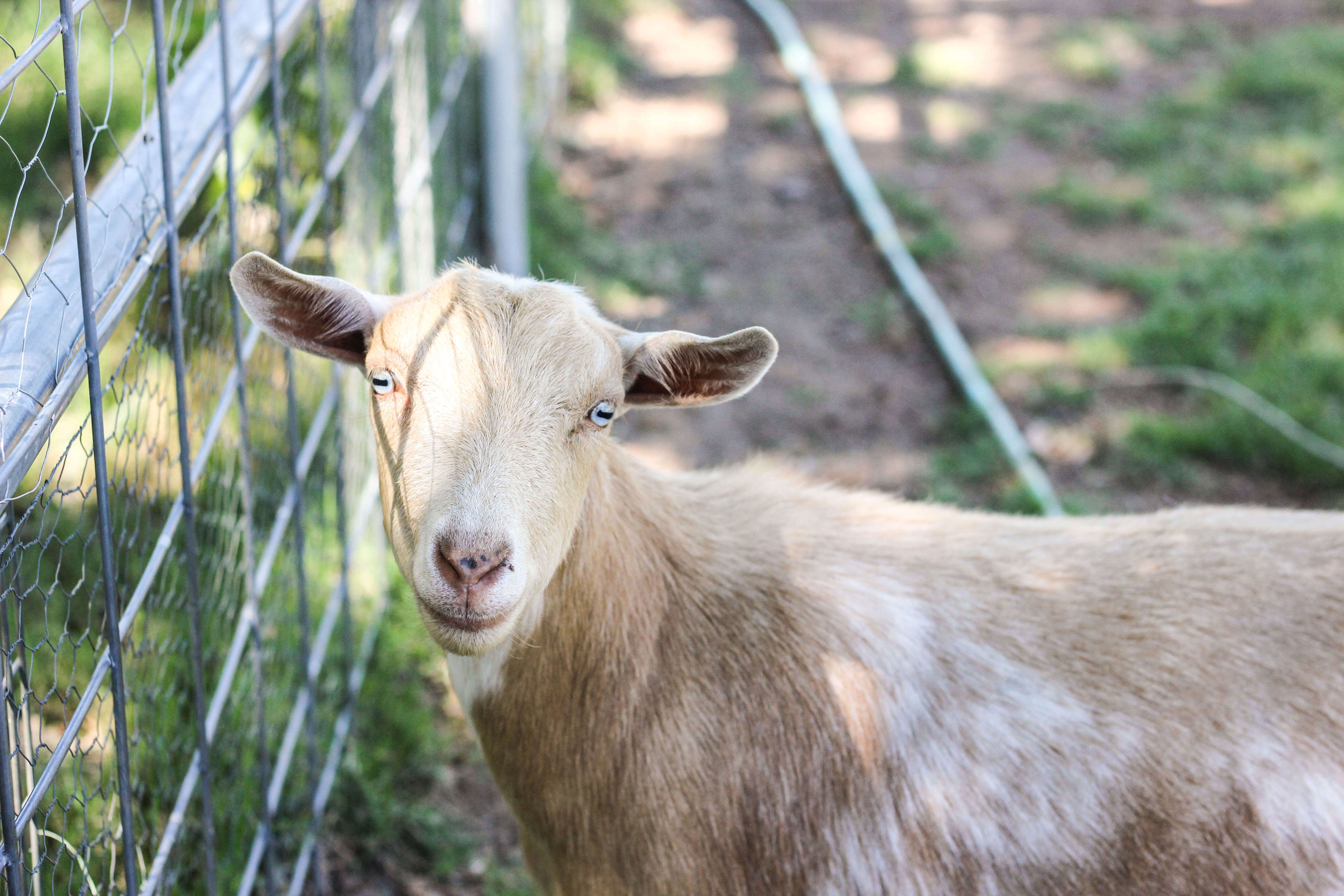 Goat vaccinations.
It's a touchy subject. Geez, just vaccination in general can spark strong emotions no matter which side you're on. I've found that when it comes to goat vaccinations, you'll most likely lean towards how you vaccinate yourself. Whether you decide to use goat vaccinations or not, there are risks you take. My job is to go over them with you and help you make a good decision for your herd of goats.
Why are selective about our vaccinations
Upon the advice from our vet we only vaccinate for the CD&T every year, and you'll see why in my explanation below. Most of the time your focus should be on keeping a healthy herd, and then utilizing vaccines if you notice a problem on your farm or area. We have a very small herd of goats (5) and we try to maintain our herd with the best health practices possible. We also keep our goats' immunity high by feeding an organic diet, feeding very little grain, treating holistically with herbs, etc.
Risks of Vaccinating (& not Vaccinating)
The reason we vaccinate is to avoid disease, correct? And in avoiding disease, we hope to save lives. If you can commit to treating your goats holistically to help them build strong immune systems, your chances of losing life is very low.
Warnings on Vaccination Labels
One thing people often overlook is the warning to avoid slaughter within 30-60 days after giving the vaccination. Don't forget this also means milking your animals. If the animal isn't healthy to eat, surely the milk isn't healthy to drink. Be aware before you drink milk from a recently vaccinated animal.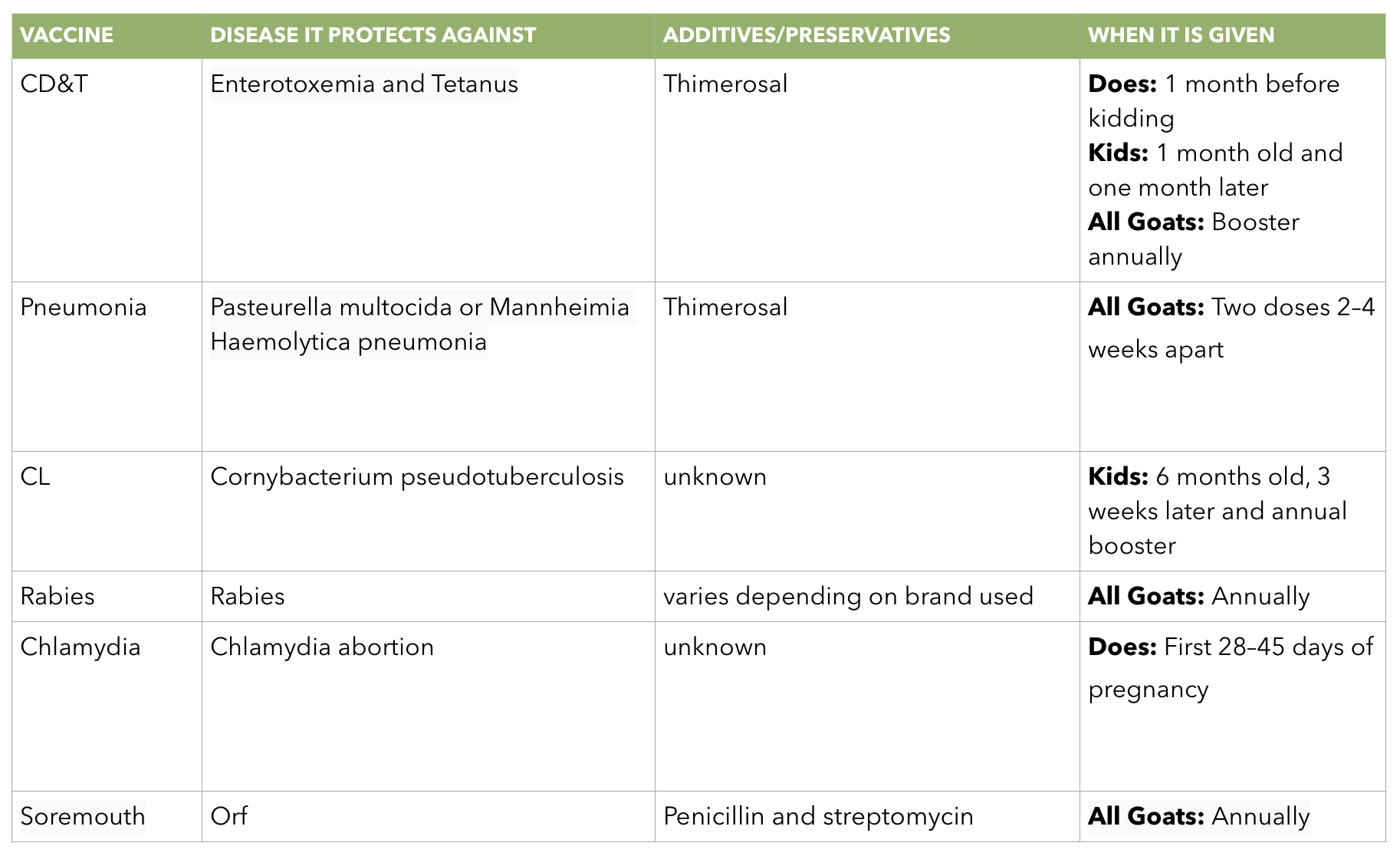 Goat vaccinations: What you need to Know
CD&T
This vaccine treats two different diseases — enterotoxemia (also known as the overeating disease) and tetanus. This vaccine was originally designed for cattle & sheep so it's not very effective for treating the disease in goats because the goat's immune response to the vaccine isn't as successful as it is in cattle & sheep. With this vaccine, the recommended booster is every year, though some people have resorted to every 6 months because of the poor effectiveness of the vaccine in goats. In my experience, every goat I've heard of who's died from tetanus had been treated in the last year — so just know giving this vaccine isn't going to give you 100% effectiveness. (You can buy the vaccine here.)
PREVENTION TO AVOID CD&T or MANAGE IT
Enterotoxemia is an overeating disease. Eating foods that are too rich causes an overgrowth of bacteria. To avoid enterotoxemia, gradually change the diet. Don't feed too much lush grass or hay, don't feed grain at all or very little, and make sure your grain bins are locked away to prevent a break in from your goats. Tetanus is a disease that is not only on rusty nails, it also lives in the soil, and with a goat's nose in the soil frequently, you can guess how this disease is contracted. If you choose not to vaccinate, you can keep the Tetanus anti-toxin on hand, which can instantly reverse the tetanus disease.
PNEUMONIA
Pneumonia can happen if the weather changes too fast, before the lungs can adapt. More specifically, this happens when the weather changes from hot to cold overnight. This is more commonly seen in sheep than goats, but there still is a risk with goats. If you live in an area where rapid weather changes happen, you might want to consider this. We had one sheep die from pneumonia on a night where the temperature dropped drastically. Of all our sheep, he was the most coddled from birth — after his mom rejected him, then needing to be nursed back from an infection. He just never was quite as healthy as the others. (You can buy the vaccine here.)
PREVENTION TO AVOID PNEUMONIA or MANAGE IT
You can get a weather app on your phone to alert you when the weather drops below a certain degree so you can be sure to provide warm shelter on a night like that. Sheep tend to avoid shelter and they often sleep out in the open. Goats, in my experience, will look for shelter in cold or rainy weather. Having a good barn or shelter + keeping track of weather changes is a good way to prevent pneumonia. Keep antibiotics on hand in case your goats contract it, or go the holistic route with herbal remedies.
CL
This vaccine is to prevent Pyogranulomas/Caseous Lymphadenitis. This is a bacterial infection that can collect in the lymph nodes and spread to other organs. It can be contracted and spread by both goats & sheep. Your goat will become emaciated and seem to not be able to keep on weight. When this happens, you'll want to rule out CL or worms/lice, which can also be a cause of weight loss. They will also reduce in milk production. Goats contract CL through oral pathways, and if you know goats, you know they are constantly licking, chewing, and sniffing out their environment. (You can buy the vaccine here.) The big drawback of administering this vaccine is that your goats will have the antibodies to it and you'll need to inform your baby goat buyers that ever CL blood test will come back positive.
PREVENTION TO AVOID CL or MANAGE IT
Keeping a closed herd is important to avoid CL, as goats contract it from other goats/sheep. Before you purchase a new goat, make sure are CL-free. If your goats on your property don't have CL, then you should be able to avoid the disease completely. Unless you show your goats or take them elsewhere for breedings and expose them to other goats. In those cases, you increase your risk quite a bit of exposure. Natural treatments include separation from herd, and using natural herbal remedies like HerBiotic Salve (at any abscess site).
RABIES
There are currently no rabies goat vaccinations, but they are on the recommended goat vaccination list because of an incident in 1996. That year at a county fair in New York State, one goat was shown to have rabies and exposed thousands of people to the disease and hundreds were treated with a rabies vaccine as a preventative measure. Unfortunately, many vets will not give a rabies vaccination to goats because there is no license to do it, and they may be held liable for damages. (You can buy a vaccine here, but know this is for dogs & cats. Please ask a vet before proceeding.)
PREVENTION TO AVOID RABIES or MANAGE IT
Most people skip the rabies vaccine, or weigh their risks. They look at how rural of an area they live in and the likelihood of their goats contracting rabies from a bite from rabid animal. I know some people that keep the rabies vaccine on hand in case their goat becomes exposed. (The only circumstance I can think of is if you found a bite on your goat or had an attack on your herd)
CHLAMYDIA
Chlamydiosis causes late term abortion in goats, and it can be so prevalent in your herd that you lose every pregnancy in a year. It's transmitted from vaginal & fecal fluids. Often times, one infected goat will deliver the disease to her babies. Then those babies are sold to a new owner and the cycle continues. Killed vaccines or even Tetracyclines (antibiotics) can reduce the chance of abortion. However, both cannot prevent the transmission of it to the kids during birth. Live vaccines can prevent the transmission to kids, but it's still currently in development. (You can buy the killed vaccine here.)
PREVENTION TO AVOID CHLAMYDIA or MANAGE IT
The presence of chlamydia can be found in placenta or vaginal swabs if you take a sample just after abortion. This is done with an ELISA kit for human C. trachomatis infections. We keep a kit on hand here and so if a goat has a miscarriage, we can test for this. We've never had a goat miscarry before so we know our herd is free of this disease.
SOREMOUTH
Soremouth in goats is a lot like the Chicken Pox virus in humans. It's very contagious and causes scabs that eventually heal and provide the person with immunity from contracting it again. The vaccine for this is a LIVE vaccine. This means it will give your goats Soremouth, but it will also give them (and hopefully their kids) immunity. Most small farms do not vaccinate for this because if their goats do contract it, it's easy to manage with a smaller herd. (You can buy the vaccine here.)
PREVENTION TO AVOID SOREMOUTH or MANAGE IT
Treatment includes treating the sores, and keeping the affected goats from the others (though it might be a good idea to just let the whole herd go through it). The sores can be treated with an over-the-counter antibiotic called Gentian Blue or more natural means like herbs or homemade salves from essential oils. Also, make sure mothers are still feeding their babies. Mothers can get sores on their teats and refuse to nurse their babies. Likewise, babies can have sores on their mouths and not want to eat. In that case you will have to tube feed or drench feed until they can nurse again.
Making the choice for your Goat Herd
Really it comes down to how committed you are to caring for your goats. If you'd like to use goat vaccinations, just know that it isn't 100% effective and you need to still know about signs of the diseases. If you don't use goat vaccinations, you need to commit to not only watching for signs of the diseases, but also keep emergency supplies on hand. Have a vet you can call, and be sure to keep their food the highest quality you can get. In the end, it's about doing what's right for your location, herd number, and individual circumstances.