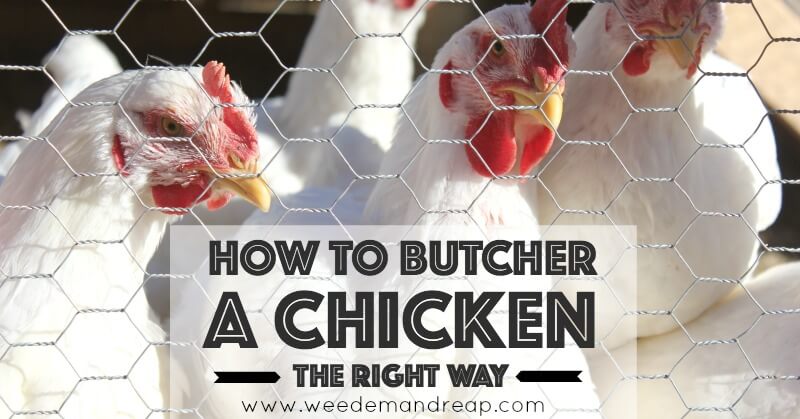 I'd be willing to bet your great-grandmother knew how to butcher a chicken.
Am I right? It might be a funny thing to say, but even though chicken is the most popular meat dish, most people today have no clue how to butcher a chicken, and they don't really understand why they need to know.
Well folks, I'm here to end that.
Today's mission?
To teach my friends how to butcher a chicken — the right way. No, you don't just grab a hatchet, chop off the chicken's head and giggle as it runs around the yard. No, you don't just grab any old chicken that's been laying eggs for years. There are some real things you need to know before you start cooking your fried chicken from scratch. And these things will not only affect the flavor of your chicken, but also prevent you from becoming ill when eating it.
The first thing to know is that there are meat chickens and then there are laying chickens. One is designed to provide a large amount of meat and one is for laying eggs. I'll let you figure out which is which. 😉 Technically, you could grab a laying chicken and butcher it, but it will not only be tough if it is old, it will also be on the thinner side, leaving you with a small amount of meat.
The second thing to know is that when you're butchering a chicken, you must be careful when you remove the guts so as not to pierce the intestines or the gallbladder, both of which could make your family ill. Don't let this deter you from butchering yourself, just learn how to do it the right way and you'll do it perfect each time!
Are you ready for your lesson? Let's begin!
Note: I posted this last night on my YouTube Channel and one of the first remarks was that this wasn't appropriate for children. Personally, I find that odd. We've raised chickens for years and my children not only help in the process, they actually kill the chickens themselves. They take their job seriously and they know the importance of doing things as humanely as possible. So with that being said, I think this is TOTALLY fine for children.