You want a freezer full of farm fresh chickens…
And you want to raise them yourself. Good for you! Every day more and more people are striving to get in touch with their food. And let's face it, raising meat chickens and butchering them all by yourself is the real deal, folks.
Before we brought any sort of chicken here on the farm, I assumed I could buy some hens, let them lay eggs for me for a couple years, then turn them into a nice roasted chicken dinner. Sustainability at it's finest, right?
Well, let's just say that ain't exactly how it works. While it's true that you can wrangle an older laying hen and turn her into a dinner, that dinner just might not be the best tasting thing you've ever had, and here's why.
"Dammit Jim, I'm a chicken, not a miracle worker!"
Here's the scoop… You've got your laying chickens and broiler(meat) chickens. While *sometimes* there are breeds that are listed as dual-purpose (meaning they can be used for both), this isn't entirely true. Laying hens have a body that is designed for laying. The best laying hens tend to be on the thin side, because all their energy goes into egg production. Meat chickens, on the other side, tend to be, well, meatier.
To get the best of both worlds, it's best to have both worlds. We raise laying hens year-round, and once a year we raise a batch of meat chickens, specifically designed to provide us with chicken meat for the year. It takes about 8-12 weeks to raise a meat chicken to maturity, while it takes about 6 months to raise a laying chicken to maturity (when they start laying eggs). 8-12 week old mature meat chickens will have the freshest tasting meat, tender & juicy. Meat chickens are the way to go if you want the best tasting meat!
What to do with old Henrietta
When your laying hens become old and have significantly reduced in their egg production, this is the time a hen can be culled, which basically means you're going to remove her from the flock and butcher her. Because an older laying hen's meat will be tough, you'll have two options. You can either use your old laying hen as a base for an awesome chicken stock, cooking it slow over 48 hours to bring out all the nourishing minerals, nutrients, & gelatin, or you can brine the meat to try to produce an edible, flavorful chicken.
How to Raise Meat Chickens: Part 1
Step 1 – Purchase baby broiler chicks.
The majority of farmers purchase meat chickens that grow to maturity in 8 weeks. 100 years ago chickens used to mature in 16 weeks, but with cross-breeding, hormone & soy feeding, chickens now reach maturity in 8 weeks.
Those of us who are more natural minded-opt for what's called 'heirloom chickens', also known as 'chickens who take longer to mature'. We purchase freedom ranger chickens because they won't mature until 12 weeks. They also come from GMO-free parents.
Step 2 – Provide Shelter & Temperature
Because baby chicks are fragile, they'll need protection from predators. Most chickens in general aren't allowed to free range until they reach about 4 months of age, so you can guess that your meat chickens will need to be protected their entire life. The solution for this is to build what's called a 'chicken tractor', invented by Mr. Joel Salatin himself.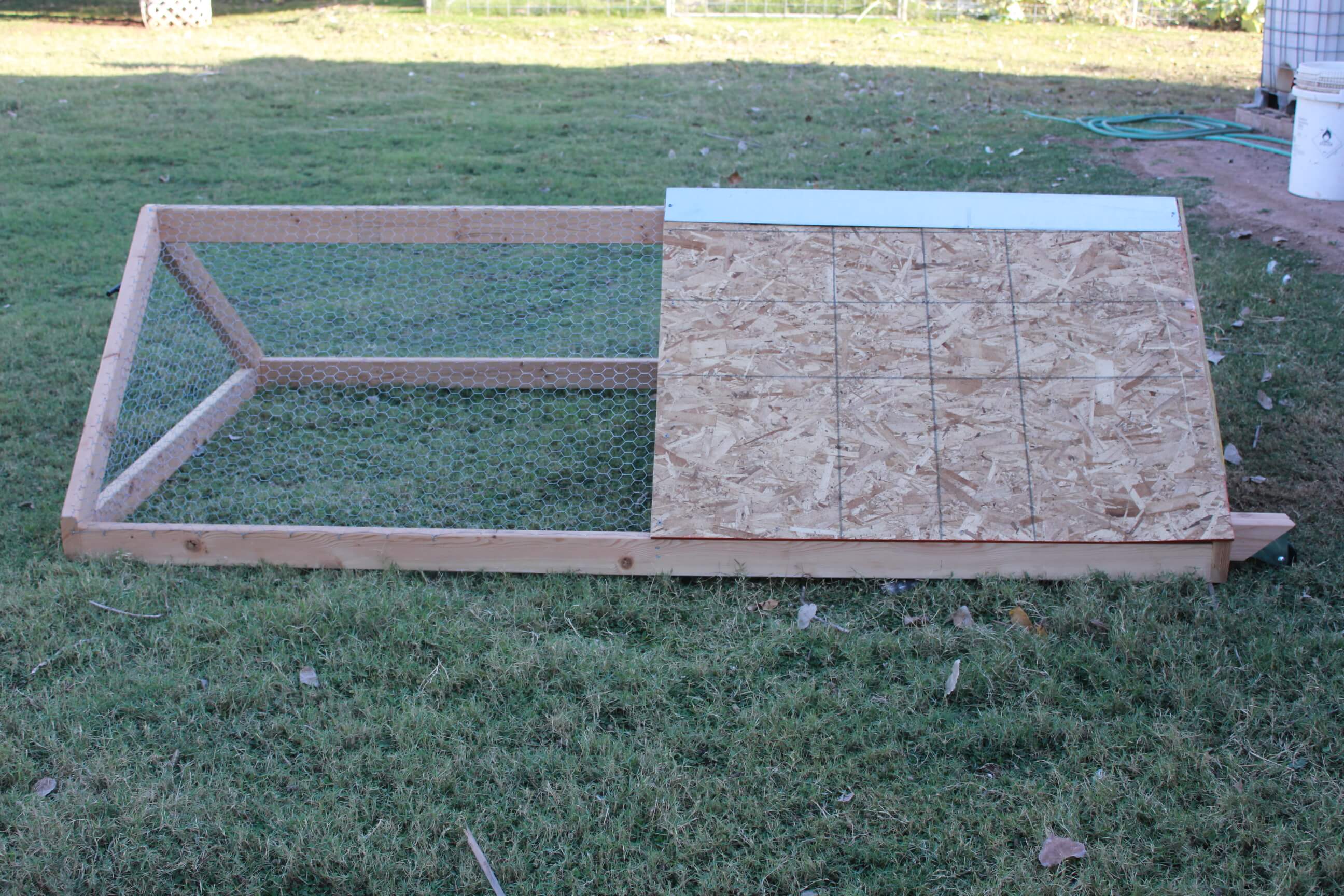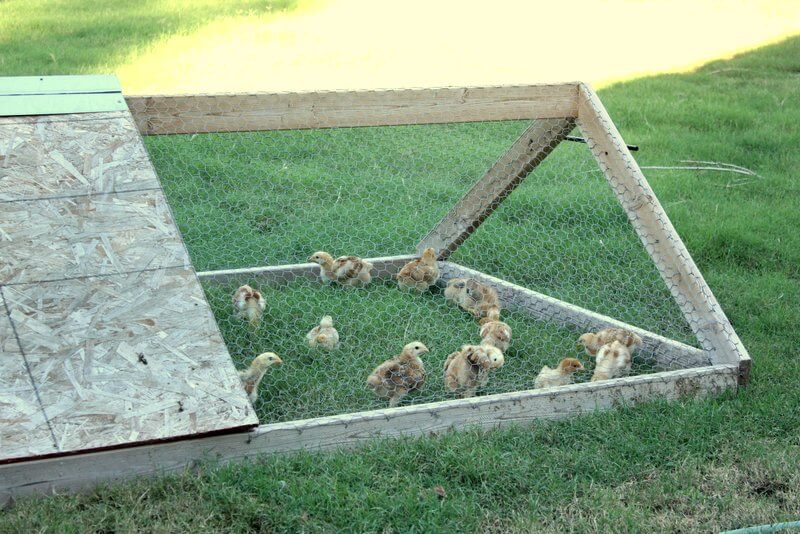 A chicken tractor is the best way to move your baby chicks to a new location every day, which will provide a clean area, new grass, and new bugs to eat. There are lots of different chicken tractor designs online, take a look around and you'll find some great plans!
As far as regulating the temperature, the amount of work you'll have to do to maintain this will depend on your location. Baby chicks aren't very good at regulating their temperature. They need 95 degrees for the first week, 90 the second week, 85 the next and so on. In Arizona, we love to raise our baby chicks in the fall. Because we are hovering around 95-100 degrees in September, we love to start raising our meat chicks in September, and as the temperature naturally cools, it naturally is the best environment for our chicks. Aside from a few near drownings in some wicked rainstorms in Arizona, it's worked out well!
If you are raising baby chicks during a cold season, you can use a heat lamp to maintain their temperature. A good way to know if your baby chicks are warm or cold is to watch your baby chicks. If they are huddled in a corner they are cold. If they are walking around they are nice and warm:)
Step 3 – Provide Food & Water
We provide free-choice food & water, which means we give our meat chickens a constant source of food & water, and let them regulate their intake. Because we choose to raise our meat chickens GMO, soy, & corn-free, we purchase our feed from Blue Sky Organics, through my local co-op here in Phoenix. One meat chicken will eat about 15 pounds of food in the course of their life (about 12 weeks), so hopefully that will help you plan ahead as you estimate how much chicken feed you'll need.
When providing for the protein requirements of a baby meat chick, most people will start with a chick starter feed (about 22% protein), then move to a chick grower feed (about 20% protein), and finally finish with a chick finisher feed (about 18% protein).
Because the only way to provide 22% protein feed is with soy, we decide to just feed our chicks on the grower for about 8-9 weeks, then move them to the finisher.
Step 4 – Watch 'em Grow
Meat chicks are pretty easy to care for from here. Make sure they have a clean environment and plenty of food & water, and they'll be good to go!