Don't be surprised if your kids go crazy over this homemade chocolate syrup recipe!
Admit it: When you were a kid, you used to sneak a swig of Hershey's Chocolate Syrup when Mom wasn't looking.
Oh, you're saying that was just me?
Liar.
Well, whether or not you are ready to confess, I think we can all agree that chocolate milk is was a childhood favorite. It was the best. Of course, the problem with store bought chocolate syrup is it contains some not-too-pretty ingredients. As in horrible ingredients that will mess with your body.
Ingredients in HERSHEY'S CHOCOLATE SYRUP: HIGH FRUCTOSE CORN SYRUP; CORN SYRUP; WATER; COCOA; SUGAR; CONTAINS 2% OR LESS OF: POTASSIUM SORBATE (PRESERVATIVE); SALT; MONO- AND DIGLYCERIDES; XANTHAN GUM; POLYSORBATE 60; VANILLIN, ARTIFICIAL FLAVOR
Gross.
Oh, but wait! Hershey's just came out with a sugar-free option. So now you can be totes healthy, n' all that.
Ingredients in HERSHEY'S SUGAR-FREE CHOCOLATE SYRUP: WATER; COCOA PROCESSED WITH ALKALI; ERYTHRITOL; GLYCERIN; CONTAINS 2% OR LESS OF: SODIUM ACID SULFATE; NATURAL AND ARTIFICIAL FLAVOR; XANTHAN GUM; SALT; POTASSIUM SORBATE (PRESERVATIVE); SODIUM BENZOA TE (PRESERVATIVE); ACESULFAME POTASSIUM; SUCRALOSE; ZINC SULFATE; VITAMIN E ACETATE; NIACINAMIDE; CARAMEL COLOR; BIOTIN
Double gross, with an extra dose of chemicals.
Just make this simple homemade chocolate syrup recipe already!
Don't torture yourself with the fake stuff. This simple, real food recipe contains just three ingredients. THREE. Each of them are whole and are ingredients your body can recognize.
Instead of sugar, I use honey in this delicious syrup. If you want to get all super-technical on me, then yes, I'll admit that honey is still a sweetener. But in my opinion, honey (especially raw unfiltered honey) is a great source of vitamins, minerals, and antioxidants. There's also a good dose of enzymes and pollen to build your resistance to local allergens. That's what I call a real food. It's been used for thousands of years, and you can read more about honey here.
It's up to you on how much of this chocolate syrup you choose to put in your milk. I allow my kids to choose for themselves because I believe in letting them use their intuition when it comes to food. Yes, in the beginning they added a ridiculous amount. But now they know that 1 teaspoon or so is perfect.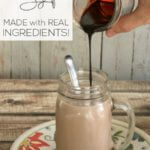 Homemade Chocolate Syrup
Making homemade chocolate syrup is easy! This version only uses whole ingredients.
Print
Instructions
Mix all ingredients in a food processor, then store in the fridge.
Recipe Notes
Will last up to 6 months in the fridge.