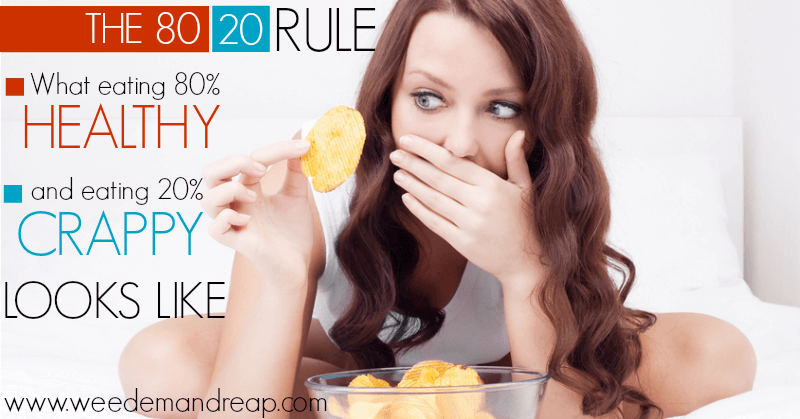 Sometimes, I eat potato chips that have been cooked in… soybean oil!
I know, I know. Despicable!
"You're supposed to be the chick that eats real food!"

"What about all those GMOs?"

"Don't you care about your health?!"

Actually, I do care. A whole heck of a lot. But over the years I've found that there's one thing even more important than eating. I've discovered that there's one thing that can make or break this healthy body of mine…
That thing's called STRESS.
Stress can come in many forms.
You've got your emotional stress, your physical stress, and your everything-else-that's-happening-in-your-life stress. I don't think any of us need any more stress, am I right?
Switching to real food really helped heal my physical stress. I mean, REALLY HELPED. "See ya' later back pain! Let's not stay in touch, mmmkay?"
But after a while of living a perfectly perfect real food diet, I found that completely 100% avoiding packaged/GMO/restaurant foods became a bit of a Debbie Downer in my life. It started to affect my emotional stress. Would it really be that harmful if I ate some potato chips at our extended family BBQ? Would I get sick from eating some CAFO meat at a restaurant? What about birthdays? Would I need to bake an organic, GMO-free cake with organic, grass-fed, and pasture-raised cream cheese frosting?
The answer is one big fat NO!
You don't have to eat 100% perfect
to experience some amazing healing
and rockin' weight loss. – Me
I mean, even Mary Poppins wasn't perfect.

That's why I live the 80/20 Rule:
80% of the time, I eat nourishing, nutrient-dense foods. 20% of the time, I don't worry about it.
So what does eating 80% HEALTHY and 20% CRAPPY really look like
First, let's look at a week's worth of eating. If you are eating 3 meals a day, 1 snack each day, and maybe 1 dessert every day, you're eating about 5 times a day. That's 35 different times every week you have to make food choices.
Whoa, man.
Okay, so 80% of the time (a.k.a. 28 times during the week) I work hard to choose real, nourishing, traditional food. That means I eat pasture-raised eggs, wild seafood, local meat, homemade broth, gelatin, raw whole grass fed dairy, grains, beans, lentils (prepared properly), organic fruits and veggies, good fats like grass fed butter, coconut oil, pasture-raised lard and tallow, and plenty of delicious homemade desserts made with real food ingredients. Because desserts deserve their own food group, am I right?
About 20% of the time (a.k.a. 7 times during the week), I chillax and eat white flour pasta and crusty bread at a Italian restaurant I love. I'll eat a couple cookies my neighbor drops off, a heaping helping of potato chips at the church potluck, a handful of fishy crackers my 2-year-old nephew feeds me, a couple slices from that loaf of bread my husband bought from the store, corn chips and salsa from my fave Mexican place, etc. It's all good.
Chillaxing about food 7 times a week doesn't mean eating 7 crappy meals a week. That's why I like to say I make 35 food choices a week. You're making 7 food choices for your 20%, not eating 7 junk-filled meals. They'll be part of a meal, a snack, or a dessert. They'll be mediocre choices compared to the choices you make 80% of the time. But they'll be loads better than eating a super-sized Big Mac meal with extra large fries and a Coke at Mickey D's 7 times a week. See the difference?
The Healthy Home Rule helps you live the 80/20 rule.
The Healthy Home Rule basically means you don't buy junk food when you go grocery shopping. If you were to take a peek in my pantry you'd see that we don't have fruit snacks, crackers of any kind, granola bars, or really any packaged snack food. We have other packaged/canned food like pasta, jarred salsa, salmon, tuna etc, but NO snack food. Period.
We don't buy ice cream, Oreos, fishy crackers or graham crackers. We eat nourishing food. If we want a snack (which most of the time we aren't, because we eat really nutrient-dense meals), we'll grab some kind of fruit, cheese, nut butter, or homemade popsicles. So delicious. And so much better than all that other junk.
The bottom line is this: Don't plan on that 20%, and don't use it as an excuse for bringing junk into the home. That 20% will come on it's own simply by living in the era that we live in. Don't be afraid of it.
Fill your life with nutrient dense foods. Experience healing. Lose weight. But don't forget to enjoy life and let go of the little things. You'll find life is more enjoyable, less stressful, and more delicious!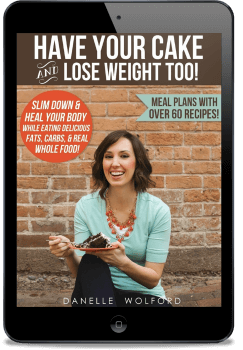 If you want to learn more about how I eat,
check out my awesome weight loss book!
OR
Click here to take a peek inside my real food fridge!
Have you ever restricted your diet too much and discovered life was more fun when it was balanced? Have you watched Mary Poppins a hundred times like me?