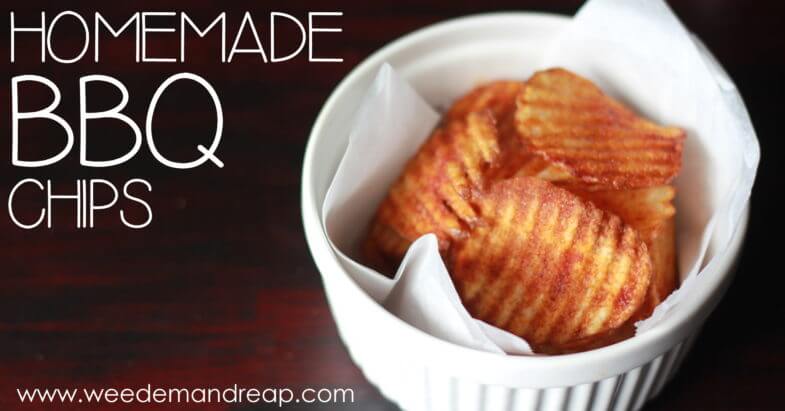 I may or may not have told my family I didn't have time to make a whole batch, when really, I ate half the batch while cooking these barbecue chips.
Sometimes mom has to sneak some treats in for herself, am I right?
I LOVE BBQ! Barbecue chicken, ribs, shredded beef, jerky, chips, etc. If it has barbecue sauce on it, you can bet I'm gonna eat it up. More like scarf it up. GET THAT BARBECUE IN MY BELLY! In a lady-like style, of course.
Today's recipe is simple, but you'll need to account for some time standing over the stove. When you're fryin' up homemade potato chips, I wouldn't recommend leaving a hot pan of oil on the stove. Unless you want your house to catch on fire. In which case, go for it!
But seriously, I wouldn't recommend it. Are we clear? Okay, let's get to it!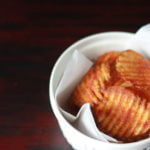 Homemade BBQ Chips
Crispy. Barbecue-y. Need I say more?
Print
Instructions
Slice potatoes into thin slices.

Put oil in a small pan and heat to 350 degrees.

While waiting for the oil to heat up, mix rest of ingredients in a small bowl and set aside.

In batches, fry up the potato slices in the oil until lightly browned.

Remove the potatoes with tongs and place them on a paper towel-lined plate.

Sprinkle with prepared seasoning while the potato chips are hot.

Continue with the rest of the potatoes until they are all finished!

Let cool and enjoy!
Recipe Notes
*I like to use a small pan so I don't have to use so much oil. This takes a little more time, but it saves on the cost of oil. Feel free to use a large pan and more oil if you wish to cook it faster.