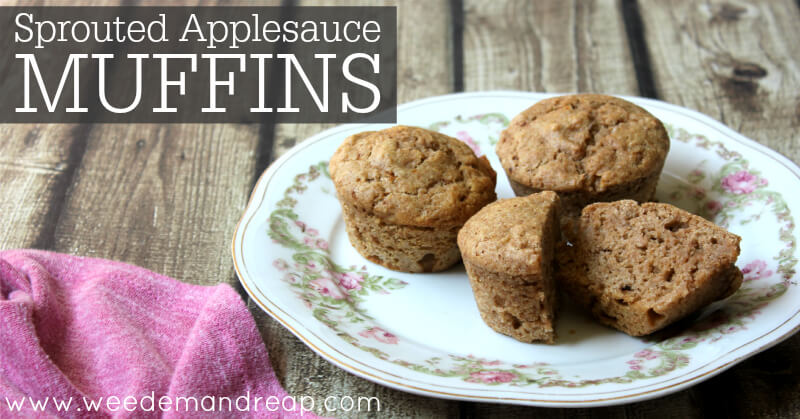 You guys! These Sprouted Applesauce Muffins give me all the feels!
Apple-y feels. Cinnamon-y feels. Butter-y feels. (Because of course, I slathered them in butter.) It's like Fall in my tummy. And yes, they are yummy.
I didn't used to always have this love for muffins. Muffins have burned their bridges with me many a time. And by that I mean I burned them. But still, it was the muffins' fault. I know that for sure.
These muffins come together perfectly without fail, so I know you'll have a good relationship with them. They won't stab you in the back by falling in the middle. They won't act like your friend, then taste like cardboard. These muffins got your back.
If you want to bump up the health factor…
Use sprouted flour. Or don't, I'm not your Mom. (But seriously, use it, k?) Sprouted flour has some stellar perks. It's easier to digest and it also has more nutrients than the typical whole grain flour. You can read more all about the benefits of sprouted flour here & how to make sprouted flour here. I purchase my sprouted flour here and keep it in the freezer for last minute baking that includes muffins, cookies, pancakes and quick rolls.
I used sprouted spelt flour in this recipe, but feel free to use sprouted wheat, or even regular wheat. White flour would substitute as well, but just know that if your goal is nutrient density then go with sprouted flour. It won't let you down.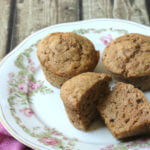 Sprouted Applesauce Muffins
Sweet cinnamon apple muffins!
Print
Instructions
Preheat oven to 375 degrees.

Mix all ingredients together & scoop into a greased or lined muffin pan.

Bake for 15-20 min.