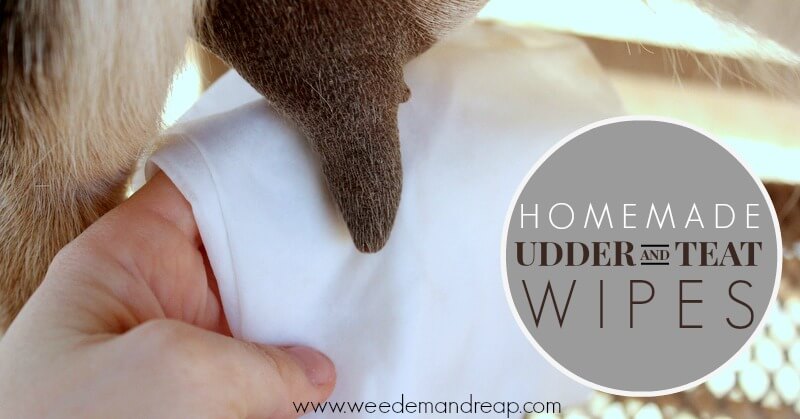 Today I've got a very simple recipe to make your very own Homemade Udder & Teat Wipes!
One of the biggest hurdles with homesteading or farming is to find natural alternatives when caring for your animals. When I first started to own animals, I couldn't find recipes anywhere for homemade udder wipes, and so I resorted to using standard, harsh, chemical-laden udder wipes. They helped reduce the bacteria, but I never felt good about using such harsh chemicals when I was trying to raise my animals holistically.
Some of my friends use plain baby wipes, but even the cheapest, plainest baby wipes contain 10-20 chemicals. After some research, I found the perfect formula to create my homemade udder wipes and I'm excited to share with all of you!
Your goats, cows, & sheep will be grateful!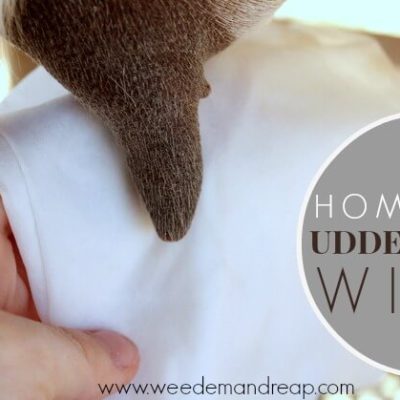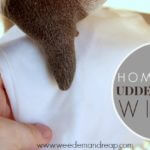 Homemade Udder & Teat Wipes
Great for cleaning the udders & teats before milking cows, goats, & sheep!
Print
Instructions
Place 1 package of wipes in a ziploc bag or tupperware container.

In a separate bowl, mix water & cleaner.

Pour mixture over wipes and close lid.
Recipe Notes
*You can store these outside right by your milking area.
Cost breakdown of my Homemade Udder & Teat Wipes:
100 disposable wipes will cost you $4.25.
1/2 c. of Castile Soap Natural Cleaner concentrate will cost you $3.43
TOTAL COST FOR 100 WIPES = $7.68
Also, check out my homemade udder balm recipe here.
I love the convenience of my homemade udder & teat wipes, and I love the feeling of using natural cleaning products to care for my animals. What do you use for udder & teat cleaning?