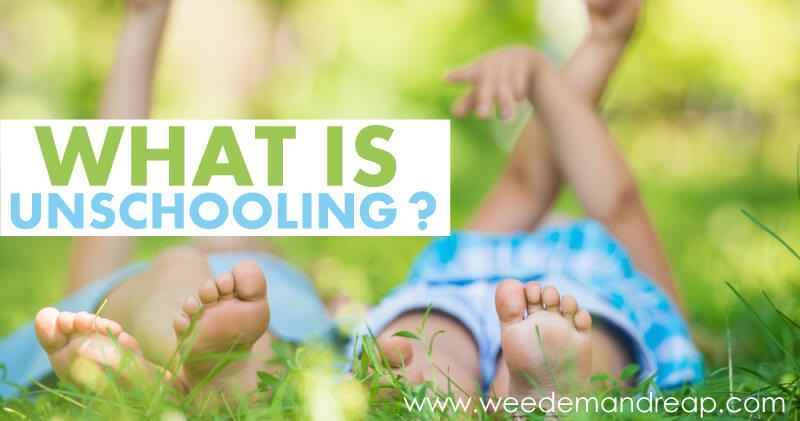 What is unschooling?
To put it simply, unschooling is a form of homeschooling but with a little more freedom. The beauty of unschooling is that it can be done in many different ways.
Some people homeschool by having a structured schedule, sitting their children down, and working through a curriculum. Unschoolers don't do this. They may use a curriculum or sign their children up for a class here or there, but for the most part, they use their children's interests to teach ALL subjects.
Everybody has been unschooled at some time or another in their life, simply because unschooling is how we learn naturally, without a teacher.
How does unschooling work?
I believe that it's more important for my children to be able to self-teach instead of learning by instruction & curriculum. I believe that the most important principle I can teach my children is how to develop a passion for learning. I want my kids to be just as excited about planets, history, & geometry as they are about video games and I believe unschooling does just that.
Unschoolers learn just like adults learn. They follow their interests, research using resources on the internet, reading books, discussing with other people, and use their creativity to implement it and make it their own.
College graduates tend to be really great at following instructions and being told what to do, but often don't know what they love and have trouble being creative and proactive in their first job. We typically spend the next 10 years after our formal education trying to find our passion and love of learning again. (source)
Let's go over the differences between traditional schooling (with a curriculum) & unschooling: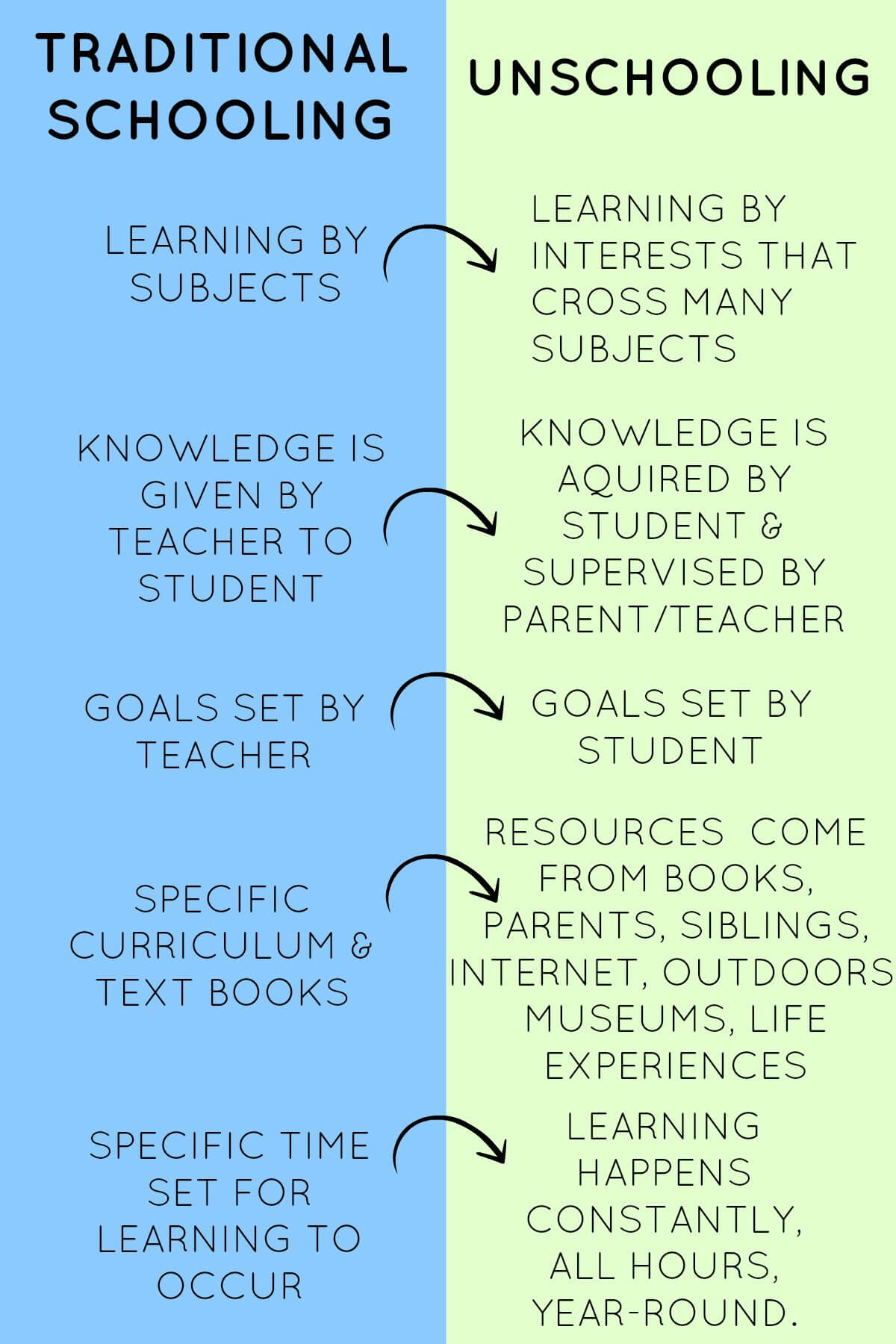 Does unschooling prepare kids for real life?
Because we can't predict the future and we can't predict what the economy or technology will be in 10-15 years, I think it's best to prepare our children to be fast learners, with the ability to teach themselves ANYTHING.
If you know how to teach yourself, you are prepared for any future job. If you only know how to learn from a teacher and a perfectly laid out curriculum, then you'll always need that in order to learn.
I've heard some skeptics say that unschooled children won't know how to follow rules or finish assignments on deadlines but that's simply not true. Children have an innate desire to please and be noticed for their work. This continues into adulthood and is what makes us proud of our achievements. Unschooled children have just as much desire to follow rules and stick to deadlines when the time calls for it.
What are some examples of unschooling?
Ethan loves Minecraft. We signed up for this amazing online minecraft homeschool class. They teach history through minecraft and the class he's in is currently about Ancient Wonders of the World. (WHAT HE'S LEARNED: History, Architecture, Money-managing, Technology/Coding, Typing, Building Relationships/Friendships, Working as a Team)
Because of that class, Ethan wanted to learn more about ancient architecture. He has read more books about it and we started watching the series Merlin and as we watched an episode each night, we would frequently pause when a question came up about why they did certain practices during Medieval times. We were like the ultimate 'fact-checkers' for that show. (WHAT HE'S LEARNED: Historical accuracy, Architecture, How to research on the Internet, How to find answers to questions)

My Dad has a telescope and told Ethan about black holes and gave him a National Geographic magazine about black holes. On a Friday night out-to-eat evening, Ethan told us ALL about black holes, the speed of light, & Albert Einstein. Then we theorized if Superman could survive a black hole. (we're still undecided) (WHAT WE ALL LEARNED: Science, Space, How Scientists try to prove theories, How a Telescope works, How to give an Oral Report – Ethan basically did that during our entire evening)
Lydia also loves minecraft and we signed her up for online minecraft homeschool as well. Money is earned by a quiz on history (after watching a short video) and Lydia learned a hard lesson by accidentally spending all her money before she was able to finish the assignment. She had to work & help others to earn money before she could finish her assignment. (WHAT SHE'S LEARNED: History, Architecture, Money-managing, Technology/Coding, Typing, Building Relationships/Friendships, Working as a Team)
Let me just mention that the minecraft homeschool is completely regulated by my kids. I never force them to do an assignment. They both love it so much that they don't recognize it as learning and they wake up early to do their chores so they can join the server and have fun in the "minecraft classroom". (WHAT THEY LEARN: Time management, Responsibility, Finishing assignments on time)
Lydia noticed that she would have more fun in minecraft if she could type better, so she begged me to take a typing class. We downloaded this one and she's now doing the program. (WHAT SHE'S LEARNED: How to Type correctly, What WPM means & how to get her WPM higher)
Lydia wanted a mouse. Yes, I said mouse. I told her she could have one if she did some good research into it, somehow convinced Kevin, and saved up her money to buy it (& all the supplies) herself. For the next month she was obsessed. She read every book at the library on mice, researched on the internet, wrote a paper on it, gave an oral report to the family on it, talked to a few friends who had mice, changed her mind and decided to get a rat, read every book at the library on rats, researched on the internet, wrote another paper on it, gave ANOTHER oral report to the family on it, and raked leaves for 6 hours to save up enough money. All of this was completed by an 8 year old without hardly any effort on my part other than show her how to search the internet, teach her some basic principles when writing a report including an introduction & conclusion, etc., and hand her a rake. (WHAT SHE'S LEARNED: Hard work, Perseverance, How to research, How to write a report, How to give an oral report, How to debate)
These are just SOME examples of how unschooling works in our life. I have many, many more.
What does a day in the life of an unschooler look like?
This is my favorite part! I love that our days are so relaxed and open for anything! Here's a very rough schedule for you. I don't have this schedule printed up and we don't try to stay on track, it's just what happens naturally. What I LOVE most about this is that it flows throughout the weekends and summers. To us, there isn't a time to learn and a time to NOT learn. All of life is learning, and that's how we like it.
7:00 – 9:00am Wake up, milk goats, gather eggs, fruit, nuts, vegetables from garden, & make breakfast.
9:00  -10:00am Kids do their chores, and I do my farm chores and do some kitchen cleaning/cooking all while listening to our favorite music blaring. (currently we're into a the Broadway Musicals Pandora station – okay, so it's really me & Kevin that are into Broadway, but I think it's pretty cool that my 8 & 10 year old now know all the songs to A Chorus Line, Phantom of the Opera, Wicked, Les Miserables, Mama Mia, etc.)
10:00am – 12:00pm Anything goes. The kids play, learn, explore, create, read, study, & discover. It definitely is NOT me at the kitchen table pouring over worksheets and curriculum books. The kids change their interests over time and we let it flow with that. (currently it's Minecraft Homeschool, Legos, & Ukuleles) I switch off working on the blog and helping the kids when they ask for it.
12:00pm Lunch. We will watch a current tv series (this is one of our fav. traditions) we are into (currently it's Lab Rats) and eat lunch while watching, or have a picnic outside or sometimes we'll go out to eat.
1:00pm – 4:00pm Running errands OR once a week we take a trip to the library, museum, etc. during this time, more creative play & learning OR the kids play with friends OR the kids sign up for local classes like chess, acting, gymnastics, etc.
4:30pm – 6:00pm Kevin comes home from work and usually plays a sport outside with the kids while I make dinner. Then he comes in and we talk and finish making dinner while the kids continue to play.
6:00pm – 7:30pm As a family we'll watch movies, play games, etc.
7:30pm – Evening farm chores
8:00pm – We call this 'roomtime' instead of bed time because we don't force the kids to sleep, but we do have them settle down in their rooms with books, etc. They typically fall asleep around 9:00pm
What about other subjects like math? How do you teach that without a curriculum?
Read my next article…How to Learn ALL SUBJECTS through Unschooling.