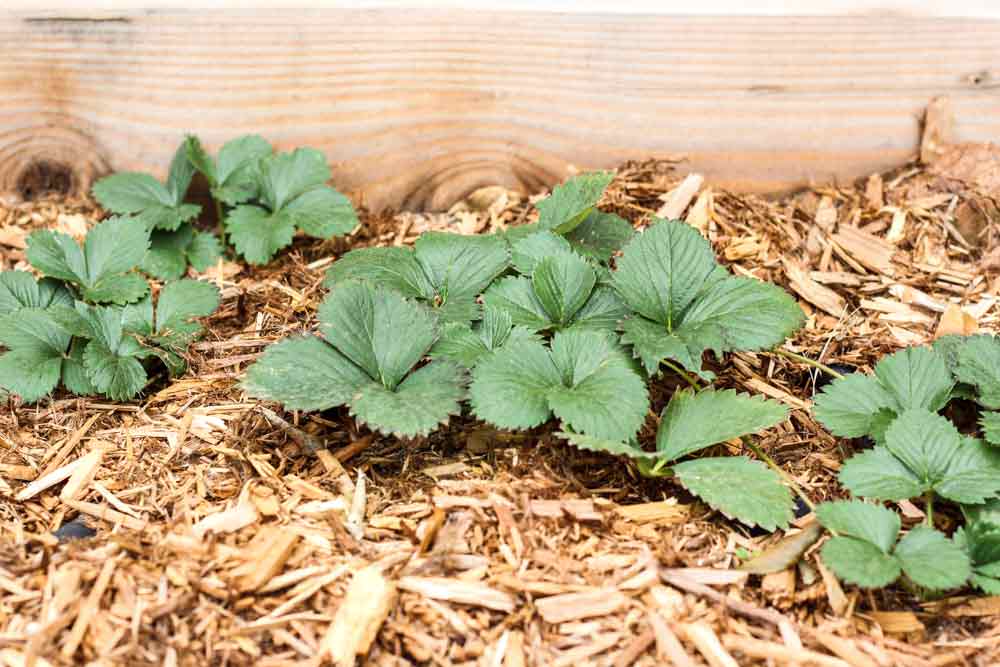 Garden weeds can be the bane of a gardener's existence.
In fact, one of the reasons I procrastinated starting my own garden years ago was because of the weed-pulling.
I imagined myself locked into 1 hour per day of weed management, and decided it just wasn't worth it.
Now, as a more seasoned gardener, I've realized it's INCREDIBLY simple to have a weed-free garden.
This method even works in places like Arizona, where we primarily have Bermuda grass, which shouldn't be called grass at all because, let me tell ya', the stuff is invasive like no other. It acts just like all the other garden weeds.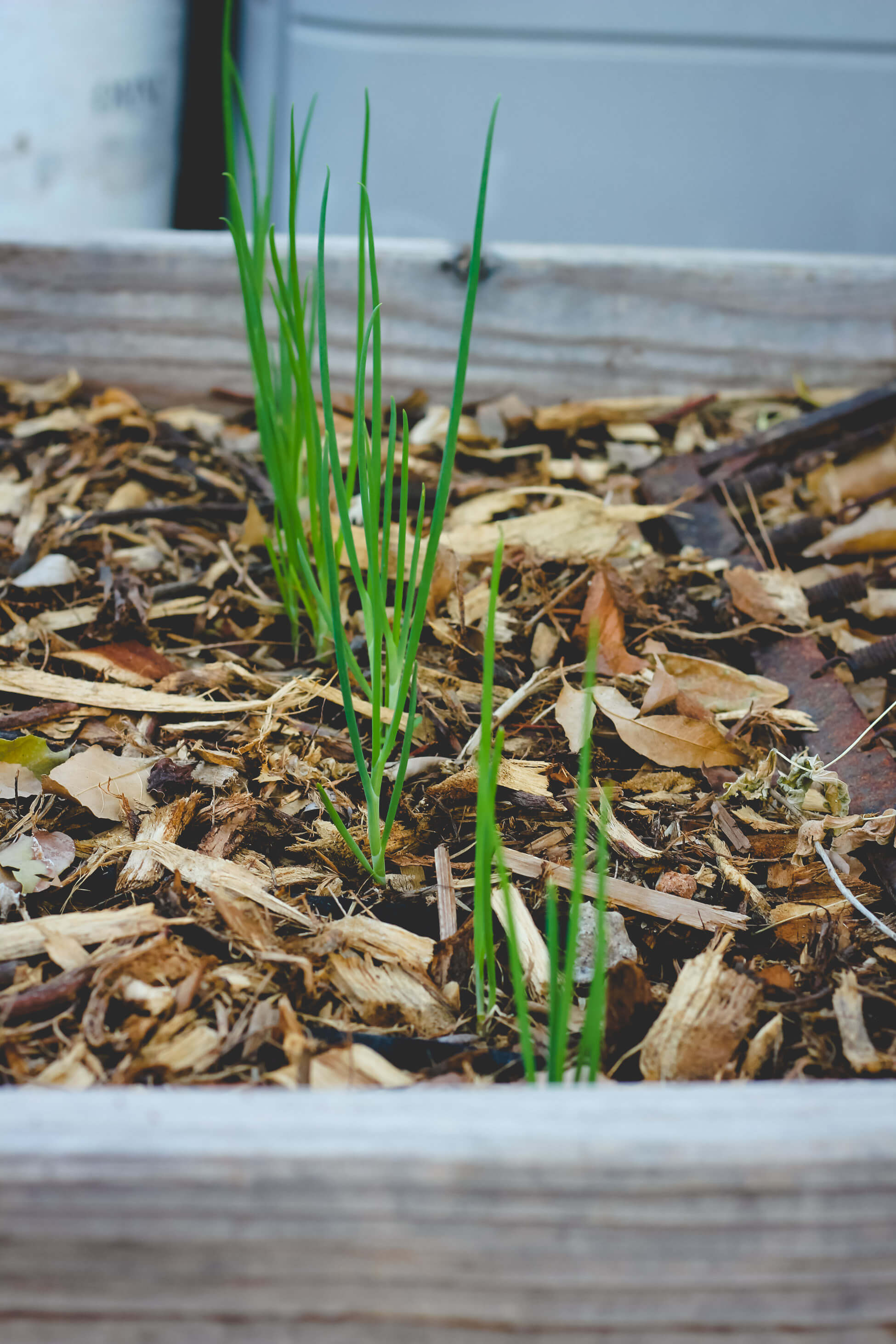 Garden Weeds: How to keep weeds out of garden
The best way to keep garden weeds at bay is by fighting nature with nature by using wood chips.
Wood chips can do amazing things, my friend.
While mixing wood chips into your soil is a BIG NO-NO (it will compete for nitrogen and starve your plants' roots), keeping a nice THICK layer of wood chips on top is exactly what your garden needs to get rid of those garden weeds.
And the best part?
That layer of wood chips will slowly break down, providing an amazing boost to the plants by encouraging microbial activity, reducing insect activity & disease, reducing the need for fertilizer, helping retain moisture, keeping the soil soft, and more.
What you're doing, really, is mimicking nature.
Instead of using weed-killers or breaking your back pulling out weeds, you're creating an environment you'd find in the forest. As the tree drops it's leaves, it creates it's own mulch, keeping the other competing plants away and feeding itself naturally during the breakdown process.
What if I already have garden weeds that I need to pull?
This is the best part. Placing wood chips over the weeds will kill them, so if you've got a large area to work with, pile on the wood chips and expect the garden weeds to decompose into the soil within a week.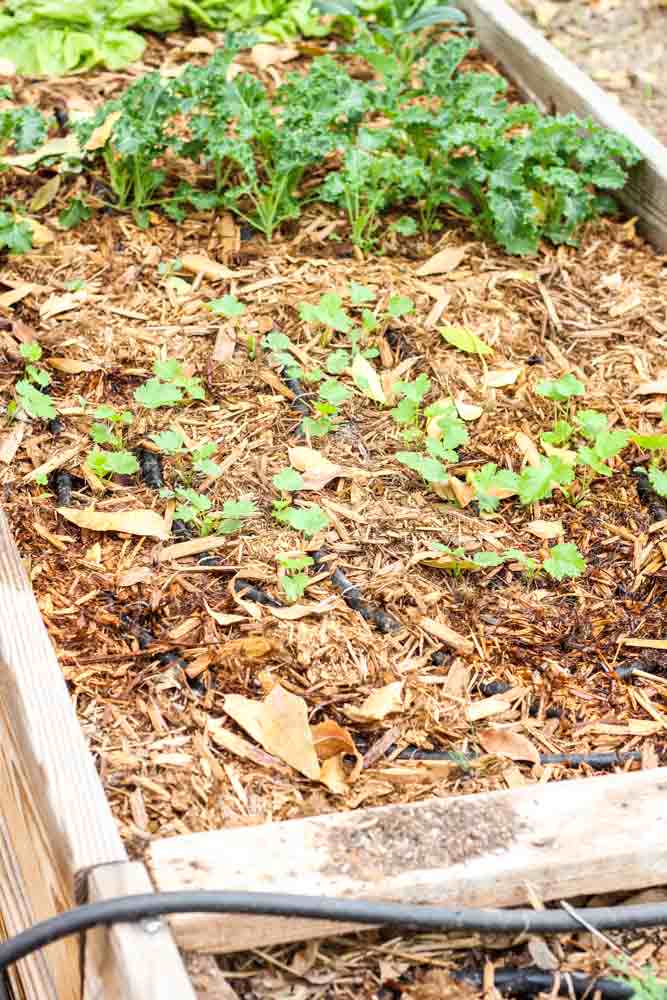 How to apply wood chips to your garden (and get 'em for FREE)
The best thing to do is to start calling local tree trimming companies, and asking for them to come dump a load of wood chips at your home. They are usually happy to do it, although you do need to call every day to be put on the list. We get a load about twice a year, but if you need a much smaller amount, you can team up with local gardeners in your area and share it.
After you've prepped your garden soil and you have seedlings that are at least 3 inches high, start to layer mulch around your plants. As your plants grow, continue to add wood chips up to 6 inches around your plants. This should keep away all of the garden weeds.
When it comes time to re-plant your garden, scrape back the wood chips and put them aside as you add any compost or additional soil. Then, when your seedlings reach the correct height again, add those wood chips back.
REMEMBER: You NEVER want to mix wood chips INTO the garden. It will lock up the availability of nitrogen and you'll notice your plants will grow about 2 inches then stop forever. (ask me how I know;) Think of wood chips as a topdressing only.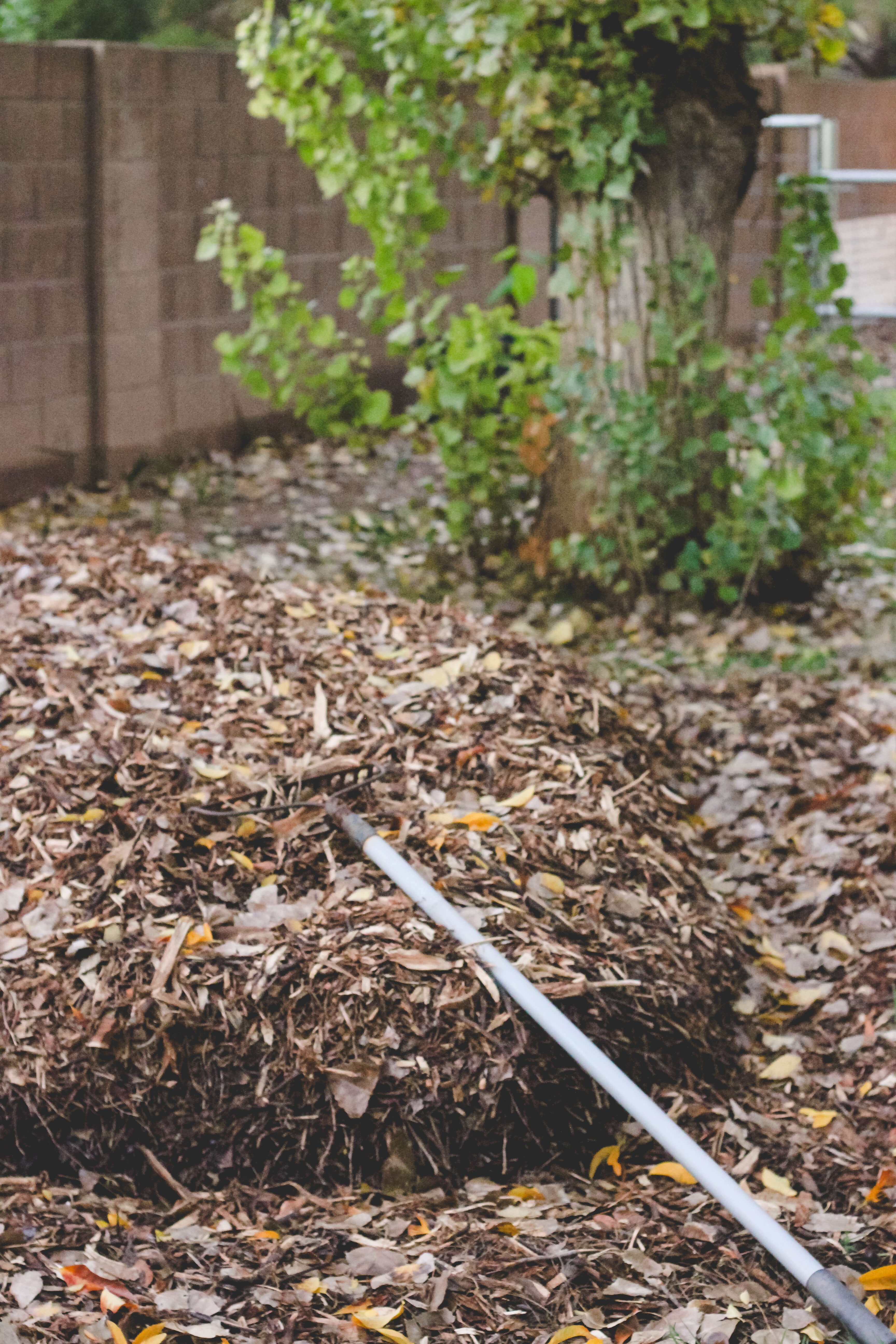 Will wood chips attract termites, snakes, mice, or scorpions?
Termites
Dr. Linda Chalker-Scott, an Extension Urban Horticulturist at Puyallup Research and Extension Center and Associate Professor and Horticulture and Landscape Architecture at Washington State University, says it well…
Termites hate wood chips – in experimental taste tests they only eat them if nothing else is available! Termites like nitrogen and phosphate-rich mulch. Wood chips have neither. Given a choice, termites would rather eat nutrient-rich mulches; they'll settle for cardboard but they avoid wood chips. Mice don't really care for chips either. They collapse into burrows. Rodents love tunneling under sheet mulch. (source)
Walter Reeves, known as The Georgia Gardener, also has an interesting view…
Termites are an integral part of nature. Their job is to decompose the limbs and stumps you are too busy to remove. Termites do not smell the mulch (or other cellulose material) and come running. Subterranean termite colonies forage randomly and continuously. They find their food sources accidentally and then leave a pheromone trail for other worker termites from the colony to follow to that food source. To be safe, keep all mulch materials at least twenty four inches from your home's foundation. (source)
Scorpions
As for scorpions, the best evidence I can give you is my own. Living in Arizona means lots of scorpions each summer. I've used wood chips in my garden for 5 years now, and I haven't found one scorpion in my raised garden beds. I do, however, find them about 4 feet away on our concrete block walls, but never in the garden.
Snakes
We don't have a snake problem here in Arizona, but from what I've read, snakes prefer to hide in stacks of wood, but people don't notice more in their garden because of wood chips. If you're really concerned, you can use deterrents like cedar wood chips, or peppermint essential oil sprayed over the wood chips. Peppermint is really effective against mice in the garden.
Other Wood Chip Myths vs. Facts
You'll see some articles floating around about how wood chips can be poisonous for your garden or how they will rob nutrients from the soil. These are simply not true. If you're concerned and want to do your research, check out this myths vs. facts about wood chips article.
Keeping Garden Weeds at Bay
It might sound too simple or too good to be true, but using wood chips has made such a huge difference in the garden! It's given us more free time to do things we love (check out our adventures on our YouTube Channel) and made gardening a breeze! We've also noticed our soil has gotten better and better with each year.
Have you ever tried wood chips in your garden? What has your experience been?