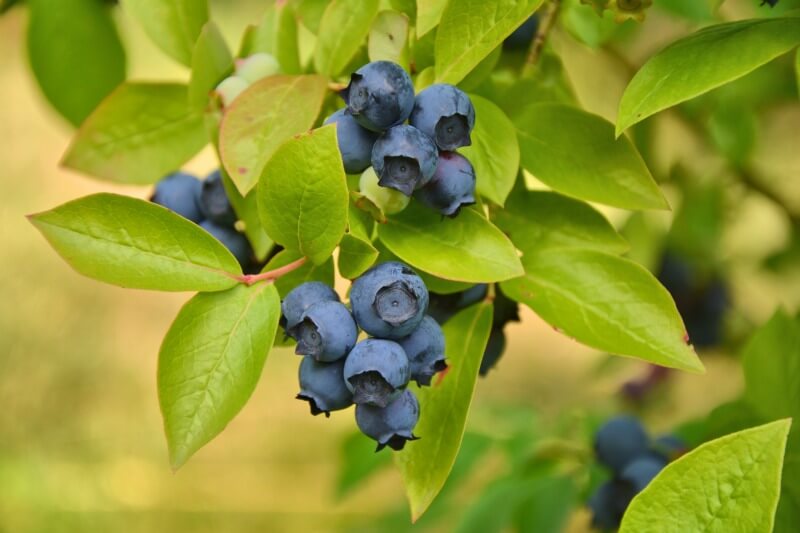 Hey, old people…
I get it now.
I get why you love gardening so much.
On the surface, it seems like a boring pastime, full of failed crops and wasted time on food you could just buy at the store. OH, but it is SO MUCH MORE THAN THAT!
I'm just glad that I'm starting young. Because man alive, does gardening feed my soul! And once I found out I could grow blueberries in a desert climate, things just got way more fun!
Once I started to experience gardening success…
I became a lot braver at branching out to plants that don't grow easily in my area. What can I say, I like a challenge!
My obsession starts with an idea, which turns into heavy research, which turns into excitement about the possibilities, which turns into me exclaiming, "FAMILY MEETING!" At which point everybody sighs and asks what I'm planting "now."
Well, my family… my little workers…
Blueberries are where it's at.
And ya'll are gonna help me make it happen!
So, without further ado, let's dive into how to plant blueberries where we live!
Growing Blueberries in a Desert Climate
The first thing to start off with is to choose the right variety for your area. We chose two Southern Highbush varieties: Misty and Sunshine Blue. They both have low chill hours of 150-300 and they also help pollinate each other.
Blueberries need a specific environment to be successful. First, they need an acidic soil pH at around 4.5-5.5. Here in the Phoenix area of Arizona, we are in Zone 9, and we have a rather alkaline soil at 7-8. It's for this reason that blueberries can't survive in the ground in a desert climate naturally (only in a pot).
My favorite place to buy blueberries is from Bluegrass Blueberries!
We also knew that we needed the soil in the pot to be an optimal pH. Here's the soil mix we placed in the pot:
We also added some other amendments to help boost the nutrients in the soil: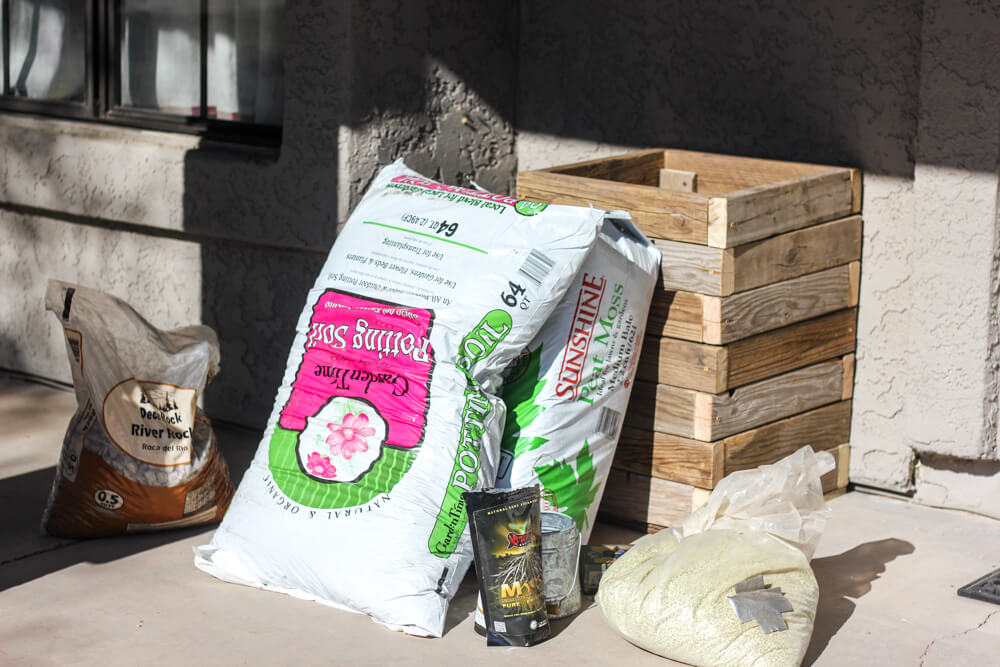 We started by drilling holes in the bottom of the planter to allow for drainage.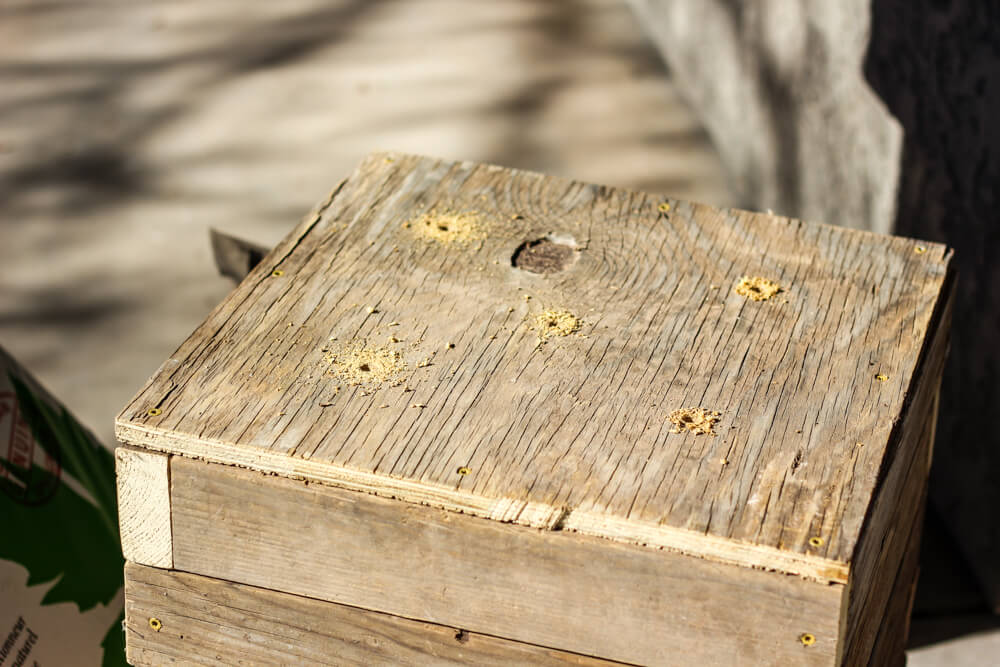 Then we placed a layer of small river rock in the bottom, about 4 inches thick.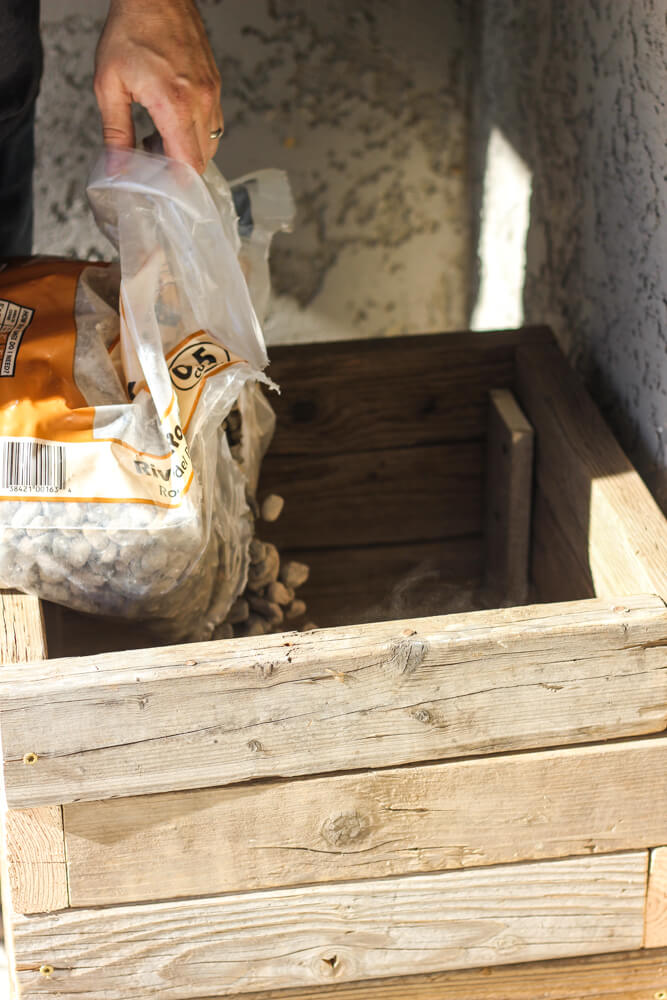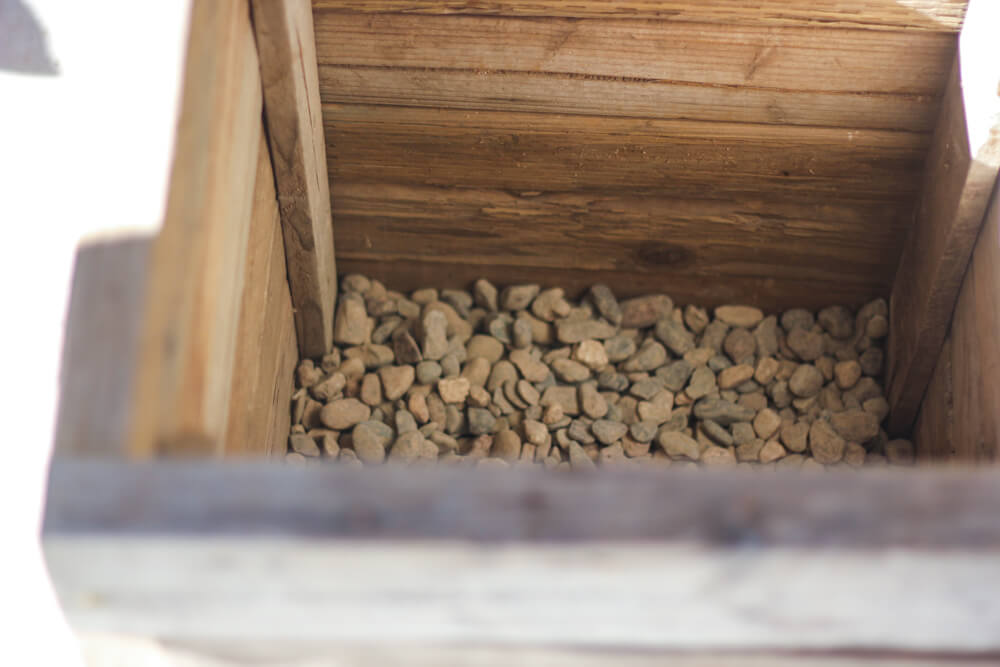 After that, we put the soil mix and amendments in the planter box and stared at our glorious blueberry home!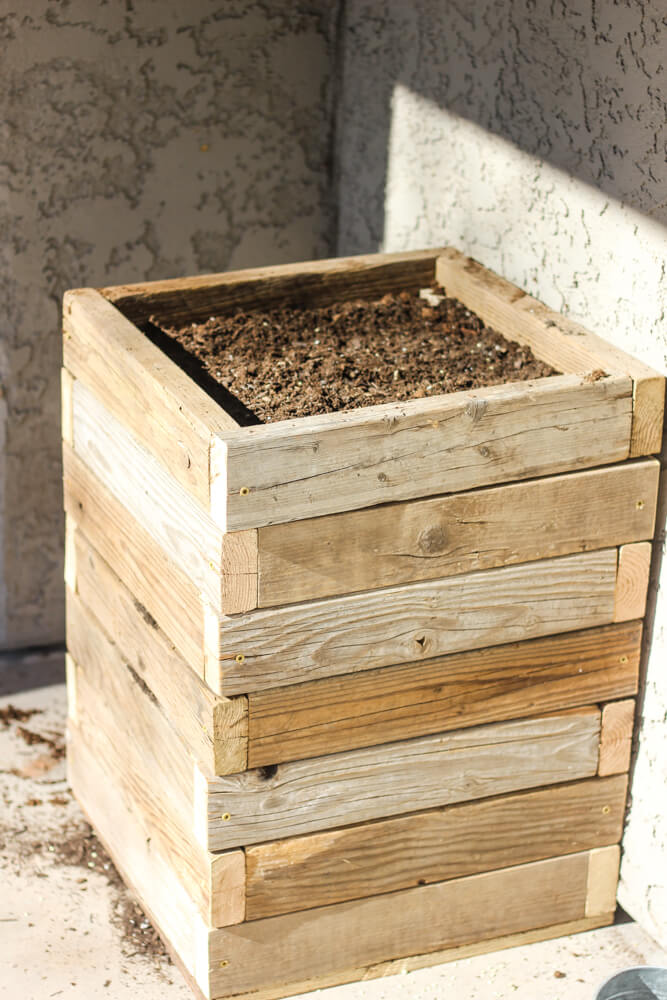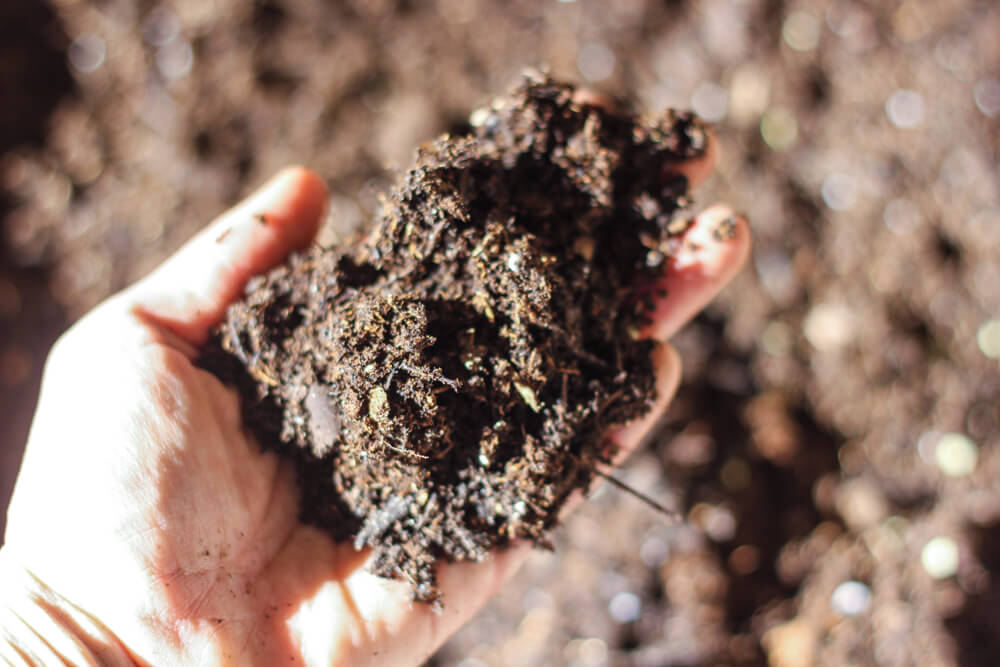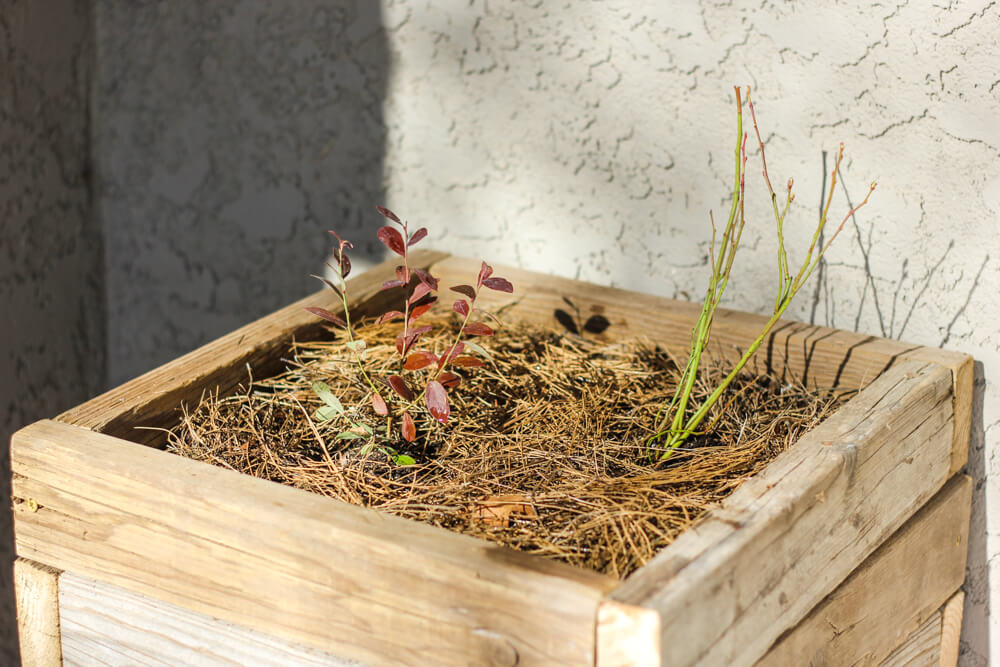 After we placed our two blueberry plants in the box, we covered with pine needle mulch. I've always had great success with deep mulching here in Arizona because it helps conserve water. The pine needles are recommended as mulch because they're acidic.
When To Plant Blueberries In A Desert Climate
If you live in Arizona, California, Texas, Nevada, or New Mexico and you are hoping to grow blueberries, the best time to plant is in January. That's the time when the blueberry plant is dormant. Come spring, your blueberry plant will 'spring' to life and you'll have all sorts of beautiful green leaves sprout!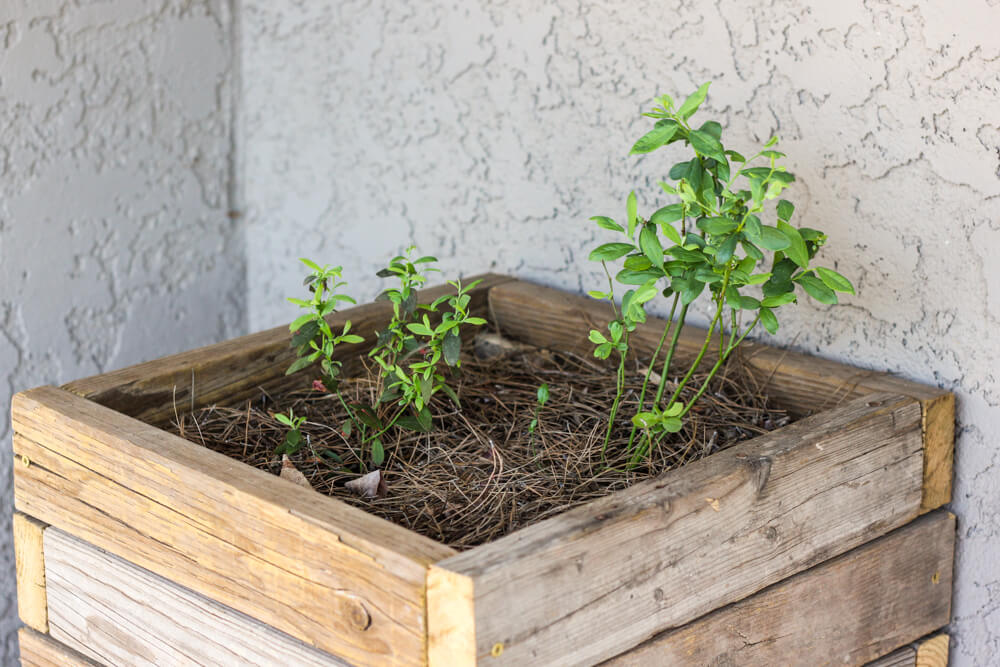 Maintaining Blueberries In A Desert Climate
The last thing you need to know about growing blueberries in a desert climate is that if your soil is alkaline, so is your water. Over time it will make your soil more alkaline. What you can do to combat this is to continually add things like coffee grounds, pickle juice, apple cider vinegar, and leftover beer or wine. It's recommended to only do this about once a week and just in small amounts.
Every spring, blueberries would like to be fertilized again with an acid mix. Be sure not to use nitrate-based fertilizer, only natural brands.
Finally, it is recommended also that if you pick the first year's flowers, it will encourage the plant to put energy into growing roots instead of fruit. This is a tough sacrifice, but well worth it, as the following years, you'll get plenty of fruit!