It's spring in Arizona, and you know what that means…
Everything's rejuvenated, including my passion for growing stuff!
I'm definitely not the expert, but I love trying new adventures, even if that means a pretty good chance of failure. Because, what's life with some good ol' failure mixed in, am I right? You fellow homesteaders get it.
We just keep trying, don't we? Well, somebody's gotta learn how to do it, don't they?
Are you ready for the spring tour of all the new (and some old) plants and trees here on our acre in Phoenix, Arizona?
Let's do this.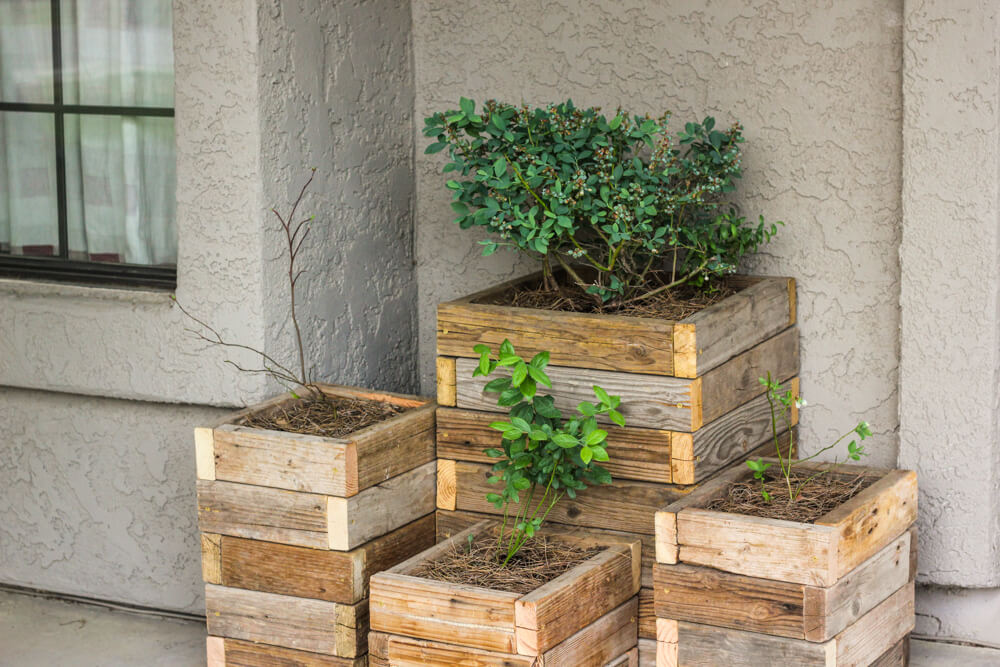 Blueberries!
It started with one planter made of reclaimed wood… then quickly developed into four separate planters. I have to admit, this is my favorite part of the entire farm. Every day I sit out here on my front porch, do some business calls, and stare at my blueberry bushes. I'm convinced the staring has some magical growing powers.
In the back we have a Bountiful Blueberry and a Misty, then from left to right is an O'Neal, a Sunshine Blue, & a Sharp Blue. They all cross-pollinate each other, are Southern Highbush varieties that require a low amount of chill hours, and we've prepped the boxes the best we can with an acidic soil. This spot also has the perfect amount of morning light and cool afternoon shade. Well, as cool as it can get for Arizona.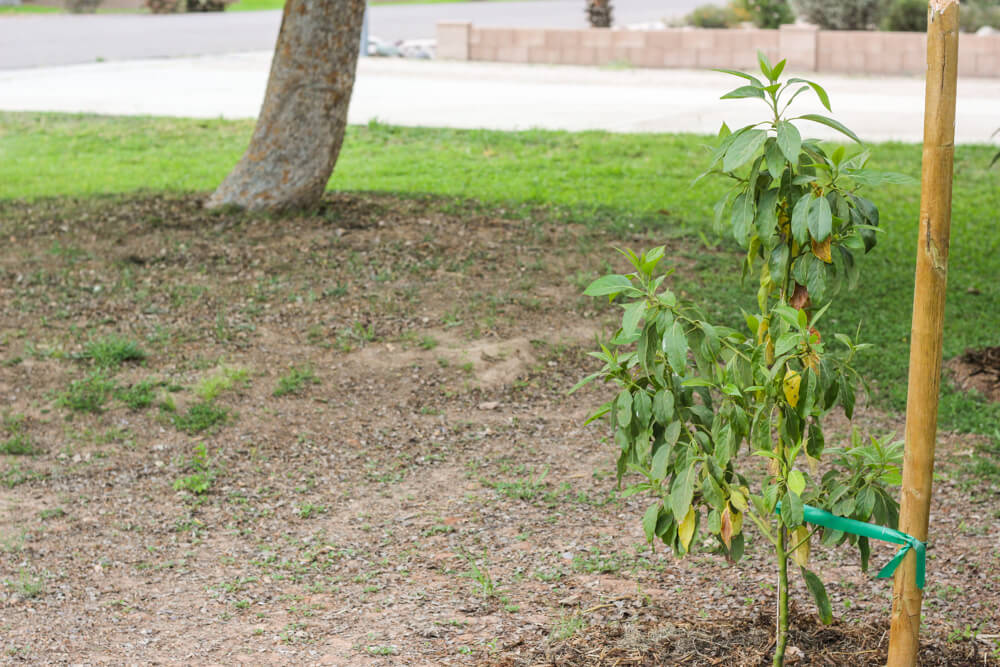 Avocado!
I'm obsessed with Mr. Ricardo Avocado here. That's not his variety, I just call him that. Because it's sexy, and I love him. It's a budding romance between us two, and I fully suspect in a year or two to get married to him because he's gonna give me avocados! Did you hear that? I'm afraid you didn't fully understand.
Avocados. In Arizona.
Yeah, I'm just a little excited. This Aravaipa avocado can tolerate the cold just fine (as low as 15 degrees!), but in the summer during the 100 degree heat, will need significant afternoon shade. That's why we placed him below a large Chinese Elm that provides the perfect afternoon diffused light. The clover on the ground also brings the temps lower in this part of our yard. I suspect he'll do fabulously well here!
Loquat!
I admit, I've never tasted a loquat. Kumquats are all right, but I've been told loquats taste like a citrusy-apricot. Yes to all of that! We actually planted a loquat last year but unfortunately, he died because we placed him in FULL SUN.
I know. What were we thinking?! Oh well. One expensive lesson that's for sure.
This is a Christmas loquat, and supposedly his needs will be similar to the Avocado. Fine in the cold, stress out in the summer. But we made sure to give this loquat even more shade than the Avocado, so I think he'll do fine as well.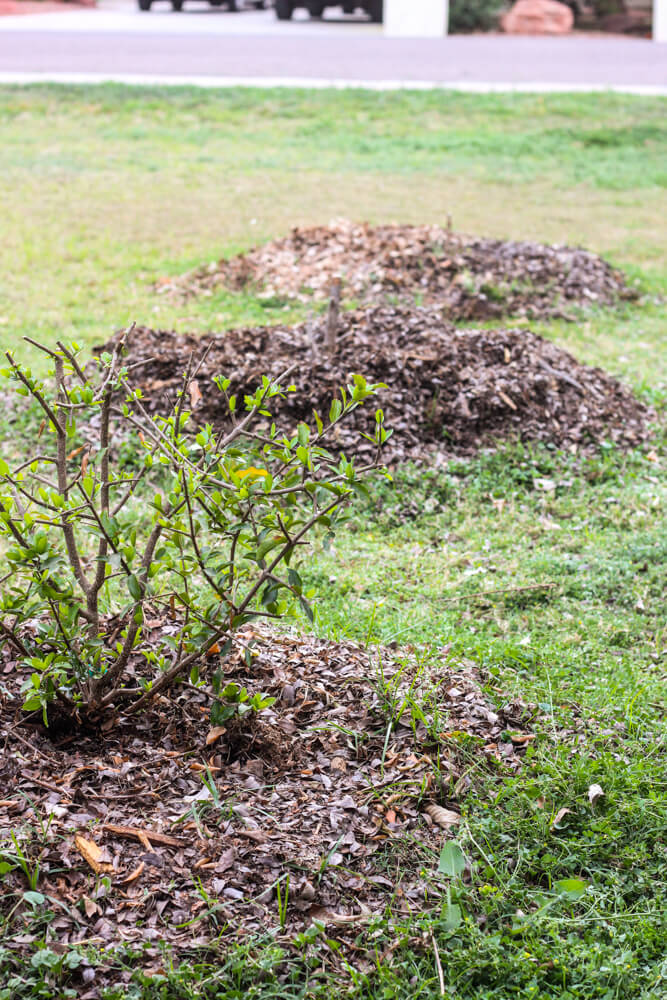 Cherries!
Yeah, big time fail here. We were able to keep our Barbados (or Acerola) cherries beautiful throughout the summer, but the winter destroyed them. Our mistake was that we covered them, but should have put a separate shop light under each bush to keep it's temperature higher. Come November, you'd better bet I'm buying a few of these babies to keep my tropical plants warm.
So, we unfortunately probably won't get many cherries this year, because they'll have to put all their energy back into putting out leaves.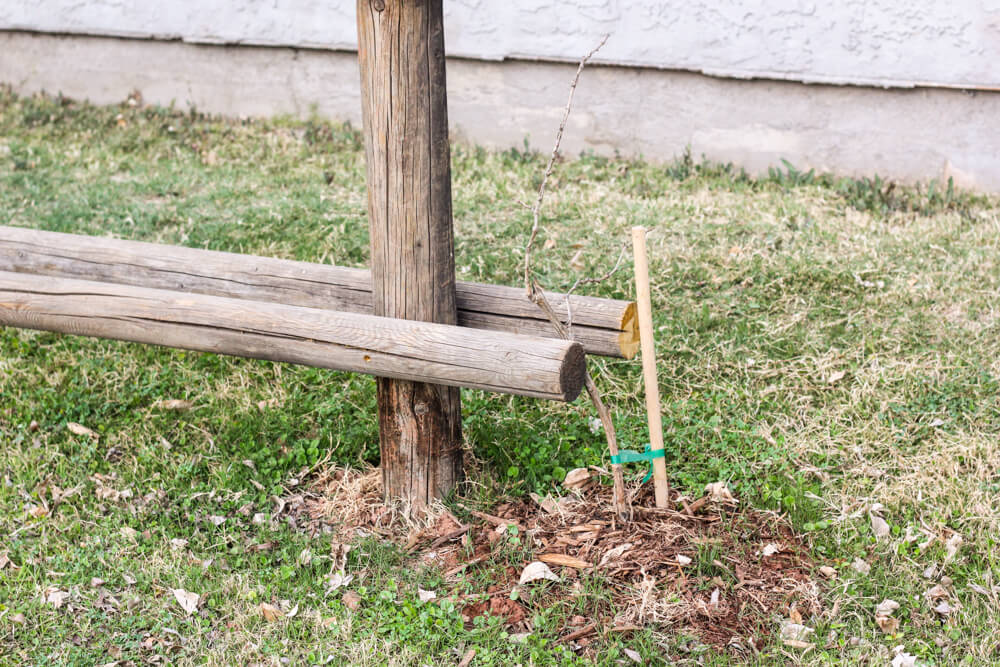 Grapes!
These guys I can't figure out and I'd be happy for any advice! We planted these about a month ago and they've yet to sprout even though the temperature here is has been in the 80s (sometimes 90s) for a good few weeks now.
These are the Black Monnuka variety. I'm going to give them a few more weeks and then if they don't pop out, I'll probably switch in some Red Flames.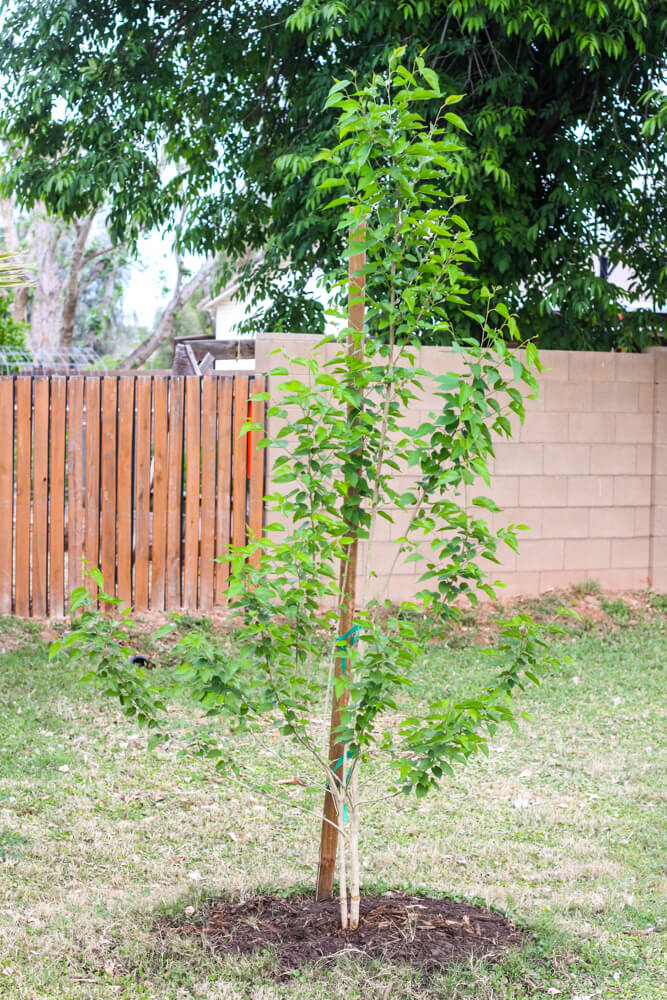 Mulberry!
This is a dwarf Mulberry and is such a rockstar at thriving in Arizona. She didn't blink during her first Arizona summer and simply took a long nap during the winter and now is sprouting about 20-30 mulberries!
I'm really excited to harvest these, as mulberries are one of my definite top five favorite fruits.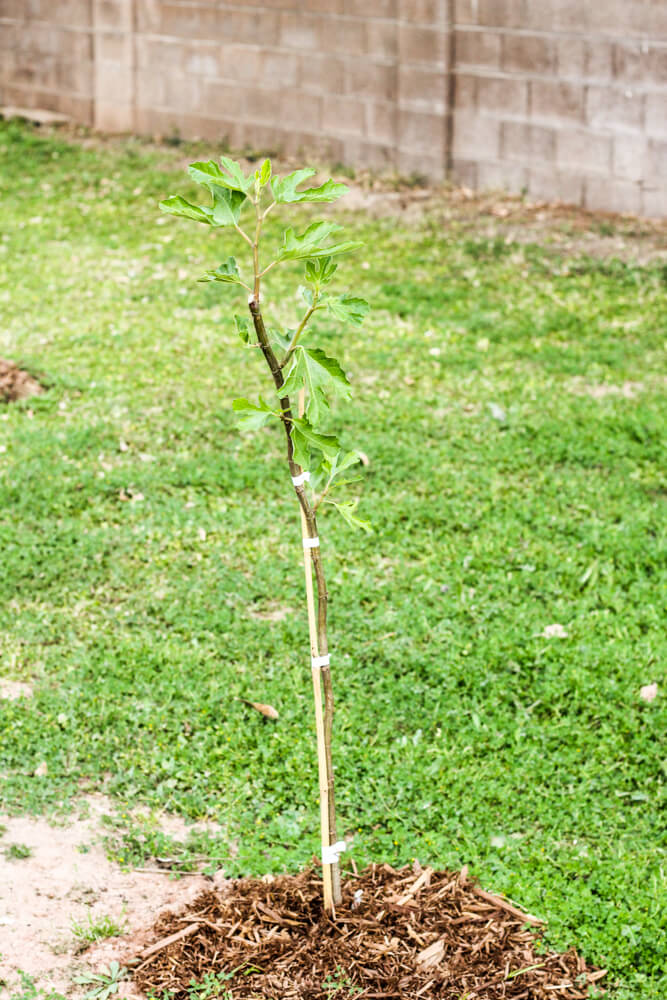 Fig!
This fig is just awesome. I placed him in probably the worst part of our yard, but only because I knew he could handle it. This is called a Texas Blue Fig, meant to withstand this harsh desert climate.
Just 3 weeks ago he was a little stick. Crazy, right?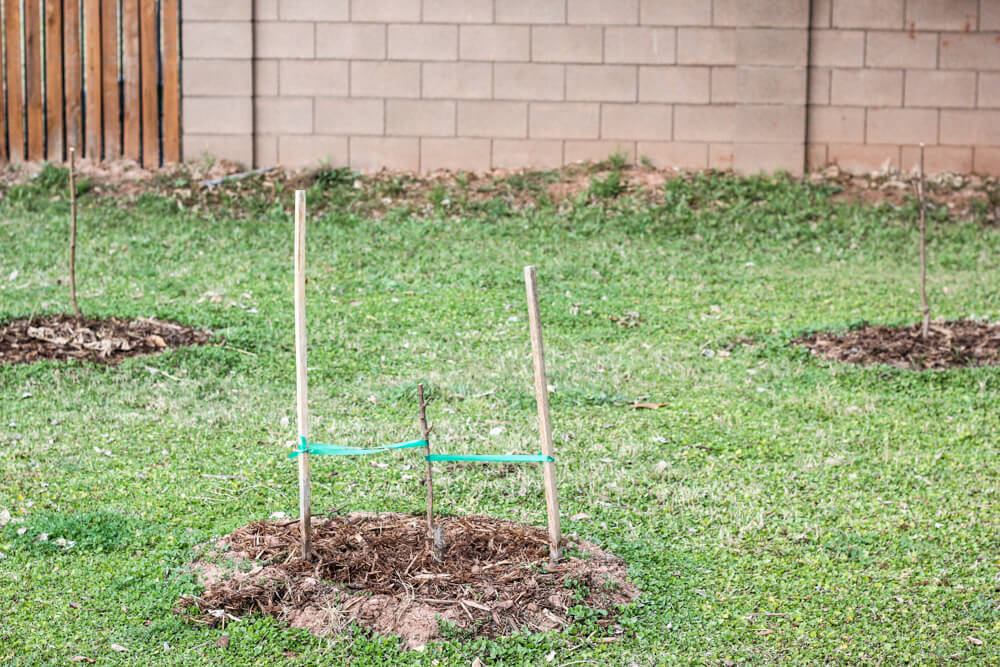 Peach, Plum, Apricot!
These stone fruits have me perplexed. They also haven't sprouted yet. I decided to add some more topsoil to them along with a good dose of fish emulsion. Other than keeping them watered, not sure what else I can do but wait for nature to kick in.
I have a Desert Gold Peach, a Santa Rosa Plum and a Tropic Gold Apricot.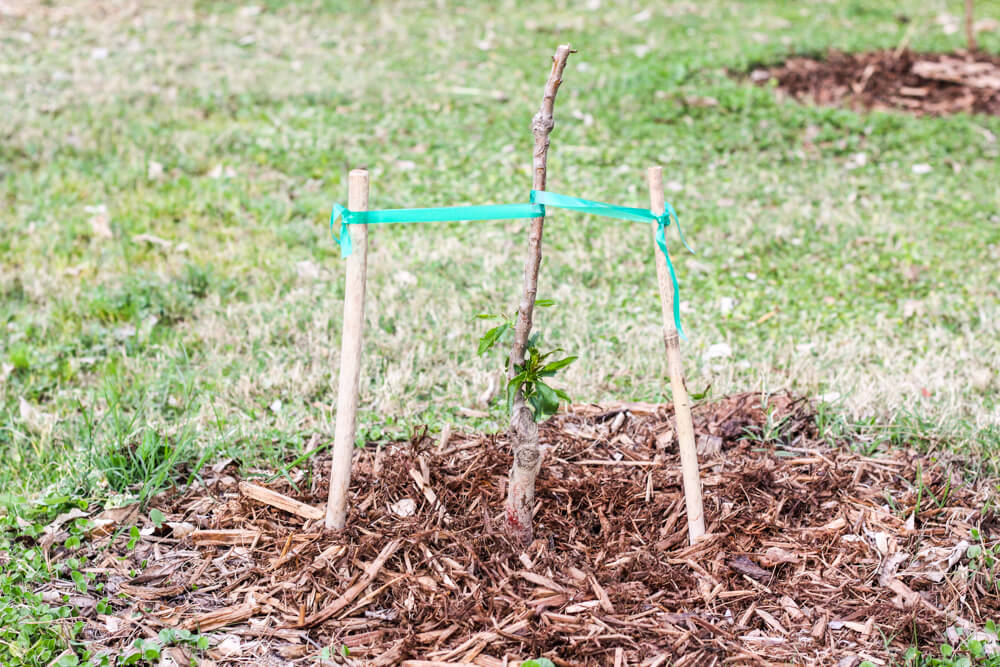 Almond!
This gorgeous Dwarf Garden Prince Almond sprouted just this last week and has kept going strong.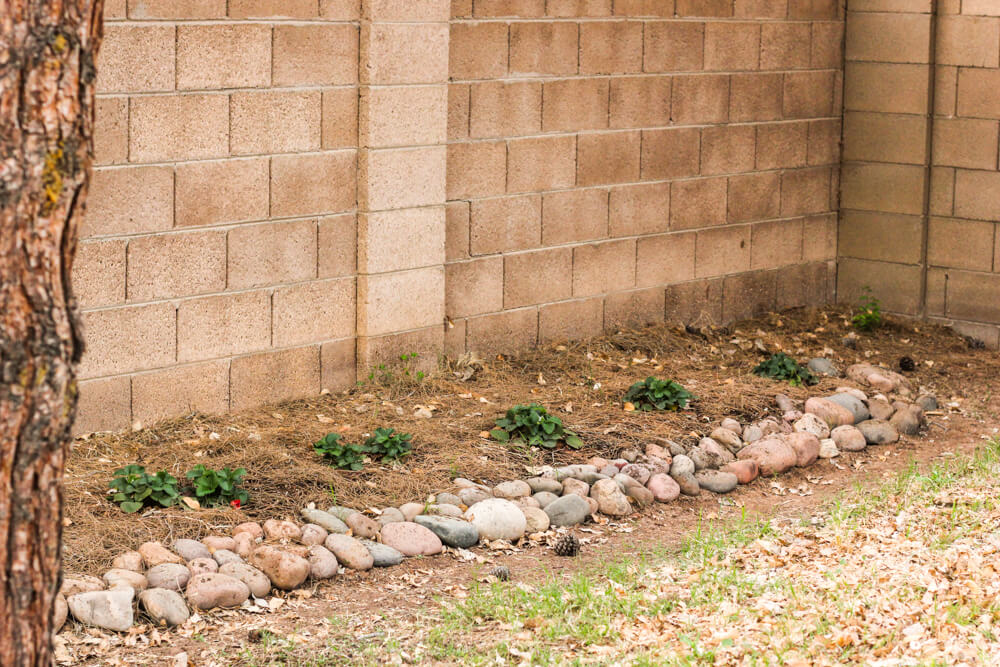 Strawberries!
We planted these guys in a place where they could get irrigated every other week by our flood irrigation order. I've noticed I still have to water them every other day, so I'm thinking of putting in some kind of system. We shall see. At this rate, not sure how they'll do during the heat.
These are all the Quinault variety.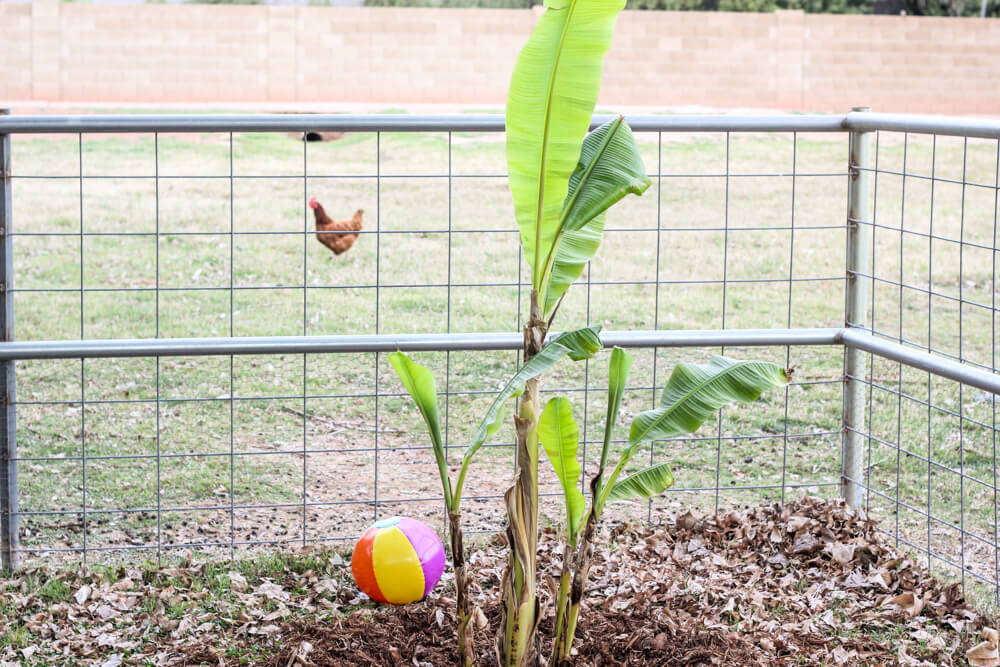 Bananas!
Bananas hate the cold, but thrive in the heat. We used to have this guy in the front yard, but relocated him to a spot that gives him just a bit of afternoon shade. So excited to see this year's growth. When we first planted him he was only a foot tall. This is a Goldfinger Banana.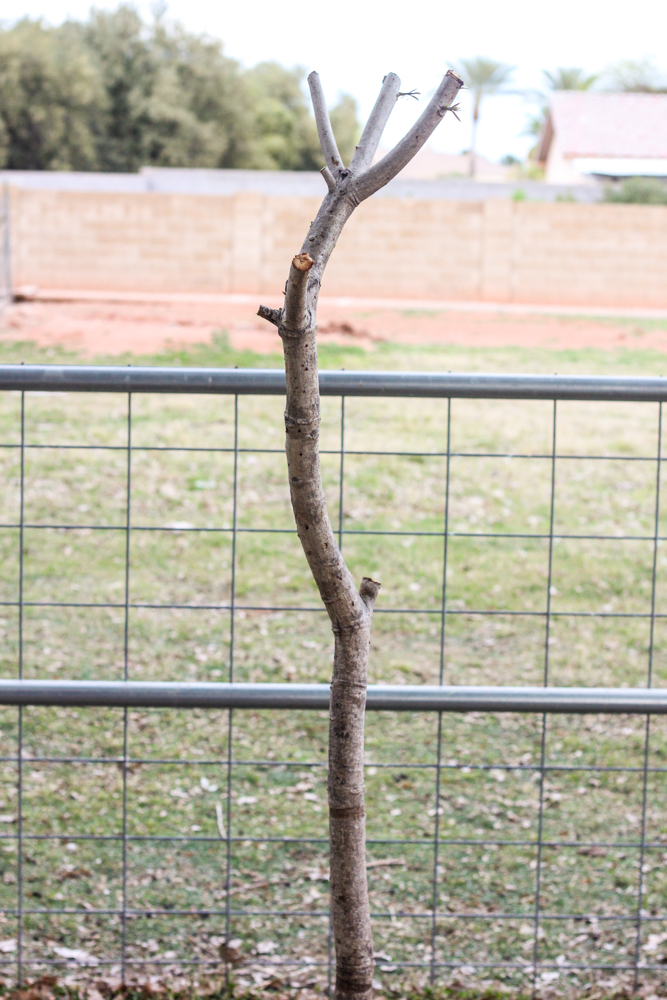 Mango!
I know she's looking pretty shabby, but after we pruned back the frost damage, look what happened…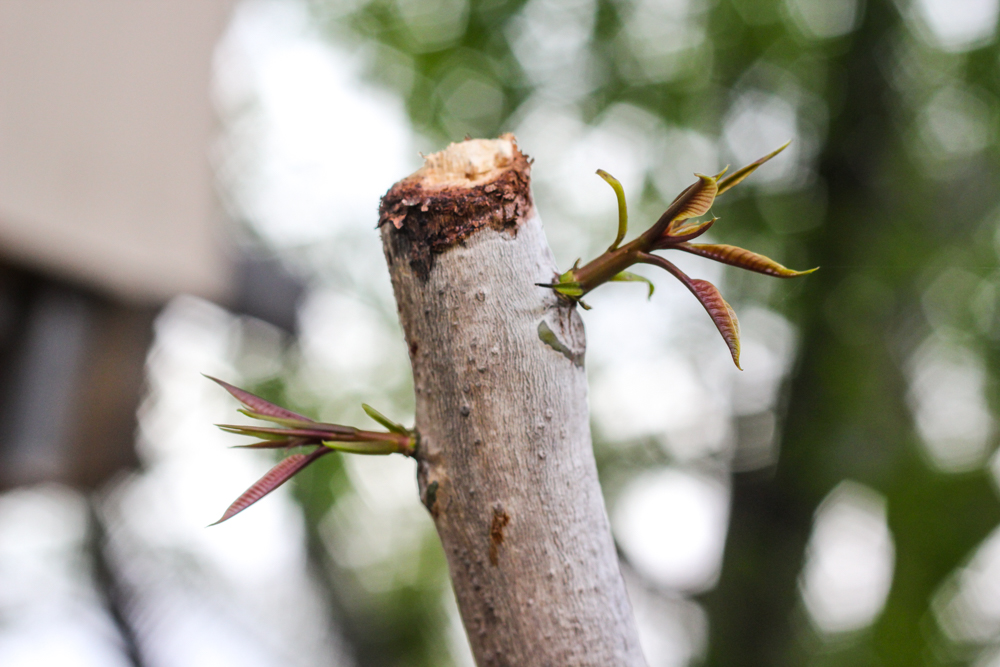 I'm so proud of this mango tree! She survived the cold and a pretty drastic relocation, right next to the banana tree. Can't wait to see how much growth this Kent Mango gets during this summer!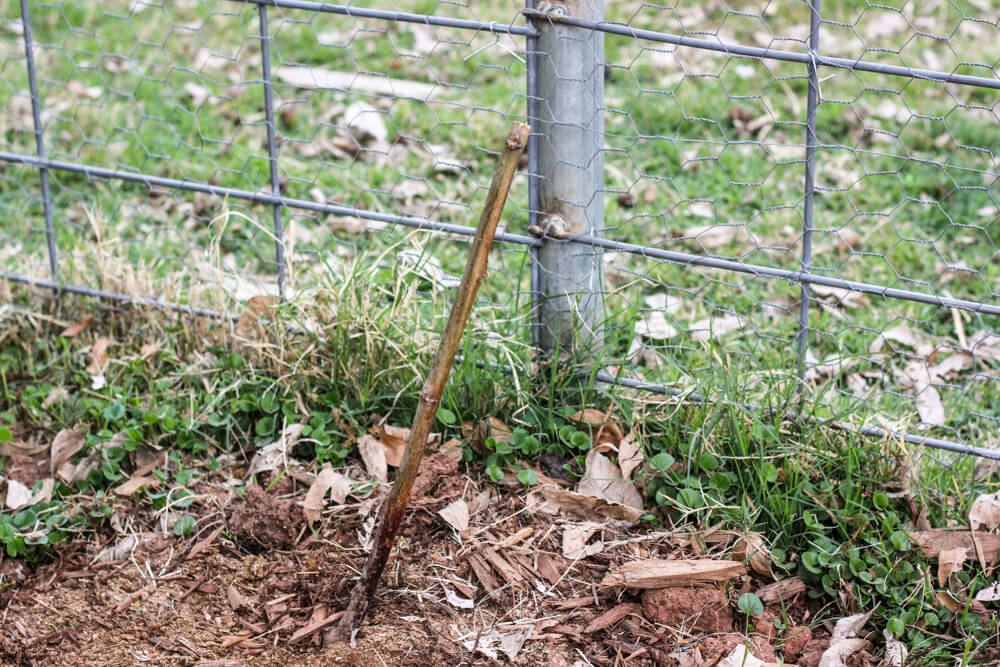 Blackberries!
We planted two La Gata Negra Blackberry plants, but they've yet to sprout. They look nice and green though so I figure it'll be merely days before they go wild.
Providing Fruits & Nuts Year-Round
Hopefully, if all works out, we should have plenty of fruits and nuts year round here on the farm! I definitely plan on planting more trees, but we'll probably take a break for now and let things settle in.
Pomelos (Jan-Mar)
Strawberries (Mar-May)
Blueberries (Apr-June)
Apricots (Apr-May)

Mulberries (Apr-July)

Loquats (May-June)

Peaches (May-June)

Blackberries (May-June)

Grapes (June-Aug)

Plums (June-Aug)

Mangoes (June-Aug)

Cherries (July-Sept)

Figs (July-Oct)

Bananas (Aug-Nov)

Almonds (Aug-Nov)

Avocados (Sept-Nov)


Pecans (Nov-Jan)
What exciting projects or things are you planting this spring on your homestead?