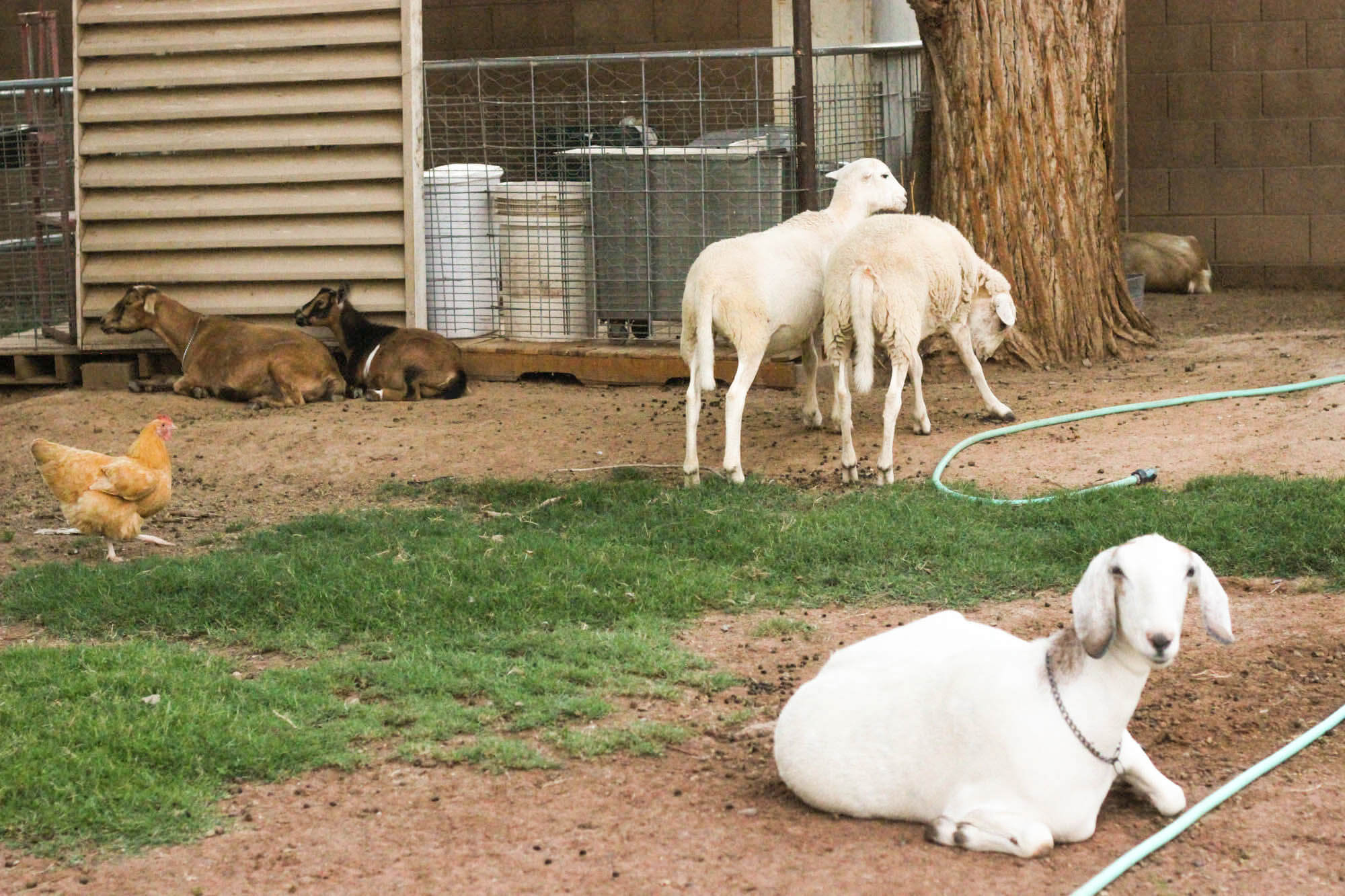 Seven years ago we were newbies at urban farming…
We didn't know how to grow anything and, truth be told, I was a teensy bit afraid of chickens.
I had always been interested in urban farming, but it wasn't until I was married and had kids of my own that I took my farming dream seriously. At the time my dream developed we were living in a small condo, and I could think of nothing more glorious than gathering my own eggs and milking my own goats, even though I had yet to even taste goat's milk.
I loved the idea of gathering eggs or harvesting veggies, but more importantly, I loved the idea of a slower lifestyle, one that avoided the rush of the every day and instead focused on appreciating every little thing. We started looking around at lots of land that we could afford, and when an old fixer-upper with an acre covered with mature shade trees became available on the market, we snatched it up.
One day, without knowing a thing about animals, we brought home six chickens and one goat.
The desire to learn how to grow my own food was my driving force, no matter how tough the task. The first time I milked our goat, I ended up in tears. But, I stuck to it and each day I got better and better. As I sat wondering how this city girl got in this predicament, I had to laugh at it all. Don't worry though, after a few months of urban farming, I could milk a goat with ease.
In our first experience raising chickens, I wasn't sure if they were going to cuddle with me or peck my eyes out. Over time, I learned their behavior was unique and incredibly intuitive. Eggs became such an easy thing to obtain here on our urban farm. And keeping the hens healthy was even easier as long as I provided an environment that met their instinctual needs.
The first time I grew vegetables, I had a few successes, but mostly failures. The best part was that nature was forgiving and I could start fresh again in a few months during the next growing season. And as each season of growing passed, I became better and better at knowing when my plants needed water, knowing when they needed fertilizing, and knowing when to harvest.
I'm still blown away at how providing our own eggs, milk, meat, fruits, and veggies can be so rewarding.
Maybe it doesn't take much to please me, or maybe there's an instinctual fulfillment in being able to place a seed in the ground and have it turn into a bundle of green beans.
Even after all this time,
seven years later
, I still get a little giddy gathering the eggs each morning. We have ten to fifteen laying hens (those buggers are constantly moving, so it's hard to keep count) that give us anywhere from eight to twelve eggs per day depending on the time of the year.
Here
is an introduction to raising chickens.
Every couple of years around August, we purchase 50 meat chicks to raise and butcher. These last us roughly 1-2 years.
We typically have two milking goats at any given time. If you're serious about urban farming and have a decent-sized backyard, trust me, you need a goat! Our favorite milking goats are Nigerian Dwarf goats. This breed is known for the sweetest-tasting milk. We currently have 4 Nigerian Dwarf females that we circulate through milking. We also have one Nubian goat. This breed is known for producing large quantities of milk, but it's not my favorite to drink so we plan on retiring her soon:)
Here
is a simple guide to raising and milking goats.
Annual goat breeding is a great idea and who doesn't love baby goats?
While there are lots of things you can make with goat's milk, we pretty much stick to homemade yogurt and mozzarella, which we like to freeze and have on our homemade pizzas. We breed our goats once a year so they have babies and their milk is "freshened," so throughout the year we usually have a slew of baby goats running around. Goats can have anywhere from one to six kids. Unless we decide to raise one to become a future milking goat, we usually sell—the baby goats to local farmers or FFA kids when their mamas have weaned them. We love keeping sheep on our urban farm! Grass-fed lamb is incredibly easy to raise because sheep are happiest just mowing your grass.
We have a five-hundred-square-foot garden, and we will also grow vine fruits and veggies in another part of our yard. In the spring we produce snap peas, carrots, parsnips, lettuce, spinach, chard, kale, onions, garlic, celery, tomatoes, peppers, cabbage, broccoli, sunflowers, cilantro, and parsley. When urban farming in the summer we grow green beans, potatoes, tomatoes, peppers, cucumbers, squashes, watermelons, cantaloupes, and basil. In the fall and winter, we're all about corn, carrots, lettuce, spinach, chard, kale, squashes, pumpkins, eggplants, cauliflower, cabbages, broccoli, sweet potatoes, watermelons, cantaloupes, dill, and mint.
Here
is an introduction to starting a garden.
We have more than 30 different fruit and nut trees or plants. We have grapefruit, mulberries, loquats, peaches, blackberries, grapes, mangoes, cherries, figs, bananas, almonds, avocados, pecans, and oranges.
Let me take you on a Day in the Life of our Urban Farm
(***Be sure to watch the video at the end!**)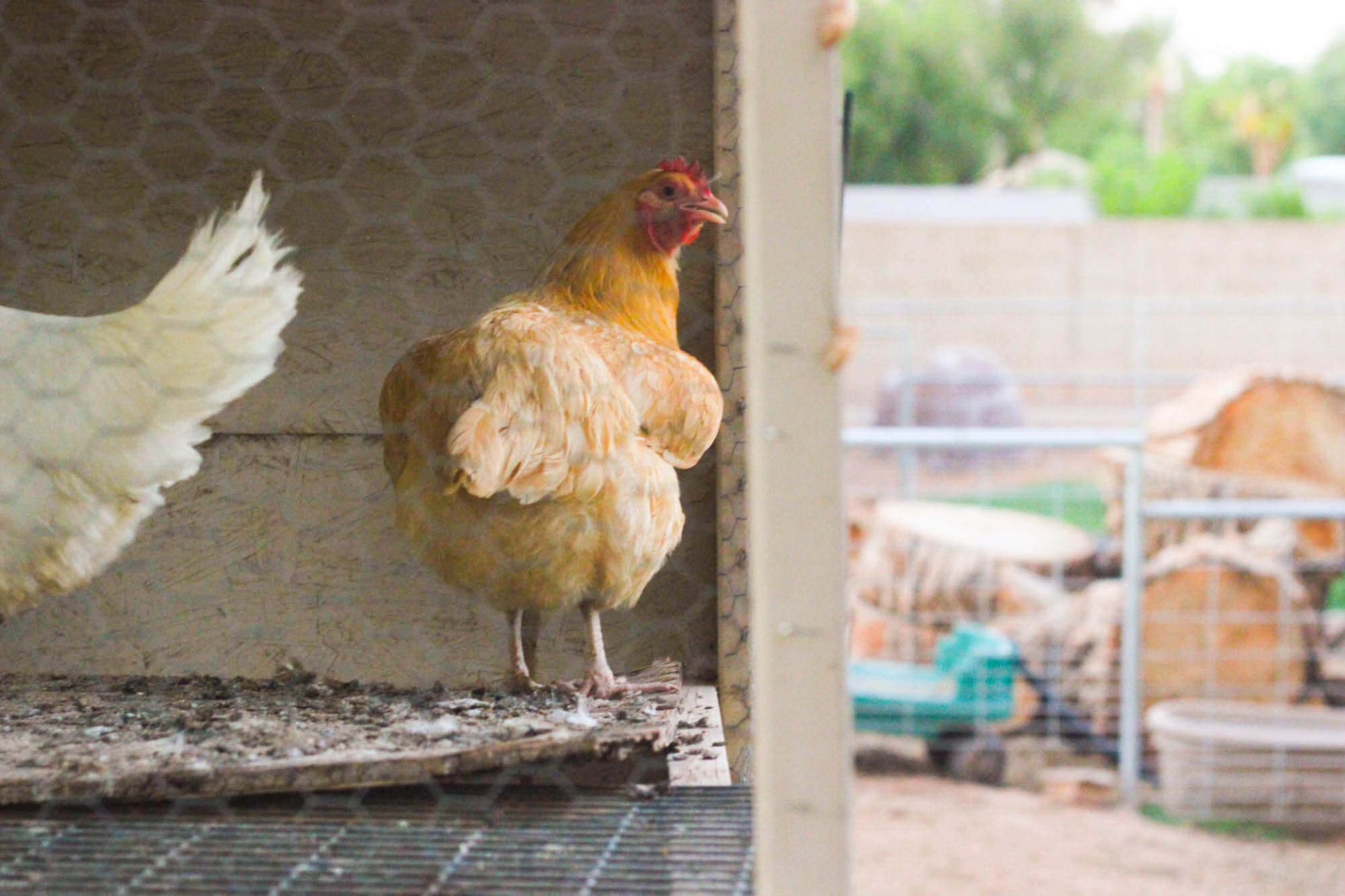 7:00am
The day starts out with a trip to the coop to let out the chickens for the day. They love to free-range on our acre and forage for bugs, so the second we let them out, they run like mad-women to the pasture. As long as we lock them up at night, we haven't had predators. (benefits of living in an urban setting)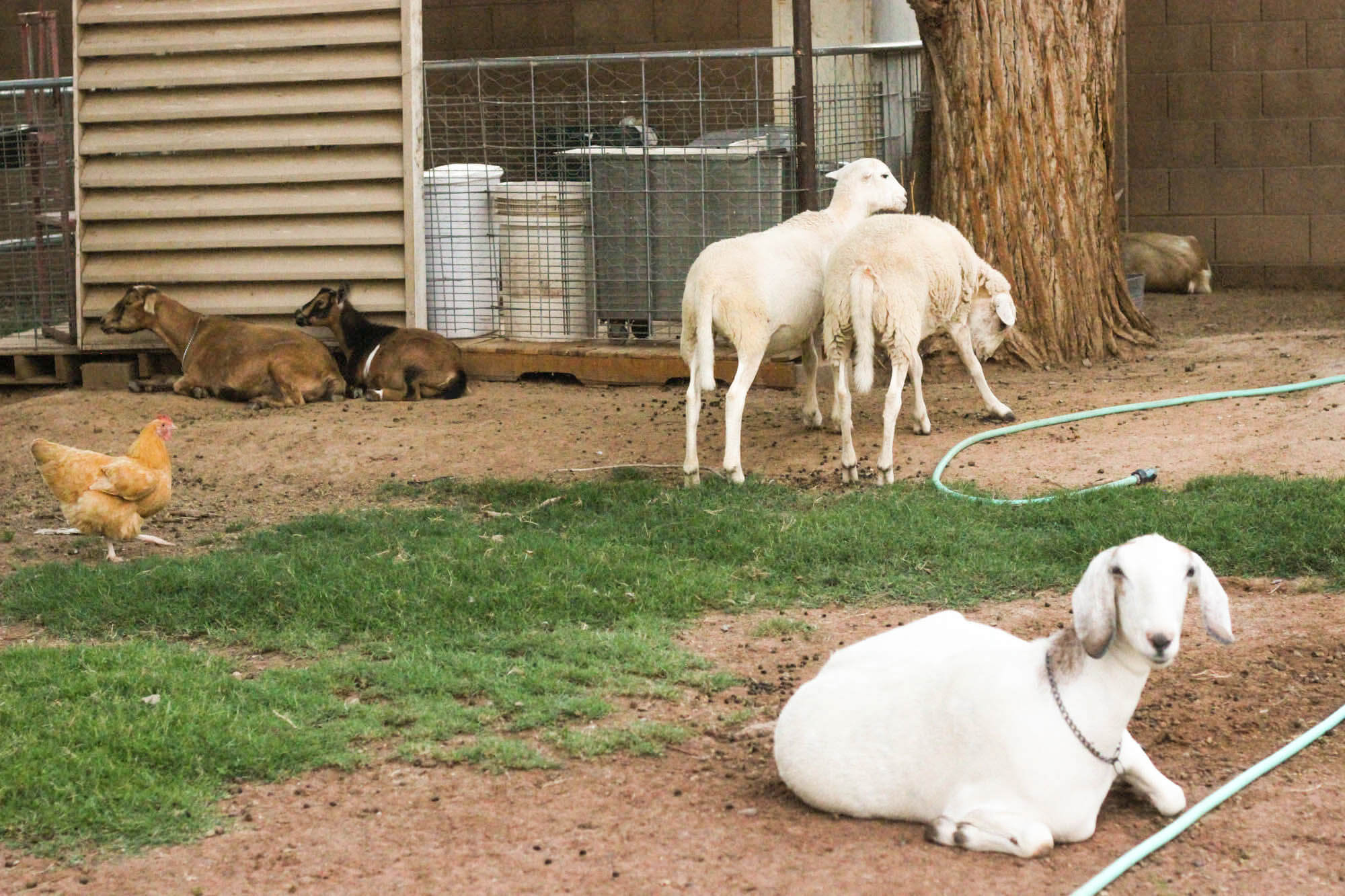 7:10am
The goats are usually waiting for us, ready to be milked for the day. The (human) kids pour sunflower seeds and a small handful of organic grain in the feeder and start milking our two milkers, Penny & Luna. Everything is squirted into the same bucket then brought into the house for filtering & cooling.
Urban farming in summertime Arizona, the goats pasture-feed during the day, meaning they aren't fed hay or pellets but rather get their nutrition from grass & weeds in the pasture.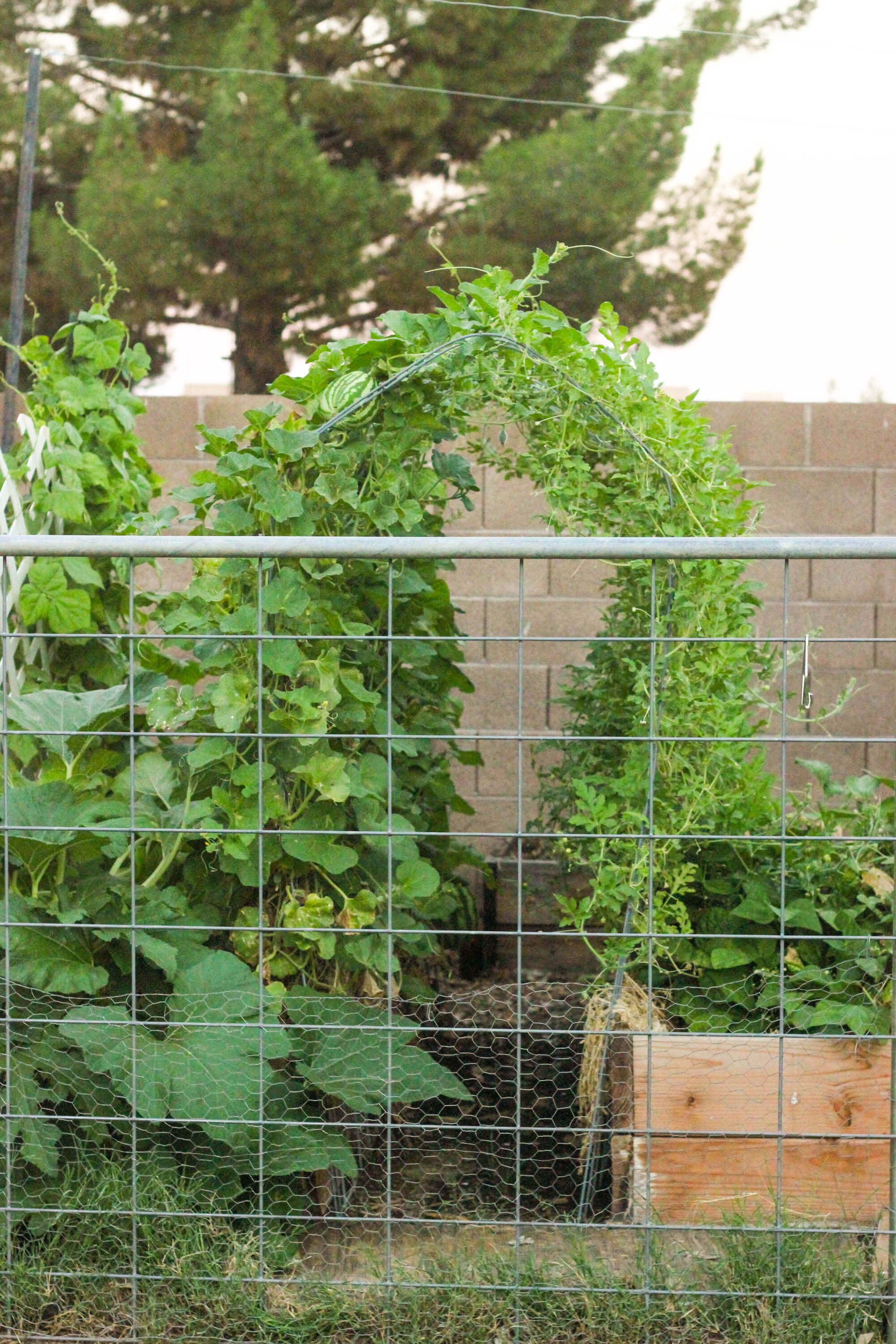 7:45am
Time to check on the garden! My raised garden beds have their pros & cons. They are great for keeping out weeds, but keeping a good moisture level in this desert heat can be a challenge. Right now I'm growing my watermelon & cantaloupe on our garden box/trellis combo.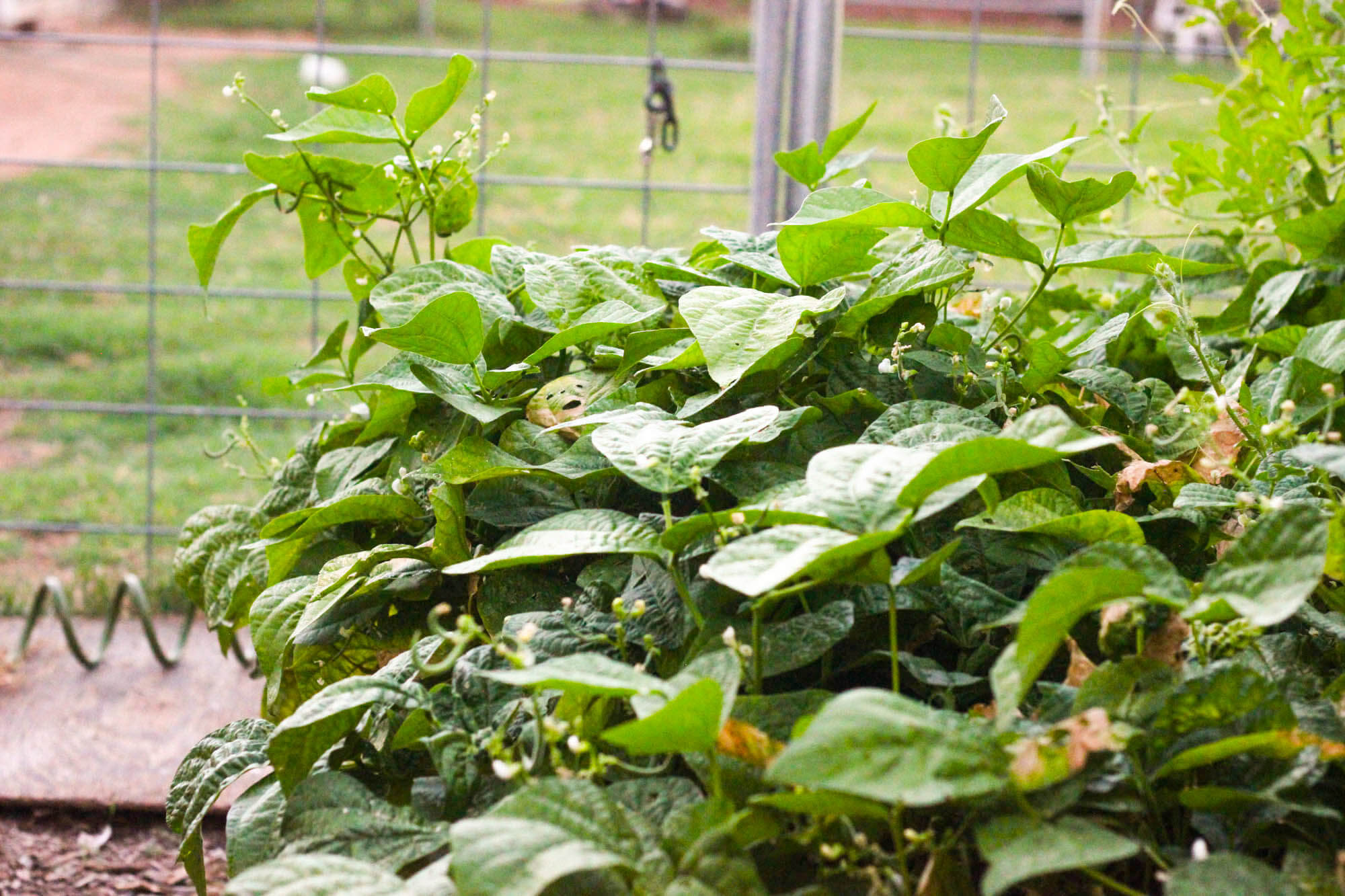 7:50am
The green beans are going strong and in just a few more weeks they'll be ready to harvest!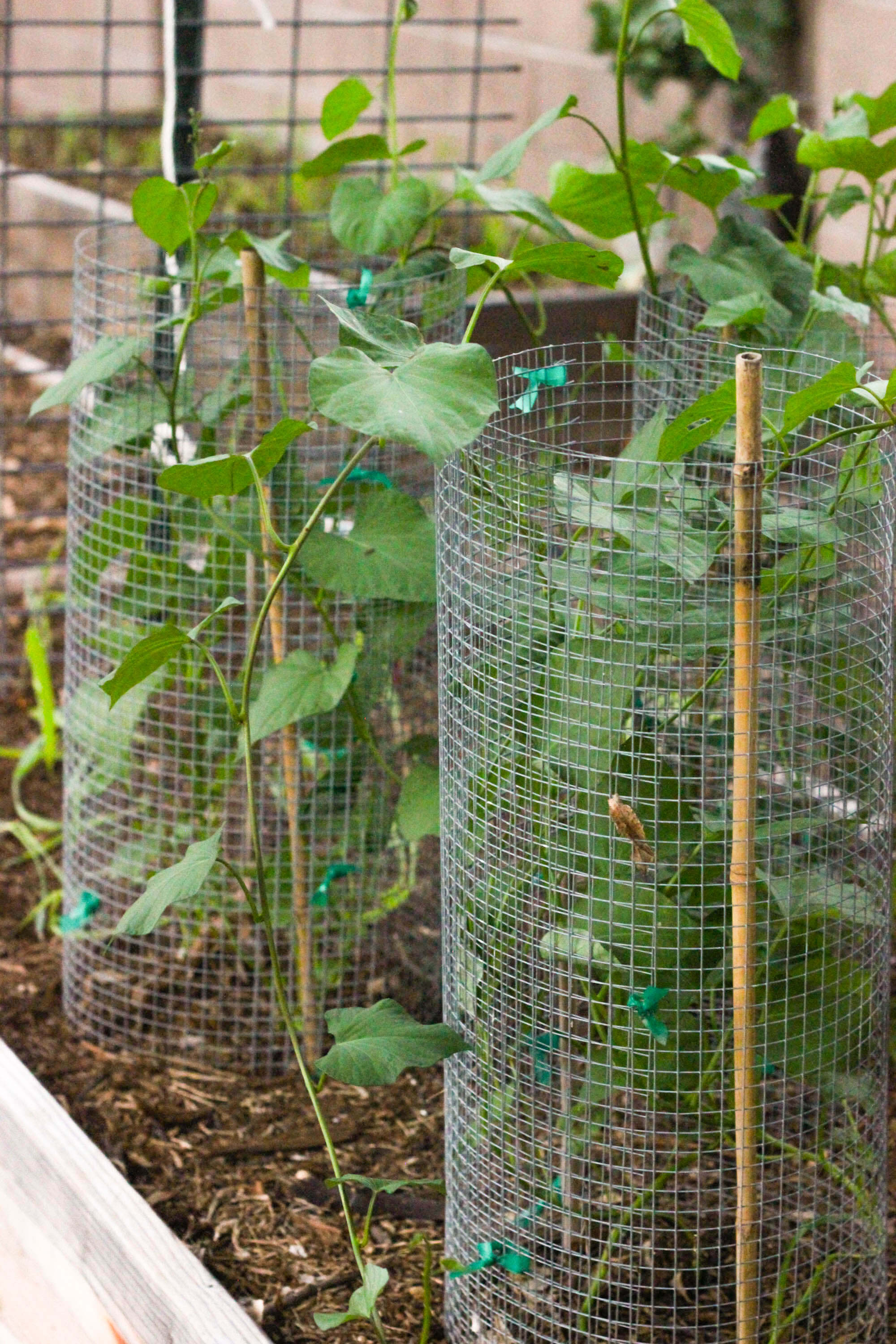 7:55am
It's all about saving-space and the same goes for sweet potatoes. We have them climb up a cage first, then spill out over the edges to help maintain the unruliness of the sweet potato vines. Hands down, these are my favorite thing to grow in raised garden boxes.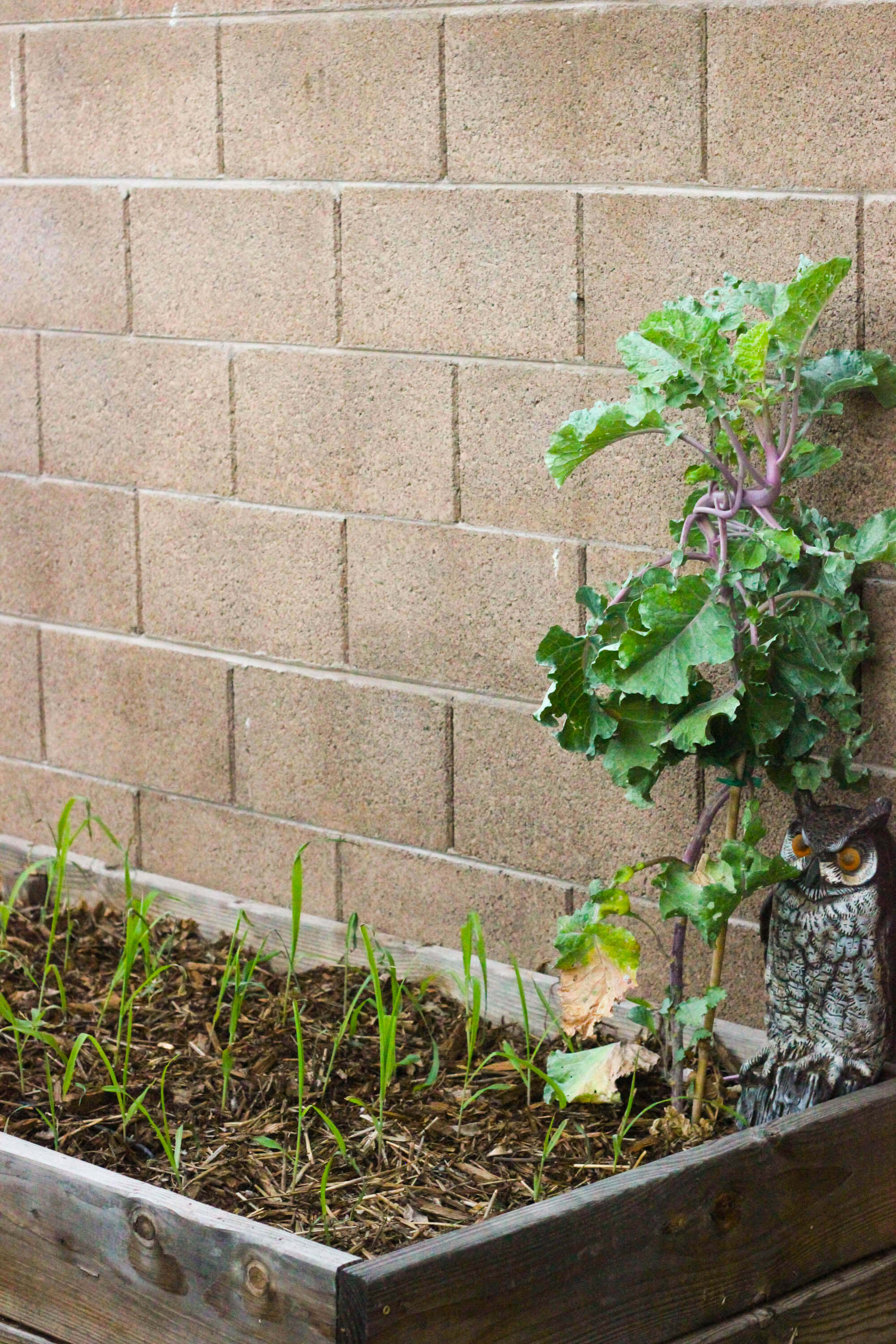 8:00am
Anything that needs to grow tall and in a stalk is placed in my raised garden bed next to the wall. This way they'll get more support as they get tall and lanky.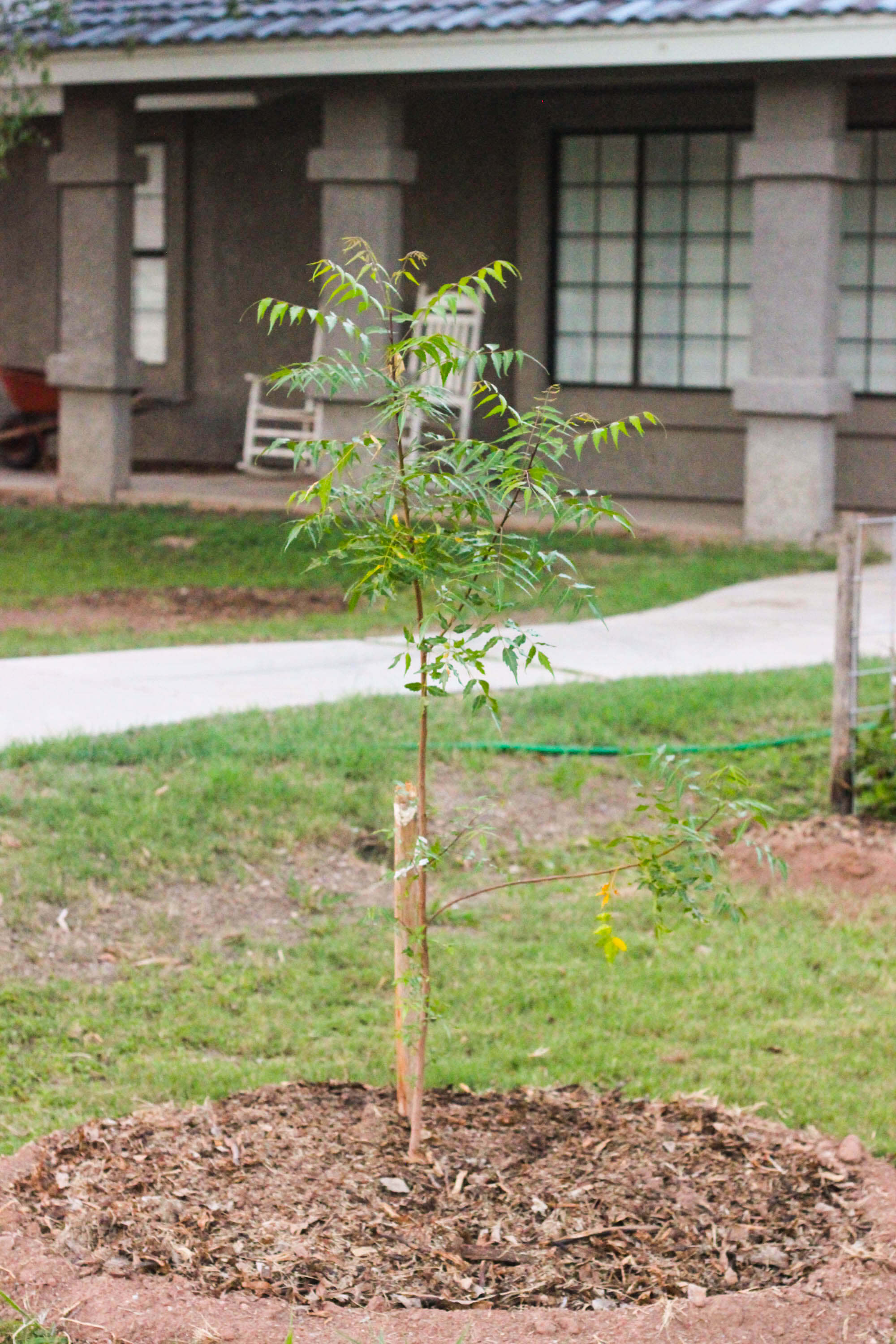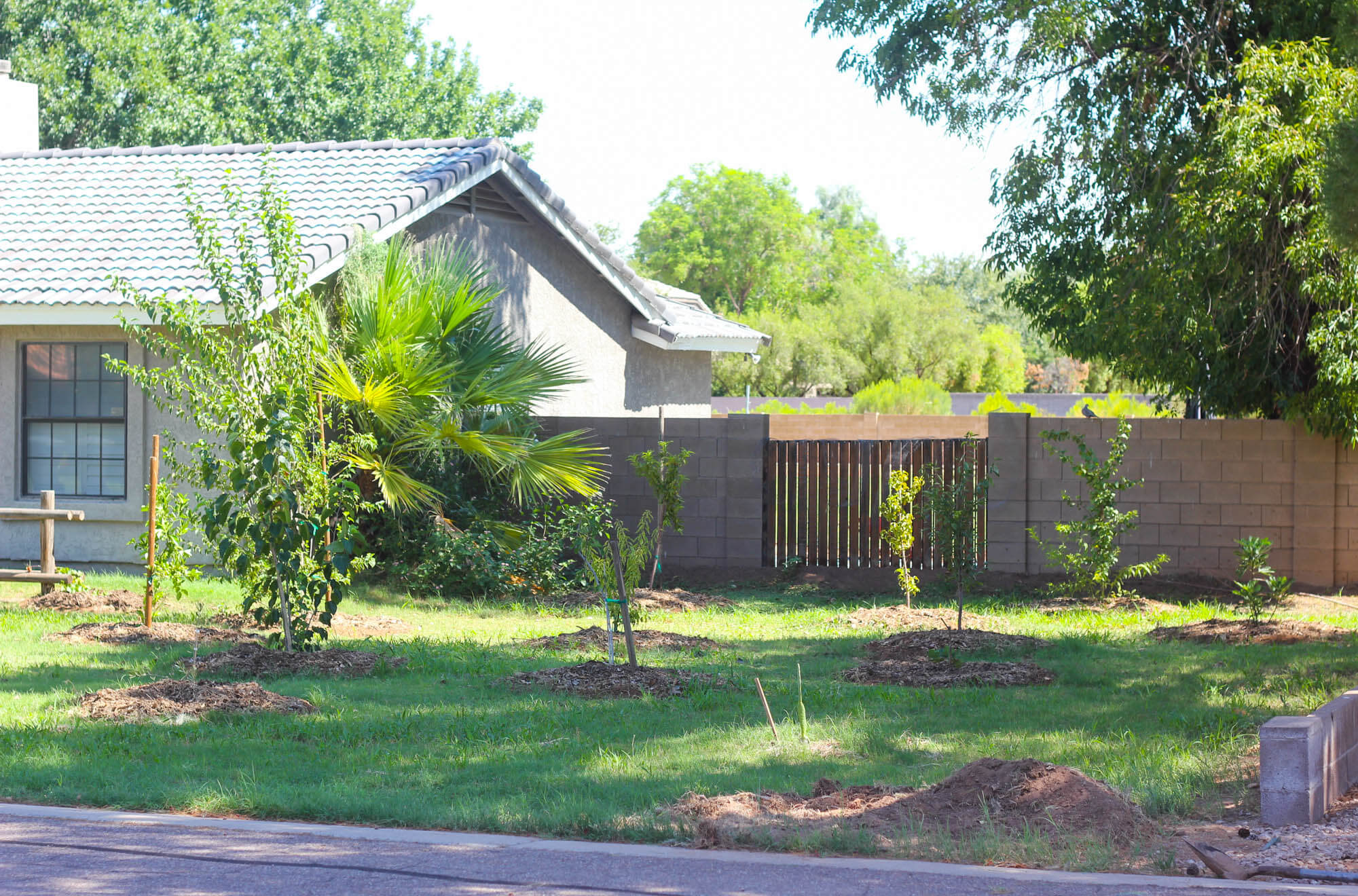 8:15am
Time to check on the front orchard. We've got the following trees in the frontyard: Neem, Blackberry (thornless), Grapes (thompson & red flame), Orange (trovita), Mulberry (pakistani & dwarf), Cactus (prickly pear), Olive (monticello), Fig (texas blue, beers black, brown turkey), Plum (beauty), Peach (may pride, desert gold), Apricot (gold kist), Almond (garden prince). In the backyard we have a Mango (kent), Avocado (day & mexicola), Banana (goldfinger), Cherry (barbados), and Grapes (thompson & red flame).
Once every animal & plant has been taken care of, it's time to go inside and do other work (like write this blog post here;)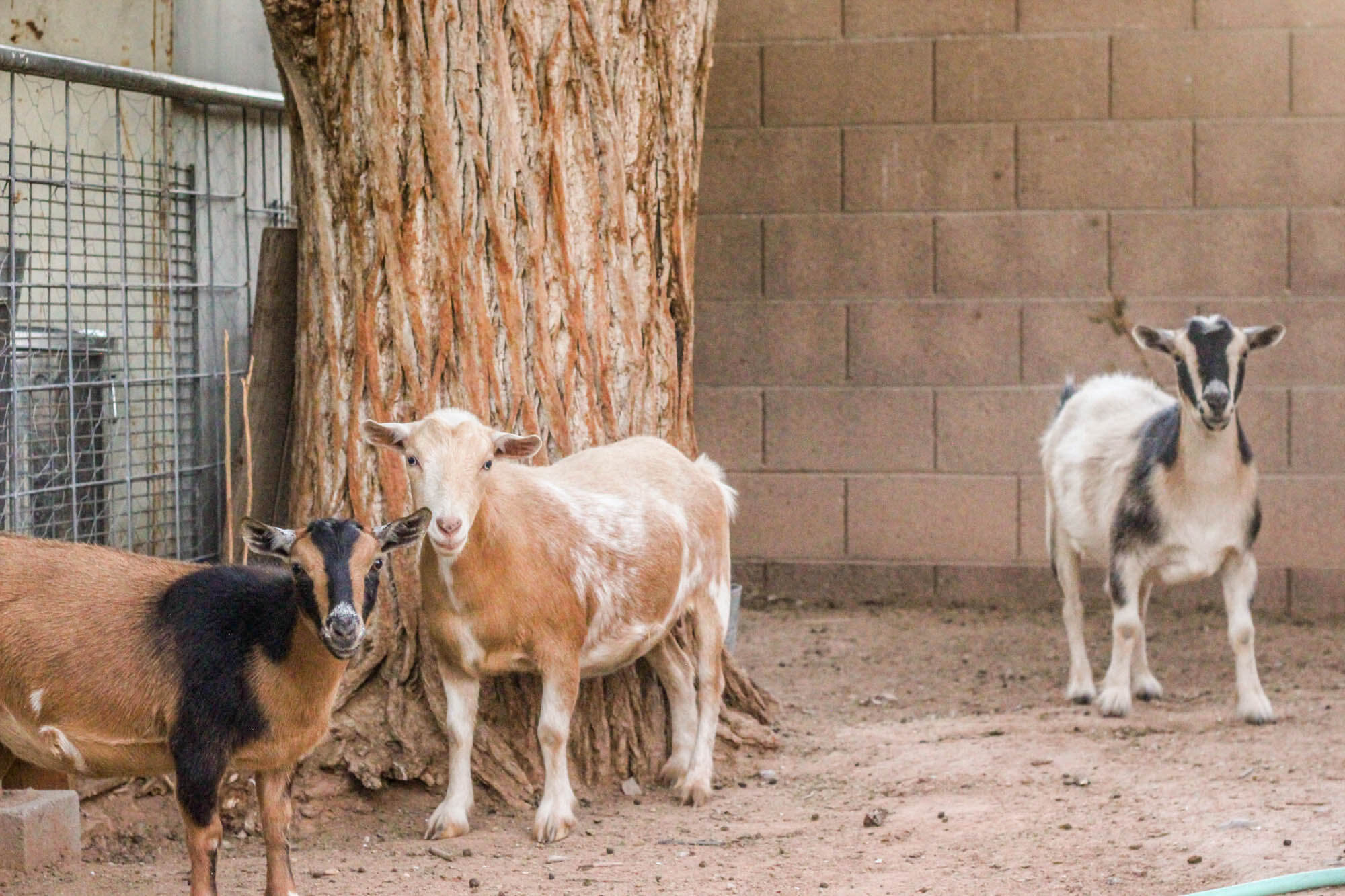 7:00pm
At the end of our urban farming day, the goats are (again) waiting for us to milk them and feed them for the night. We milk Penny & Luna again, then feed all the goats pellets or hay in the goat area. The sheep eat 100% grass and stay on pasture all night.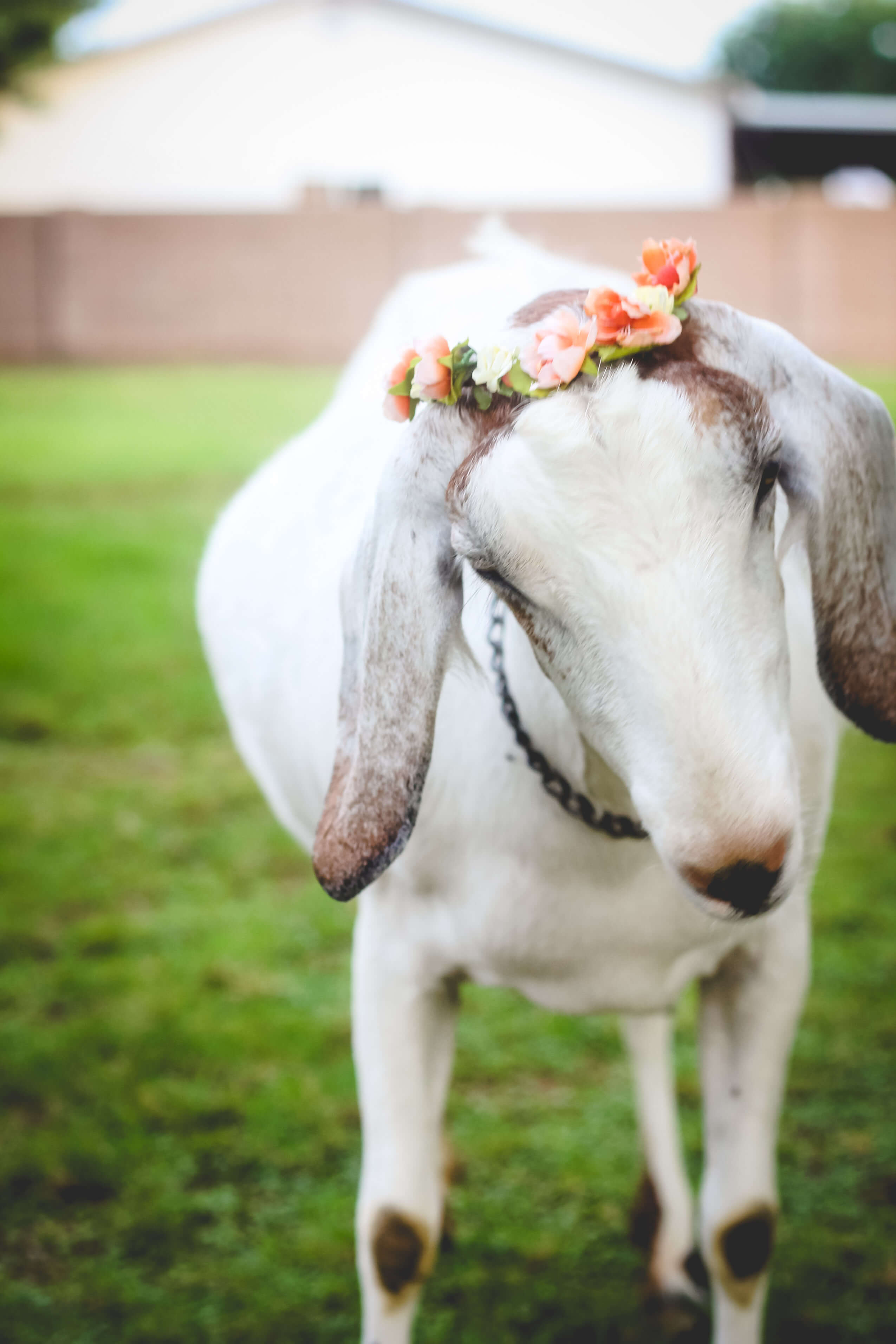 Lovin' this life we live
Growing your own food changes you, in more ways than one. You learn how to have patience, to develop a thirst for knowledge, and to accept that you have no control over the success of your urban farm, only to work hard and hope for the best.
Above all, you learn to laugh at yourself and appreciate homegrown food in a way you never did before.
Watch our Video (and subscribe to our YouTube Channel!)
You've made it to the end and now you get the reward of watching a full day of urban farming! You'll see that we definitely are in a suburban neighborhood and are doing things that most of our neighbors aren't. Enjoy!