Baby animals are here! They sure threw me for a loop. Let's see if you can catch up. We have 3 goats (Lacey, Angel and Polly) And we have 1 sheep (Paula) First I thought Lacey (one of our goats) was due any day. I watched and waited and woke up in the middle of the night numerous times to check on that dang goat. The next morning, Kevin woke me saying, "Well, there's not any baby goats, but there's two little lambs out there."
I shot out of my bed and ran outside.
I couldn't believe that Paula(our sheep) had babies. I mean, I knew she was pregnant. But normally animals show sign of impending labor. They stop eating, are louder than normal. You know. OH wait, you probably don't. Well, anyway the bottom line is they act different. But not Paula. She dropped two little lambs and I didn't even notice because I was too busy checking on stinkin' Lacey.
We decided to name them with "P" names just to make it more confusing.
Introducing Peeta & Prim.
We have already sold Prim and we are planning to raise Peeta to butcher. Well, that is, if we can get actually follow through with it. We don't have a great history of following through as you can read in
THIS POST
and
THIS POST
. We'll see. Poor Peeta.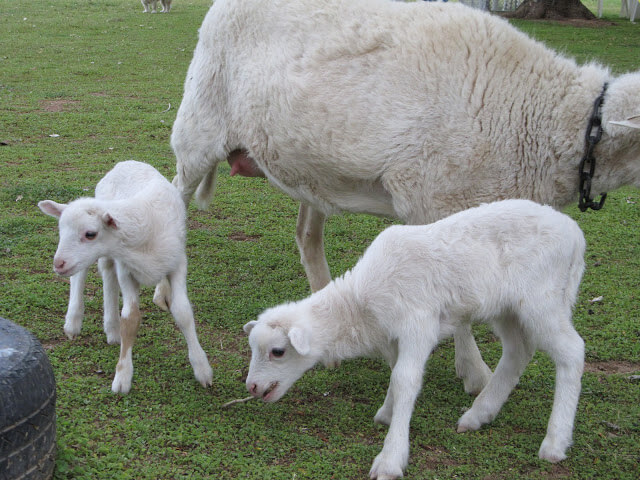 I was determined to be there for Lacey's babies. Not because she would need my help, but I wanted to catch it on film so I could send the footage to my sister with sappy music for her graduation present.
But again, I was woke this time by my son saying, "Mom, Lacey's eating a placenta."
Nice.
Even nicer is the fact that my 8 year old son can recognize a goat placenta.
We all ran out there in our PJ's and oohed and ahhed at the little kids.
Triplets! 1 buckling and 2 doelings.
As annoying as goats are, these little guys are pretty darn cute.
Introducing Gale, Katniss & Rue.
We bred Lacey to freshen her milk. Now she'll have plenty of milk for us for the next 10 months. We are selling all her babies in a couple months.