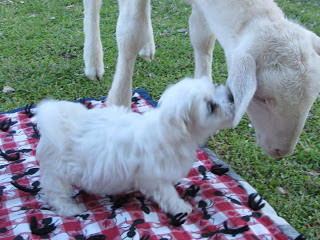 It was a sad week last week. Our poor sheep Peter, died. He seemed fine to us (although we've never raised a sheep before), he ate our grass, played with our baby goat and seemed happy and healthy. BUT, now we don't think he was very healthy because, well, he's dead.
One day I noticed how Peter was laying down while grazing. I thought that seemed weird but didn't think anything of it. I reminded myself to go check later that day if he had a thorn or something in his hoof. I got busy and forgot to go check on him and when Kevin got home he told me Peter looked kinda dead. We all ran outside and just couldn't believe it! There he was just laying there dead.
I thought the kids were sad until I looked outside and had to yell for them to stop poking dead Peter with a stick and come eat their dinner. Oh and be sure to wash their hands. eek.
Normally I'm not sentimental with my animals, BUT, I felt SO SAD for Peter. I can honestly say he was the nicest sheep I ever met. Granted, he was the only sheep I ever met & we were raising him with plans to butcher him for the meat, but still SO SAD! Even more sad is that I had just finished convincing Kevin to NOT butcher Peter. I mean, I had pretty much done everything except make a Powerpoint presentation to convince Kevin. Sheesh, Peter, then you had to go and die on me!
We were in a hurry to eat dinner and go to parent teacher conferences that night so the burial would have to wait till dark. When we got home, we put the kids to bed and headed out to the "animal graveyard" for the burial with a shovel and a flashlight. We really haven't had that many animals die on us, just Kevin's parents old dog Ginger and Lydia's bunny Toots that our dog Dora "allegedly" killed. Now, Kevin and I don't have a great history of burying animals. It usually consists of Kevin digging a hole while I try to convince him it's entirely too small. And yet again, I was right.
Once we dug the hole, we trudged over to where dead Peter was. And what we realized is…because of natural things that happen to dead animals once they're dead and lying there for a couple hours, let me just say the hole we dug was DEFINITELY not big enough.
We went from feeling really sad for Peter to gagging at the grossness of it all to laughing in spite of the situation. It was a crazy night in the dark just the two of us. Well, three. Poor Peter. Poor poor stinky Peter.
*Update* We found out that new lambs can get pneumonia real fast when the weather turns so unfortunately, that's probably what he died from.