Me and cookbooks, we don't tend to get along too much. Until now.
Today's fabulous recipe comes from my new favorite cookbook! I was so excited about these delicious crackers, that the author gave me special permission to post her recipe here on my blog for all of you to enjoy! Get excited folks.
The cookbook is called
and it is
AMAZING.
I actually gasped when I saw that this cookbook was divided into these chapters…
chapter 1: from the garden
chapter 2: from the pasture
chapter 3: from the range
chapter 4: from the waters
chapter 5: from the fields
chapter 6: from the wild
chapter 7: from the orchard
chapter 8: from the larder
Gasped, you guys! Just look at this amazing cover…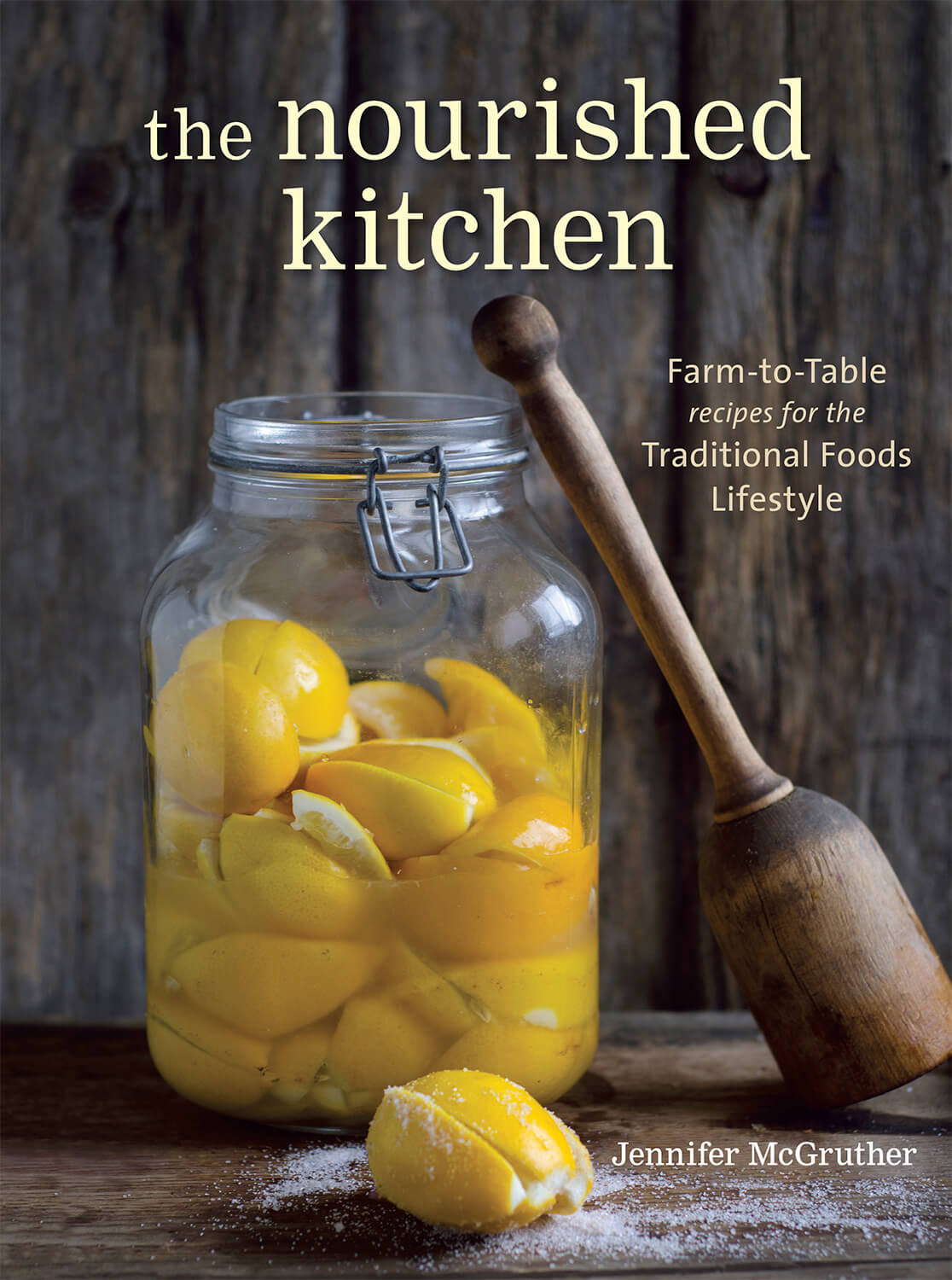 I've known the author, Jenny McGruther, for quite a while. She has a blog called Nourished Kitchen, and her blog is my #1 bookmarked site for traditional yet elegant recipes. Jenny has a way of transforming something simple into something divine!
I've always been a simple, comfort foods kind of gal, but with Jenny's recipes, I feel like I've reached out of my comfort zone and found my home. It's a lost art, cooking traditional food, and yet Jenny masters it while making it simple for everybody!
I've always loved Salmon, but I didn't realize how amazing it could taste until I made Salmon baked in Cream with Sweet Bay, Thyme, & Dill from The Nourished Kitchen cookbook. I've always gobbled up steamed carrots, but I didn't realized the foods that paired so well with carrots until I made Maple-glazed Root Vegetables with Orange & Thyme. Jenny has a talent for paring simple herbs with traditional real food to bring together a complete, nourishing meal.
Before I get to the recipe, listen up…
For this week only, Jenny is hosting a Virtual Dinner Party, and you are all invited! Each day this week, a blogger is featuring one of Jenny's recipes!
And now… on to the recipe!
Just try Jenny's Yogurt & Dill Crackers. Just try them. Trust me! The yogurt helps prepare the grain properly by breaking down the phytic acid and anti-nutrients found in grains. The dill just ties all the flavors together. It's genius. Traditional food made simple.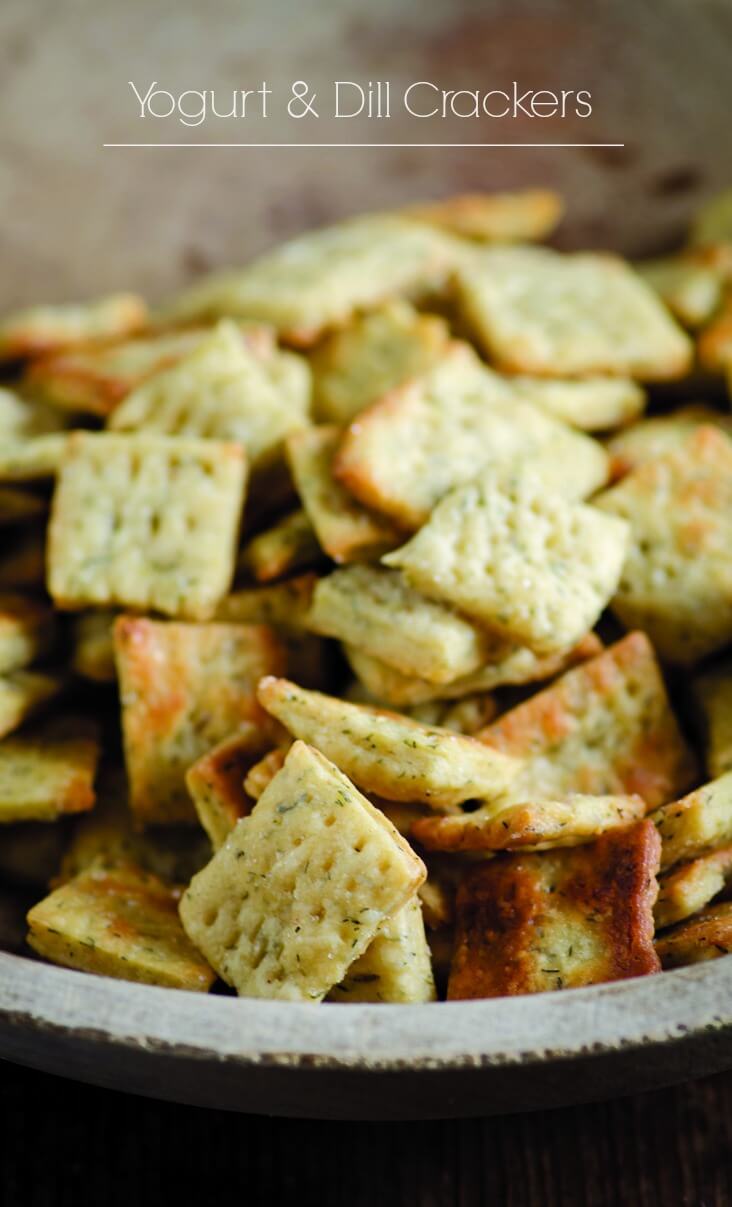 .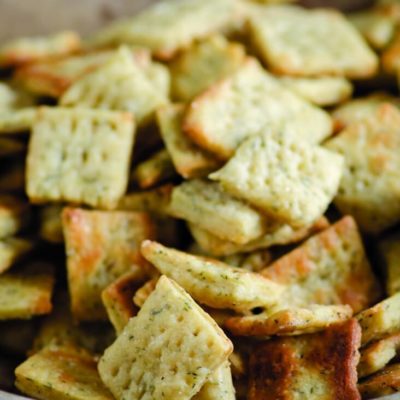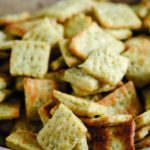 Yogurt & Dill Crackers
Makes about 5 dozen 1 ½ -inch crackers
Print
Instructions
Put the flour into a large mixing bowl and whisk in the salt and dill. Beat in the 4 tablespoons of room‑temperature butter until the flour resembles cornmeal in texture. Beat in the yogurt until the mixture forms a thick dough. Cover the bowl tightly and allow it to rest in a warm place in your kitchen for at least 8 and up to 12 hours.

Position racks in the upper and lower thirds of the oven and preheat the oven to 450°F. Line two baking sheets with parchment paper.

Divide the dough into four portions. Flour your work surface and roll out each piece of dough to an even 1/16-inch thickness, then use a pizza cutter or sharp knife to cut the dough into 1 1/2-inch squares. Place the squares on the prepared baking sheets, spacing them about 1/2 inch apart.

Brush the squares with the 2 tablespoons of melted butter and prick them with the tines of a fork to prevent them from puffing as they bake. Bake for 6 to 8 minutes, until the crackers are just tinged with gold around their edges. Pull them from the oven and cool them on a wire rack. Store the crackers in an airtight container for up to 2 weeks.
Recipe Notes
Reprinted with permission from The Nourished Kitchen by Jennifer McGruther, (c) 2014.
Published by Ten Speed Press, a division of Random House, Inc.
Photography (c) 2014 by Jennifer McGruther