We started out the weekend with Kevin's Birthday week celebration!
Who brings brown rice and vegetables to Panda Express??
We do!
Kevin LOVES Chinese food and usually likes the authentic stuff, but we were in a hurry to see Brave so we needed a quick fix.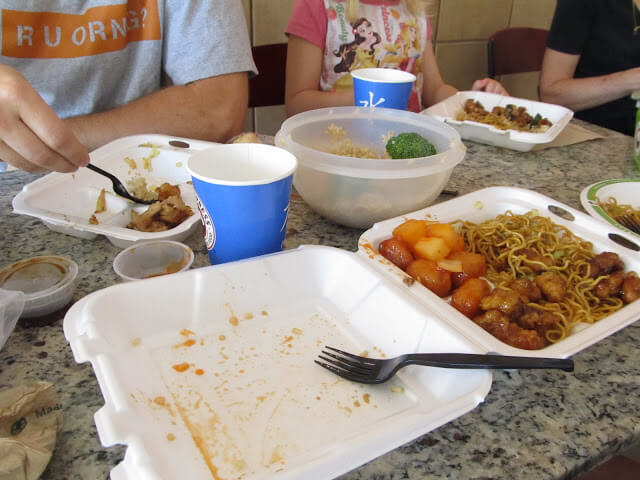 When we got home, look was Nickolas was up to…
She was having kitties (yay)
When we got Nickolas (yes, it's a she) I promised myself I wouldn't forget to spay her.
Then as I kept putting it off, I figured she wouldn't get pregnant because she always stayed on our back porch and never strayed.
Then one day I saw a black cat hanging out with her.
Then she got fat.
Then she got really fat.
Then, well, she had kitties.
And you know what happens when life gives you kitties…
You make lemonade, or, something like that.
I decided Lydia could research how to take care of kitties and make a little business out of it. And so far it's been a great thing. She got a book at the library and read all about the care of cats and kittens and has been at Nickolas' side every step of the way. I've been acting like I don't know a thing about animals and she's been telling me all about what she learns. I hope she's ready for the clean up that will ensue once the 6, I mean 4 kitties are running around. (Sadly, the runt died and then our dog took one and thought it was a chew toy and well, you get the picture. In her defense, she NEVER hurts animals and all the years we bred puppies she didn't lay a paw on them so we're a little perplexed as to why she did it)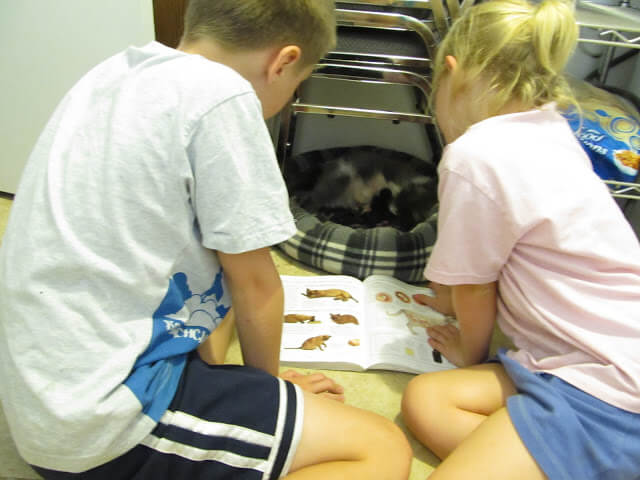 In other news, I'm back to juicing!
AH, and boy does it feel great!
My new chiropractors were teaching a juicing class and we had a discussion about smoothies vs. juicing.
One thing they said was SO INTERESTING and TRUE.
Here's the main difference between smoothies and juicing…
A smoothie is MOSTLY fruit, with a little bit of veggies.
Juicing is MOSTLY veggie, with a little bit of fruit.
It's SO TRUE. Have you ever had a smoothie with celery, carrot, cucumber, kale, spinach and one apple?
It's SO much more palatable to drink the juice.
Get your fiber from the rest of your veggies and fruits of the day.
{p.s. there's really only 1 cup of water in there, but with all the veggies, it makes it look like 2 or 3}