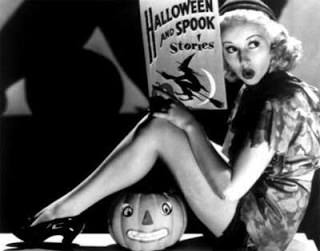 Ready for the next SCARY STORY?!  
Here we go.
(Try not to pee your pants)
(From being scared)
(Not from laughing)
(Because this is TRUE YOU GUYS)
This is a story about my Grandpa's friend.  Is it just me, or does a story seem scarier if it happened a long time ago?   Okay, so my Grandpa's friend was riding all night on a horse from –I'm not sure where this guy was coming from but just remember it was dark, in the wilderness, and he was on a horse, okay?
So, here he was, riding a horse in the dark and getting really, really tired.  This guy was so exhausted he just couldn't ride any longer.  He came upon an old rickety shack.  He decided he would go inside and rest for the night.  His tiredness outweighed the fact that this shack could definitely be haunted.  He opened the creaky door, cccrrrrreeeeeaaaaak. He took some steps inside on the squeaky floor boards.  Squeak, squeak, squeak.  All of the sudden, he heard a thump coming from the ceiling.  He noticed there was a ladder leading up to the attic.  
He walked over.
He slowly climbed up the ladder.
(If this was a movie, this is the part where you would yell at him to definitely NOT go up that ladder)
He got to the top of the ladder, stuck his head in the attic and…
It was pitch black and couldn't see a thing, so he lit a match and…
ALL OF THE SUDDEN A CRAZY OLD WOMAN APPEARED INCHES FROM HIS FACE!  SHE JUST KEPT HER FACE INCHES FROM HIS AND SCREAMED AND SCREAMED!
(I'm assuming it looked something like this, but this is coming from the imagination of a 5 year old little DaNelle, so….yeah)
My Grandpa's friend ran out of that shack as fast as he could, and rode all night to get back to town.  
Turns out, the crazy lady had escaped from a nearby 
and had been living in the shack. 
SCARY!!!!

On Halloween, I'll share THE SCARIEST STORY ever…
and it actually happened to me.