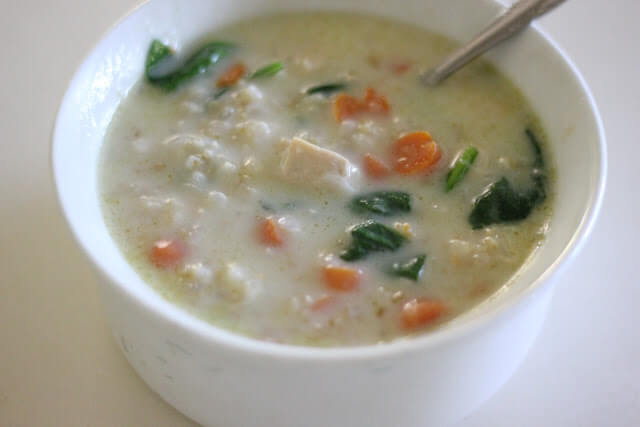 Soup season is on!  Mmmmm….soup.  And in a crockpot!  
Are you excited???
BOTH my kids LOVED this soup.  And it's pretty much standard in this house that if one kid loves it, the other hates it.  So, huge hurdle there!  This soup is surprisingly creamy despite there being no cream in it.  It's a great winter soup and an alternative to regular ol' chicken noodle.
Chicken, Rice & Veggie Soup
2 c. brown rice (soak for 12-24 hours before cooking)
3 cans (or 6 cups) organic chicken broth
1-2 lb. organic chicken (depending on how chicken-y you want it)
2 c. diced carrots
1 medium onion, diced
3 clove garlic, minced
4 TBS.  butter, lard or tallow
2 handfuls spinach
salt and pepper to taste
Directions: Saute onion & garlic in oil, then add rice and brown for 2 min.  Pour broth & rice mixture in crockpot and start on high.  Cook chicken separately, then dice and add to the crockpot.  Cook on high for 3-4 hours.  About midway through, add diced carrots.  When done cooking, add 2 handfuls of spinach and serve!