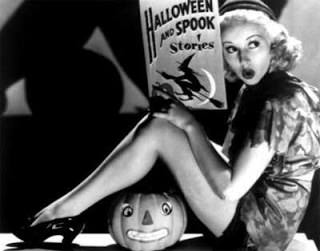 Growing up, my Dad always told his 5 little girls (aka me and my sisters) THE SCARIEST stories.  But, these weren't just some silly Halloween stories my Dad would tell us.  Oh no.  The worst part was that these stories were real life stories from his childhood and 
And I believed him, because well, my Pappy don't lie.
Leading up to Halloween, I'm going to post some of the scary TOTALLY TRUE stories my Dad used to tell us.  But just wait, on Halloween, I'll post the SCARIEST EVER STORY that actually happened to me!
I'm kinda laughing here because you probably think I'm totally joking but this is 
Here we go…
(Try not to scream)
When my grandpa was a young man, he used to work as a cattle herder in the White Mountains in Northern Arizona.  It was a great summer job that he and his buddies had acquired to earn some extra money.  One of their jobs was to keep watch on the cattle all night.  They would stay up and try to keep each other awake with conversation.  Well, on this one particular night, there was a bright full moon and it was nice and quiet.  The group of young men sat on a hill overlooking the quiet herd of cattle.  Because of the full moon, it was quite bright out.  All of the sudden the cattle became startled and started running at full speed down in the valley.  They could see that SOMETHING was chasing it.  No it wasn't a cougar or a bear.  It was something on TWO LEGS!  Running VERY VERY fast on TWO LEGS.  Superhuman FAST.  Fast enough to keep up with the running cattle.  In fact, it caught one and started eating it.
Well, that was enough for the young cowboys & my grandpa.  They jumped on their horses and rode all the way to town and told the cattle rancher what happened.  They were so spooked they left that night to drive down to the valley and away from the White Mountains and it's unnatural inhabitant. 
Tune in for tomorrow's even SCARIER story! (dun, dun, dun)