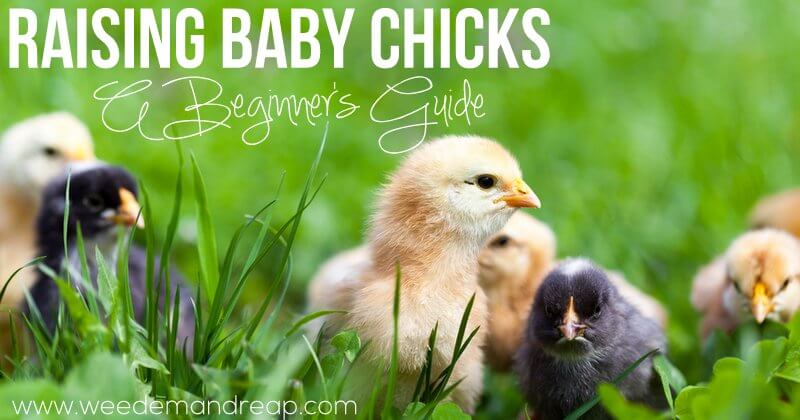 Thinkin' about raising baby chicks?
We love chickens here on our farm, and really, they're kind of a staple on any farm. Fresh eggs every day? Yes, please! And let's face it, your child hasn't lived until they've walked around with a full-grown chicken on their shoulder as they pretend to be a pirate. Chicken pirate, that is.
I can't believe it's taken me this long to write a full guide on chickens! It must have slipped my mind while I was blogging about raising goats. Them goats sure do take over your brain.
The best thing about chickens is that they are low maintenance. Raising baby chicks take a little more time and involvement than older chickens, but once they hit 3-4 months, it's smooth sailing from there!
Where to buy baby chicks
You can order baby chicks online. It's true! They actually will ship them to your local post office for you and then your post office will give you a quick call telling you to come down and get your little furballs. Most people will go to the local feed store to purchase baby chicks. Feed stores don't usually carry them year-round, because their are time of the year when baby chicks are "in stock", and times when they aren't. This is true for ordering online as well. Gotta get 'em while their available during the Spring & Fall, when baby chicks are in surplus.
I have yet to find an online source for chicks that grow up to be egg layers that have feed organic and have holistic practices. I do love these Freedom Ranger Chicks from JM Hatchery, but those are broiler chickens — meant to be raised for meat)
Should you get females or males?
Should you get hens, roosters, or a combination of the two. My advice is to stick with hens. Chickens don't need a rooster to lay eggs, they only need a rooster to fertilize their eggs. So, unless you want to hatch baby chicks on your own, opt out of the rooster choice.
One thing I should note is that baby chicks should be "sexed", meaning, they were determined by the hatchery to be either male or female. This is important because it's really difficult (almost impossible) to tell if they are male or female until one starts crowin' and one starts layin'. Let the experts at the hatchery determine this for you!
Supplies for raising baby chicks
Everybody thinks of coops when they think of chickens, and rightly so. Chicken coops are a must when owning chickens, but one thing to remember is that they won't be living in their coop until about 6-8 weeks of age, so you still have some time to plan & build for that chicken mansion you're dreaming up. In the beginning, we transformed our old crib into a chicken coop, but as our chicken flock grew, we later made our own huge chicken mansion. Check out all the chicken designs on my Pinterest board here.
Supplies for baby chicks:
Big cardboard or plastic box – depending on how many baby chicks you purchase. (we use a large plastic storage container)
Wood shavings – We use pine shavings from our feed store.
A chicken feeder – this is a special feeder designed to keep them from pooping in their food.
A chicken waterer – this is is a special water container designed to keep them from pooping in their water.
Heat lamp
Baby chick food
Food & Water for baby chicks
There are three kinds of food for chickens – food for baby chicks, food for chickens laying eggs and food for chickens being raised for meat. Obviously, because you're starting with baby chicks, you need to purchase baby chick food, which will have a higher protein content (20-22%) to help them grow.
We strive to raise our animals holistically and try to feed organic feed when possible. If you buy "regular" chicken feed, it will only cost you about $11.00 for a 50 lb. bag. Pretty good deal, huh? Well, not really. "Regular" feed is chock full of GMOs (genetically modified organisms) which are KNOWN for making chickens sick. Genetically modified organisms are also called Roundup Ready. GMO's require massive amounts of pesticides, herbicides & fungicides. Yum. "Regular" feed is also usually pre-packaged with anti-biotics. Manufacturers do this to pre-treat for things like coccidia. The problem is, anit-biotics should never be given as a treatment, unless your animal is sick. Feeding your chickens a regular feed will come out to costing you about 82 cents per dozen of eggs.
Organic, Non-GMO feed is about $24.00 for a 50 lb. bag but the benefits are amazing. Our feed is full of clean grains, as they should be, with no pesticides, herbicides, fungicides, hormones, or anti-biotics in them. We also supplement their diet with dinner table scraps. It costs us about $1.75 a dozen. At the store, you can expect to pay $5.99 a dozen for ORGANIC, FREE-RANGE eggs.
Whatever you decide, both food & water should be kept out "free-choice", meaning it should be available to them 24-7. As they eat and drink, just keep filling 'em up!
Shelter when raising baby chicks
Like I said before, your baby chicks won't be able to live in a coop until they are at least 6-8 weeks old. Baby chicks can't regulate their temperature until they are this age, so they need a controlled environment (aka a laundry room or bathroom)
A box (plastic or cardboard) is the best way to go when raising baby chicks, but it will need to be cleaned out everyday. Because your new baby chicks have just come from somewhere across the country, it's important to wear gloves when cleaning up their droppings until their systems are cleaned out and free from the stuff they picked up at the hatchery & feed store.
Baby chicks & body temperature
Like I said before, baby chicks aren't that fabulous at maintaining their body temperature. Once they're adults, they'll be hardy and able to handle cold temps and hot temps, but for now they need some extra care.
A heat lamp will give them just what they need until they're old enough to maintain their body temperature on their own. They need 95 degrees for the first week, 90 the second week, 85 the next and so on. Once they reach the age where they can handle the temperature in your location, you are free to place them outside (with maybe a heat lamp on at night).
TIP: Watch your baby chicks. If they are huddled in a corner they are cold. If they are walking around they are nice and warm.
What about diseases or sicknesses when raising baby chicks?
When baby chicks come from the hatchery & feed store, they are carrying with them a higher amount of intestinal bacteria than normal. Combine this with the stress of transportation, and you've got a baby chick who's going to be more sensitive to sickness. Now, the answer with most farmers is to feed an anti-biotic feed, but we aren't most farmers and here's what we do to take our baby chicks through this phase.
We feed organic, NON-GMO feed.
We add Molly's Herbal Dewormer to their feed (this is a blend that helps rid the intestines of parasites and other harmful bacteria in the intestinal tract. I couldn't recommend this more. It works!)
For the first 2 weeks of the baby chicks stay, we make sure to wash our hands after each time we handle them. After that, we don't worry as much. We still encourage our kids to wash their hands, but we're not as worried about our kids becoming sick from anything. We encourage a good exposure to bacteria here on the farm, and it's helps our kid's immunity become strong!
Raising baby chicks is an adventure!
I think every child should get the chance to raise baby chicks. It's so fun for kids to get involved with the feeding and caring for them! And be sure to take a picture of that chicken pirate of yours. Because it will happen:)