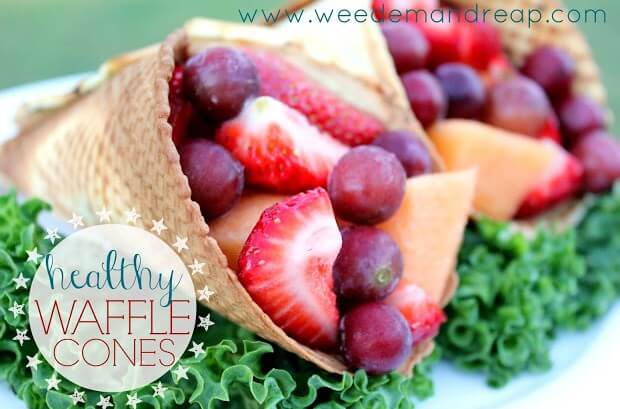 Got this recipe for ya' just in time for your 4th of July adventures! These crunchy, slightly sweet waffle cones go great with ice cream or just some good ol' fruit. To make this recipe you will need to purchase a waffle cone maker like this one. I've tried to think of another way you could make the same pattern on your waffle cones — all of which are either dangerous or disgusting. Plus, backing over your waffle cones with your car would make your neighbors think you're even more crazy than you already are.
On to your healthy waffle cone recipe…
Healthy Waffle Cones
2 eggs (pasture-raised, organic is best)
1/4 tsp. salt
1/2 c. unrefined cane sugar
2 TBS. coconut oil
1 C. sprouted wheat flour or unbrominated, unbleached white flour or a mixture of both if you like
1 tsp. pure vanilla extract
1/3 c. whole milk (water would work too)
Directions:
1. Mix all ingredients.
2. Preheat waffle cone maker.
3. Pour 2-3 TBS. of batter onto center of waffle cone maker and close tight.
4. Cook for about a minute until it become a nice light brown color.
5. Remove and wrap around (provided cone) to shape. Let cool.