When you live on farms, things like fences make you happy.
And when you live on a farm, things like losing your dog tends to make you sad…
It started out as a great weekend! My lovely sister-in-law and her new adorable fiance were in town, so we did what families do to show love — we put them to work!
We had a fence to build and it just happened to fall on the same weekend that this cute couple came to town. Since we have to work around the timing of our flood irrigation here, it was this weekend or wait till the scorching sun chillaxes (which is like October here in the desert).
So by golly, a fence we did build!
Luckily, we had done some research and because I'm nice and all, I'll share with you the best & cheapest way to building a proper farm fence.
The goat, er I mean goal (I always do that. Goats on the brain, I guess) was to create a POOP-FREE zone. That's right folks! No more poopin' on the porch, poopin' on our tables or chairs, poopin' on our tools, or poopin' in our junk pile.
And hopefully the goats won't poop on anything either 😉
Did I mention that goats like to poop a lot? Yes indeed. Contrary to popular belief, goats don't eat everything in site — but they sure as heck POOP on everything in site. Because their poop is like rabbit poo, you'd think it wouldn't be such a big deal.
But it is a big deal. Especially when you want to have a nice relaxing dinner under the cool shade of the trees.
But…poop.
Yes, a poop-free zone is much needed over here. I think I'll make a sign, just to let the goats (and any weird family members) know I mean business.
We chose galvanized steel for our fencing pipe. Even though it's dry as heck here in the desert, rust is still a problem because instead of using sprinklers, we flood irrigate our entire acre.
Don't believe me? See here.
Galvanized steel pipe can be a little more expensive, but still not too bad in the long run. We had 140 feet of fencing. We wanted a 4 ft. tall fence with a top & middle rail and then we were planning on lining the entire thing with cow panels (thick gauge wire fencing with 4 inch squares.) We wanted to be sure to leave enough pasture for the animals, so instead of lining it up with the porch, we decided to scoot it over a bit and then put a gate right off the back door. I needed an additional 64 feet to build around my garden. That will be a GOAT-FREE zone as well.
We purchased:
9 – 16 foot long cow panels – $171
16 – 1 7/8 x 5 foot 6 inches pipe for the posts. – $110
11 – 2 7/8 x 5 foot 6 inches pipe for the heavy duty posts – $95
12 – 1 7/8 x 24 foot long pipe for the middle & top rails – $360
Delivery fee – $40
Post cement – $40
Auger (post driller) rental – $70
TOTAL (without welder fees) – $886
For a poop-free zone? Priceless.
Now we had to actually get to work.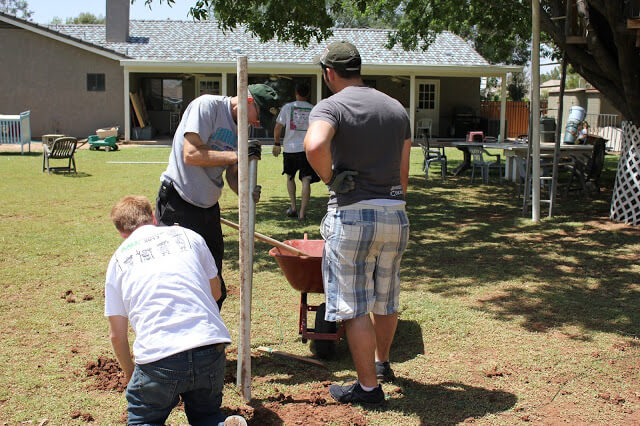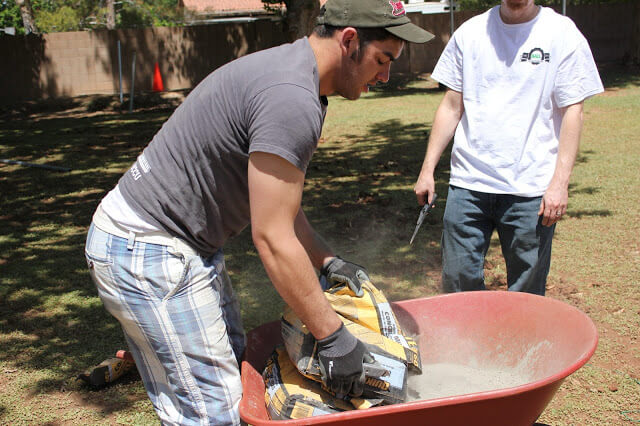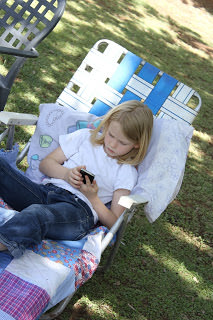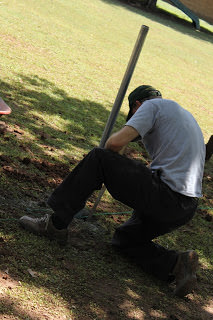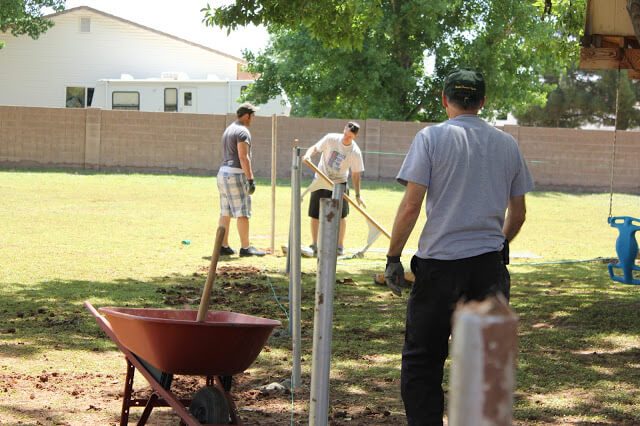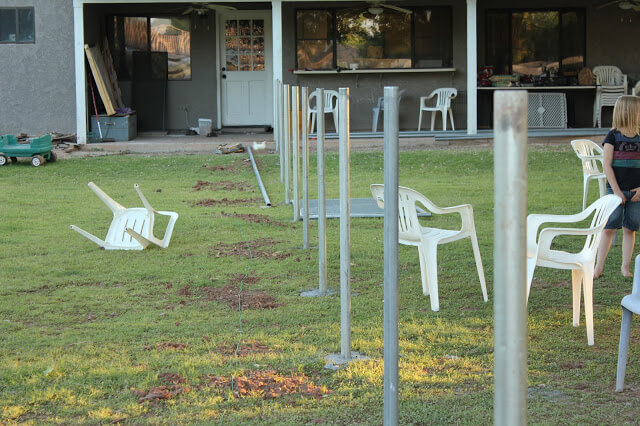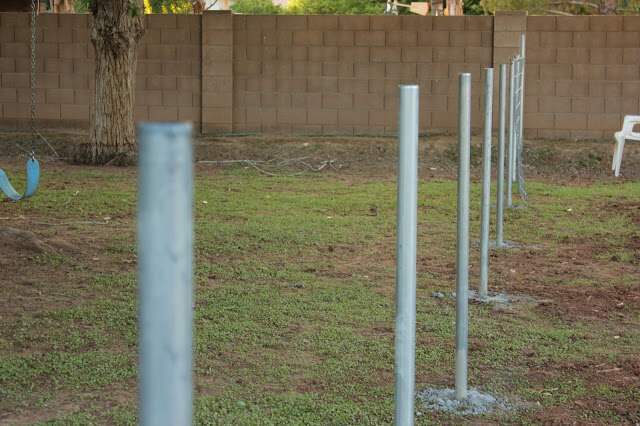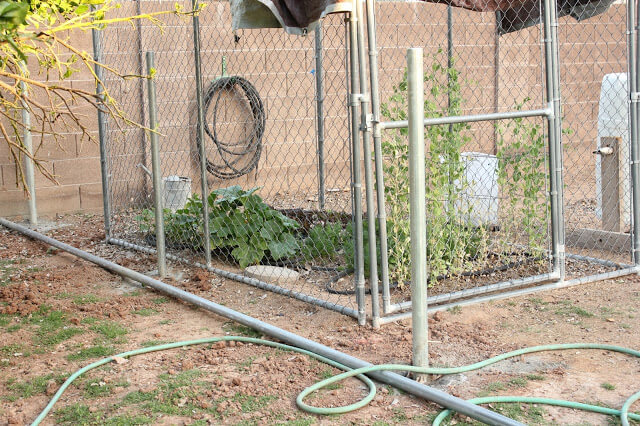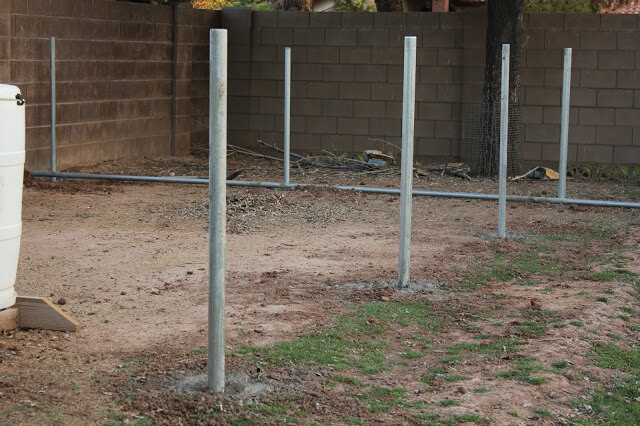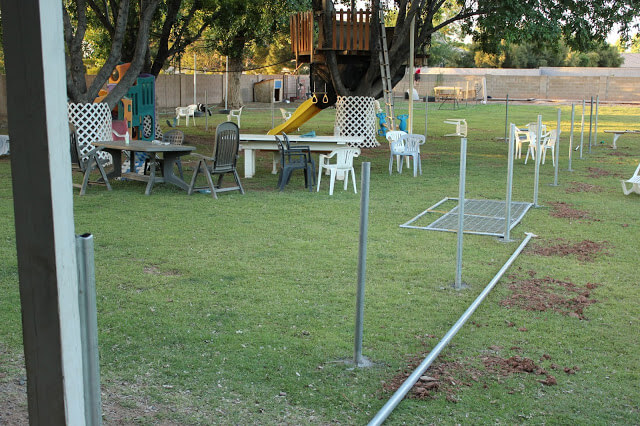 Can you just imagine it how glorious my poop-free zone shall be? Oh, I get butterflies just thinking about it!
Plenty more for our animals to graze!
And here's where the story gets sad. You see, we were SO busy fixing our fence that we forgot about our doggie Dora. Apparently Dora went exploring and forgot to bring her talking map. We didn't realize she was gone until the evening and as exhausted as we were, we took off searching but to no avail!
Poor Dora!
The next morning we took off on our bikes to look for her again and we still couldn't find her. Life here on the farm just isn't the same without her herding the goats, chasing the hens and letting the little chicks peck while she naps. Kevin felt worst of all because he had left the gate open.
Then, a miracle! We checked one last time behind our fence and there she was waiting!
HALLELUJAH!
She was tired, dehydrated, and limping, but she was home!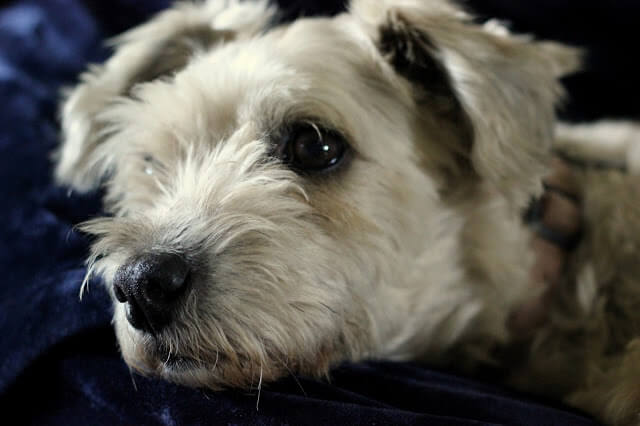 Poor girl spent the day resting on her bean bag with the saddest face a Dora could ever have.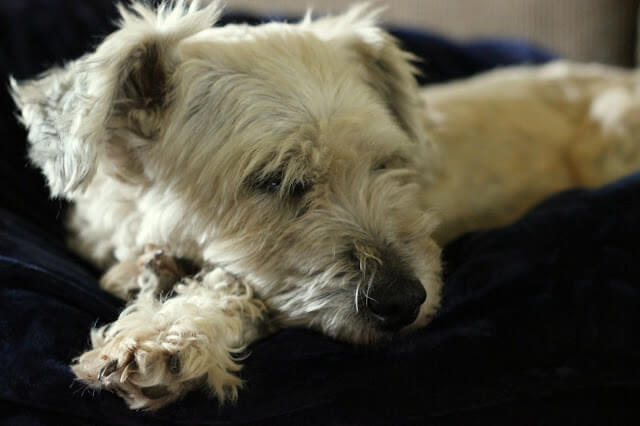 Turns out exploring just isn't what it's cracked up to be, is it Dora?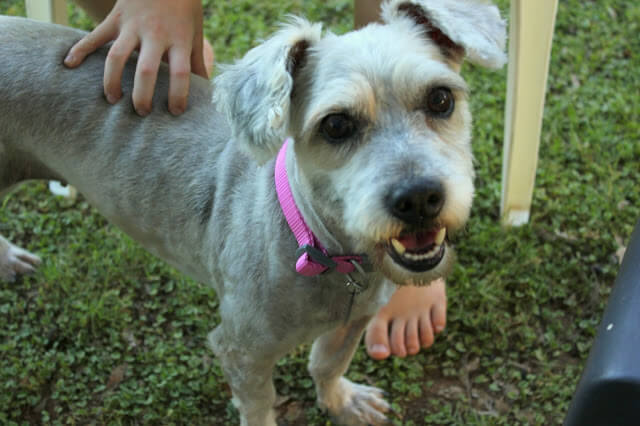 Because we love her and because she needed it, we gave her a good ol' summer shave, a cool bath and a brand new collar. And a leftover subway sandwich. She perked right up!
Whew, that was a close one!
This fence still needs to be finished, but you'd better believe we're gonna get it done fast — I can't wait to show you the results!
Have you ever lost your dog before?