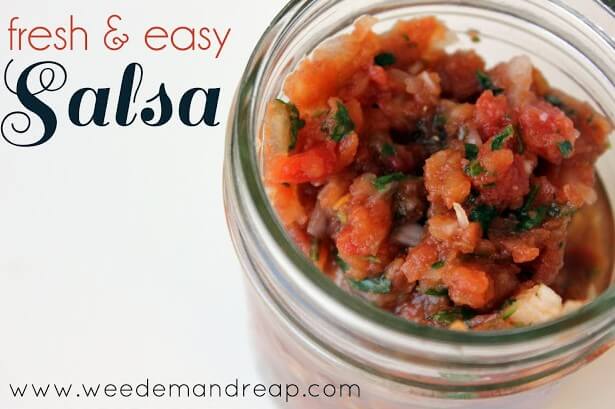 Growing up in Arizona I was pretty much raised on Salsa n' Chips. And then I went and married a Mexican, which pretty much secured the fact that salsa would be a staple for the rest of my life.
Well, either that or as long as I stay married to this punk. heh heh.
Full disclosure: My husband isn't really a Mexican, he's white as heck, but he WAS born in Mexico so technically he's authentico.
This salsa ain't one of those fancy salsa's with roasted chipotle chilies that you've grown yourself and then seasoned, roasted & dried. While I love the fancy stuff, sometimes you just wanna eat something fast & fresh, amiright? Trust me, you'll want to pin this one…
Fast & Fresh SALSA
Serves a million people — or something like that.
4 ripe tomatoes or a can of diced tomatoes (BPA free please)
1 handful of fresh cilantro
2 diced garlic cloves or 1/2 tsp. of garlic powder
1 TBS. raw honey
1 squeeze of lime
1 fresh green relleno chile, roasted @ 350 for 15 min. & diced or 1 can of diced green chilies (BPA free)
1/2 sweet vidalia onion, diced.
salt & pepper to taste
Directions: Throw everything into the blender (this is my favorite blender), and pulse until desired consistency is reached. Season with salt & pepper to taste. Enjoy with ORGANIC, GMO-free tortilla chips.