Dinner was the battlefield. It was my son vs. a carrot.
And my son was winning.
I don't remember when all this "picky eating" business started. All I remember is on my son's 1st Birthday, I woke up early and made him a delicious breakfast of scrambled eggs & french toast complete with a candle in it. Excited, I placed my son in his high chair, handed him a fork, and stood prepared with a camera to get a shot of his VERY FIRST BREAKFAST as a ONE year old!!
He refused to eat it.
I encouraged, I begged, I pleaded (well, as much as you can with a one year old) to no avail. That kid wouldn't take one bite. *sigh* I finally convinced him to "act" like he was going to eat it. "Please", I said. "Just please hold this fork like this so I can take a picture. Stay there. One, two, three. CHEESE!"
He was somewhat convincing. (well, as much as you can expect a one year old to be)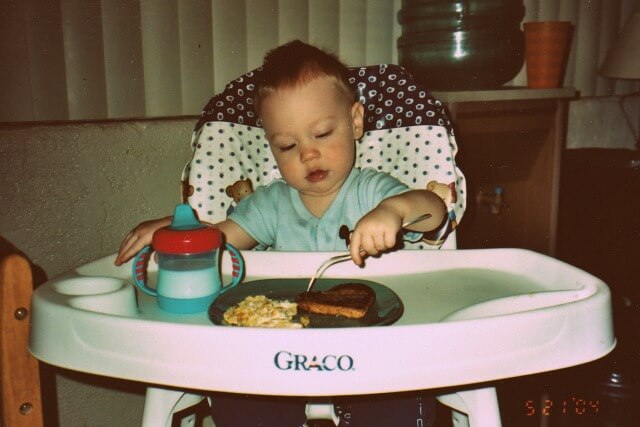 Is your child a picky eater or is it something more serious?
After a couple years of 'picky eating', we learned that many picky eaters are actually dealing with a complex issue known as a sensory processing disorder.
This disorder is also known as, "I hate textures and weird looking things and weird smells, and plus I'm really stubborn so don't even think about it – itis"
Kids with a sensory processing disorder typically aren't the kids who feed their green beans to the dog.
They're the kids who can't even touch the green beans, smell them, talk about them, or look at them without gagging. These are also the kids who don't do well in a battle of the wills when it comes to food. 'Cause there'll be barf. Every time.
We learned very quickly that my son wasn't just some picky eater, he was dealing with a sensory disorder.
Because food involves all of our senses – see the food, touch the food, smell the food, taste the food, and even hearing the food as we chew it – eating can be very difficult for kids with sensory disorders.
It definitely took some time to ease our son out of it, but hopefully, you can learn from my mistakes and get your child on the right track towards eating a variety of nutrient-dense foods.
What NOT to do. (Seriously, don't try these):
Whether your child is a picky eater, or dealing with a sensory disorder, you can bet that these things are just going to make it worse.
Do NOT make dinner a battle of wills. The "sit there until you eat your dinner" strategy will only turn your evening into "who can be stubborn the longest". I get why so many parents try this, and why we did as well, but in the end, forcing your child to eat won't make him not be picky. Think of the principle you're trying to teach. Your purpose is NOT to teach your child that you have power over him/her. Your purpose is to teach your child to love a variety of foods, and to of course, get some good nutrition in there as well.
Do NOT become a short order cook. Preparing a meal separate from the family meal sends the message to your child that it's not important to try new foods. They learn to take the easy route instead of doing something that feels a little bit uncomfortable.
Do NOT reduce your families meal choices based on your child's preferences. I'm sorry, but as cute as your child is, they do not get to make the meal decision for everybody in the family. Watch yourself on this one, because if you have a particularly difficult eater, you might be doing this without even realizing it.
Do NOT let mealtime become bargaining/bribing time. Not only is counterproductive to the principle you're trying to teach, it also makes mealtime annoying for you and everybody else.
Reversing Picky Eating Habits:
Do institute some rules in your home. Ours were:
Everybody sits at the table at mealtime whether they are planning on eating or not.
Nobody is allowed to make a "yucky" face, or say a bad thing about dinner. Mom made the meal, and we need to have manners and not hurt her feelings. Even if we think it looks like a pile of poo, we say, "Thanks for making dinner, Mom! It looks delicious!" (I'm a BIG believer in positive affirmations. If you say something is gross, it will be. If you say it's good, it will be.)
You don't have to eat your entire meal, but you do have to try it. At least a couple bites of each dish will suffice.
No dinner? No dessert. And "trying" a couple bites does not count as eating your dinner.
Be okay with your child going to bed hungry should they choose to only "try" dinner and that's it.
Keep trying and don't give up!
Additional Sensory Disorder Tips:
Allow your child to "change" his meal slightly. My son ironically doesn't like spaghetti although he loves pasta and red sauce. For him, it's "slimy". He uses a piece of garlic toast, and places the spaghetti on top to create a "pizza".
If your child wants food to not touch, let him serve himself. By touching & smelling the food as he serves himself, he is working on some sensory issues before he even eats.
If you child has severe sensory disorders, and his diet is already limited in variety, try cooking his favorite foods in different ways. For example, if he likes macaroni and cheese, make it with many different pastas, then with different sauces. Work your way slowly around so he can eventually expand his variety of favorite foods.
Focus on improving your child's sensory disorder at times NOT associated with food. Children with sensory disorders often feel "uncomfortable" in their own skin. For my son, massaging him & hugging him in the evenings was a good way to get him more comfortable with his body.
The best advice I can give is to keep trying and don't give up. Even if your kid is gagging at the sight of a carrot, trust me, it can get better! My son eats pretty much everything now, except for a few things we realize are personal preferences. It's amazing how much he's been able to improve!