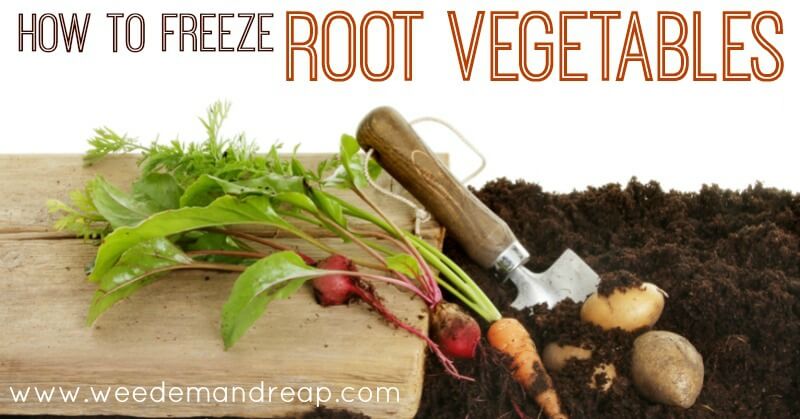 You've harvested your turnips, carrots, sweet potatoes, white potatoes, rutabagas, and parsnips from your garden, now you've only got one problem.
How to preserve them?
This year we did okay with our carrots, but our turnips went crazy! We have turnips coming out our ears! Mmmm, I love me some turnips. They're the perfect addition to any stew. They're like potatoes, but with a slightly sweet flavor. Unfortunately, I'm the only one in my family with a fondness for turnips.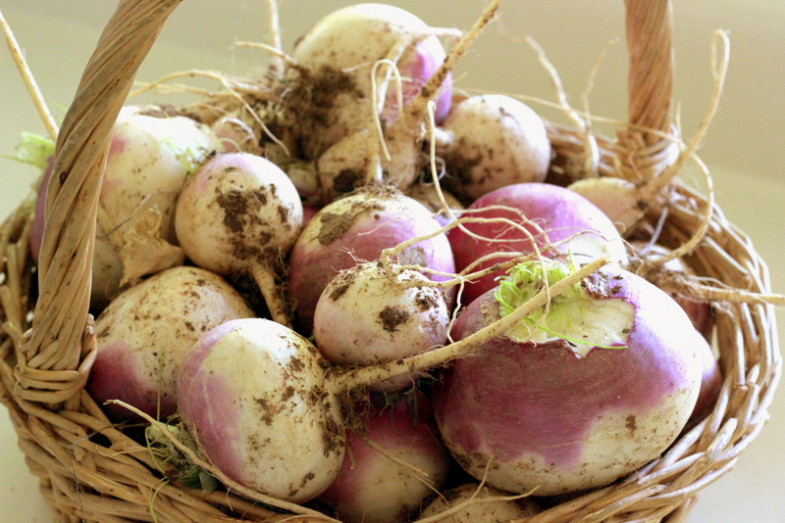 So, what to do with all this lovely harvest of turnips until I can get around to eating every last one?
How to Freeze Root Vegetables
When it comes to preserving vegetables, there are a couple different ways to go about it. You can freeze them, can them, or dehydrate them. Some people have success with storing their root vegetables in a cool, dry place. This usually involves building a small root cellar.
While all of these methods are great, freezing your root vegetables is definitely the fastest method. It's really simple. Here's how to get started.
Step 1: You must first wash and peel your root vegetable. (This is a great step for kids to do!)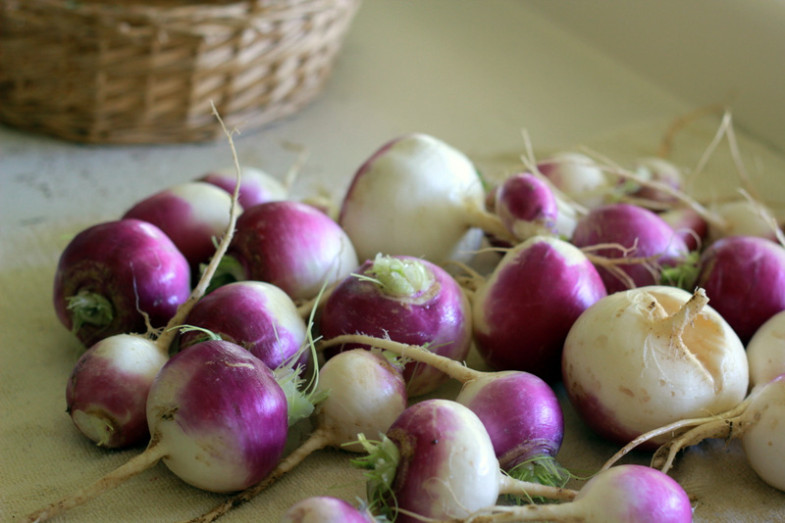 Step 2: Dice your root vegetables into 1-inch cubes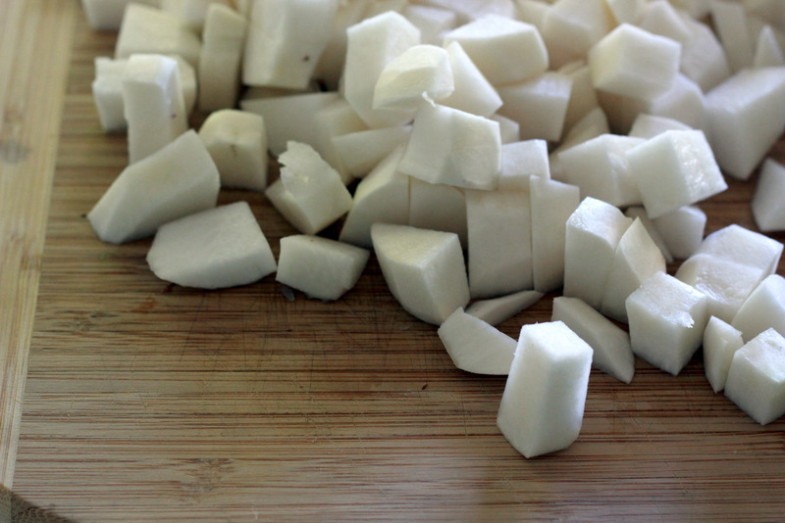 Step 3: You need to bring a pot of water to a boil. The reason we're doing this is because we're going to blanch the root vegetables to prepare them for freezing. Don't skip this step!
Blanching (scalding vegetables in boiling water or steam for a short time) is a must for almost all vegetables to be frozen. It stops enzyme actions which can cause loss of flavor, color and texture. Blanching cleanses the surface of dirt and organisms, brightens the color and helps retard loss of vitamins. It also wilts or softens vegetables and makes them easier to pack.

Blanching time is crucial and varies with the vegetable and size. Underblanching stimulates the activity of enzymes and is worse than no blanching. Overblanching causes loss of flavor, color, vitamins and minerals. Use one gallon water per pound of prepared vegetables. Put the vegetable in a blanching basket and lower into vigorously boiling water. Place a lid on the blancher. The water should return to boiling within 1 minute, or you are using too much vegetable for the amount of boiling water. Start counting blanching time as soon as the water returns to a boil. Keep heat high for the time given in the directions for the vegetable you are freezing. (source)
Blanching Times:
For Turnips, Parsnips and Carrots = 1 inch cubes need a 2 minute blanching time
For Potatoes = 1 inch cubes need a 4 minute blanching time
Step 4: After blanching, remove from the boiling water and place them right into a bowl of ice water.
Step 5: After a few minutes in the ice water, transfer your root vegetables to a towel to dry.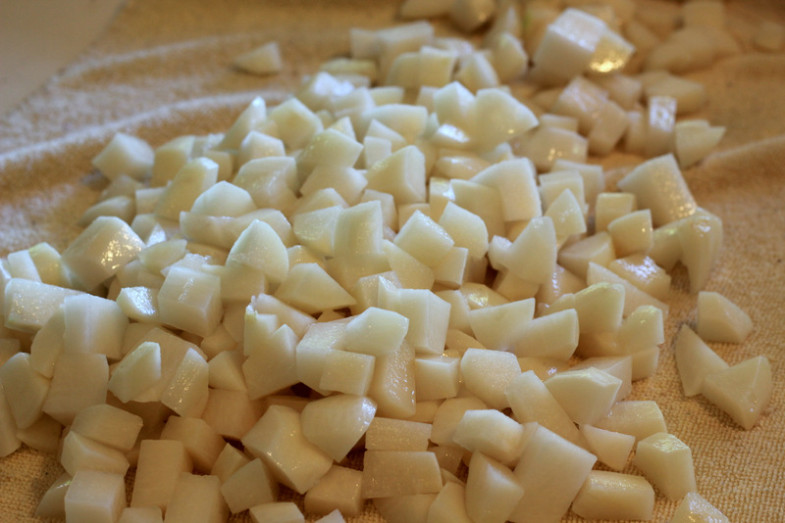 Step 4: Lightly pat the root vegetables dry, then transfer to a freezer ready plastic bag or a vacuum packed bag. I used our handy dandy Foodsaver .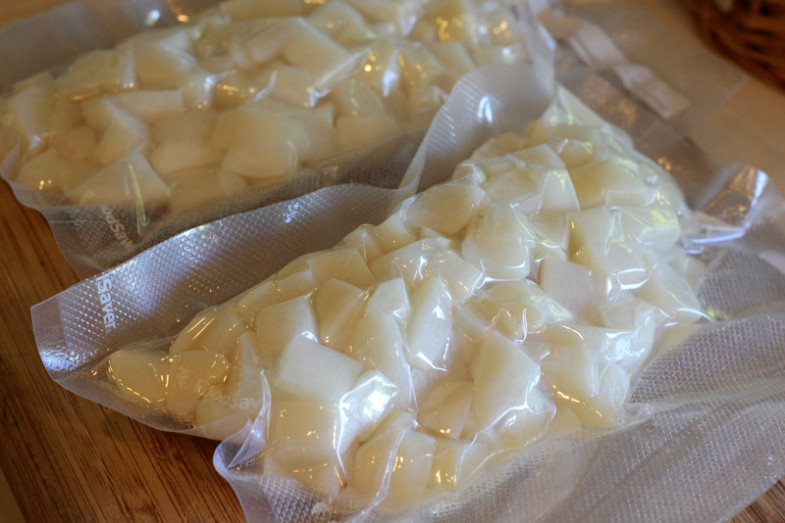 That's it! Now your root vegetables should be able to be stored in your freezer for up to 9 months in a regular freezer bag, and up to 14 months in a vacuum packed freezer bag!
TIP – To avoid rubbery root vegetables make sure to start with fresh root vegetables and be sure to not over cook them while blanching!