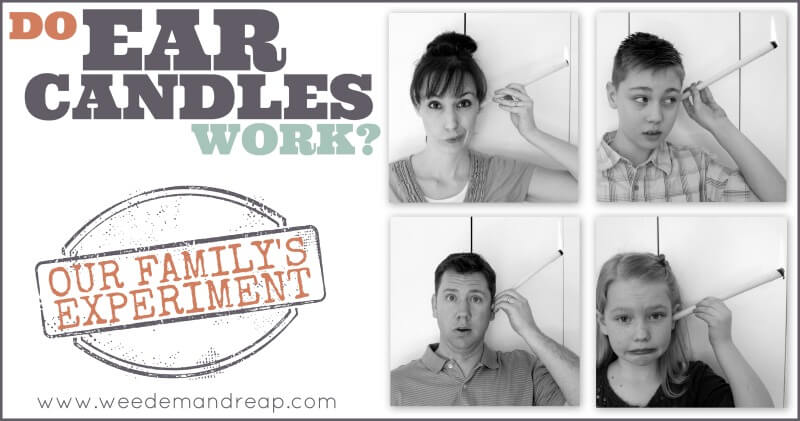 Do Ear Candles really work? I mean really?
Well, that's what I set out to find last week. I've used ear candles a few times in the past and felt that my ears were much cleaner afterwards. I've had holistic doctors and herbalists recommend this practice to me to treat vertigo and dizziness. Whenever I've felt particularly dizzy, ear candling helps without a doubt.
There are a lot of opinions on the effectiveness of ear candling. Some people think they cure everything and some people think they're hogwash. So I decided to test the ear candling procedure on my entire family. They were SO excited!
Actually, they didn't have a choice. That's how the blogging world works, family! Deal with it.
Our experiment started out VERY official-like.
We turned on Wreck-It Ralph to begin the experiment. We needed a good distraction because ear candling takes some time. Also, Wreck-It Ralph is awesome.
We started with the kids, who waited very patiently while we candled their ears. Is that the correct terminology? Anyway, we held the candles at an angle of exactly 45 degrees like the package said. We cut the candles down as they burned and when we got to the end of each candle, we opened them up to see what was inside.
Gross! Look at all that wax!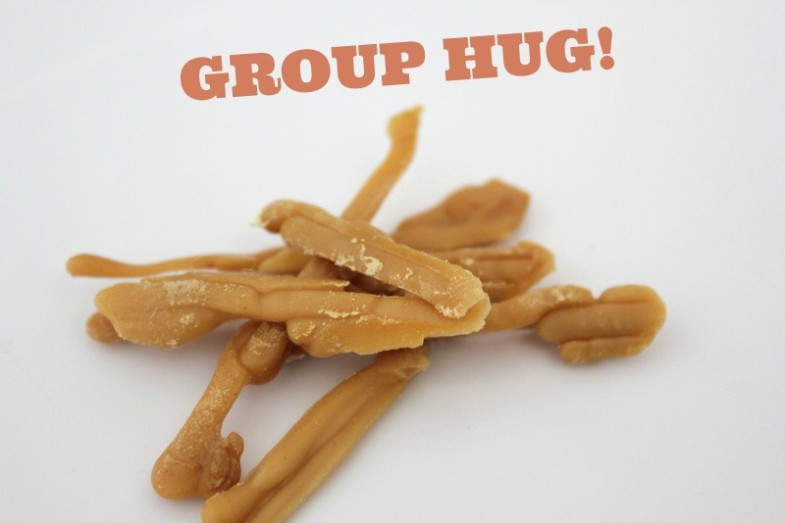 I mean, you can't just see a pile of all that ear wax without taking a picture and sharing it with the world. Am I right?
Each family member reported feeling clean ears free of wax! Since it was New Year's Day, we officially dubbed it New EARS Day (hardy har har).
Now for the REAL test.
I decided that for this to be a real test, we needed to have a control. We needed to know, for sure, if that ear wax I'd collected was truly ours, or if it was just wax from the candle. We burned one more candle all by itself, and waited patiently for it to be done.
What was in the control candle, i.e. the candle that wasn't placed on an ear?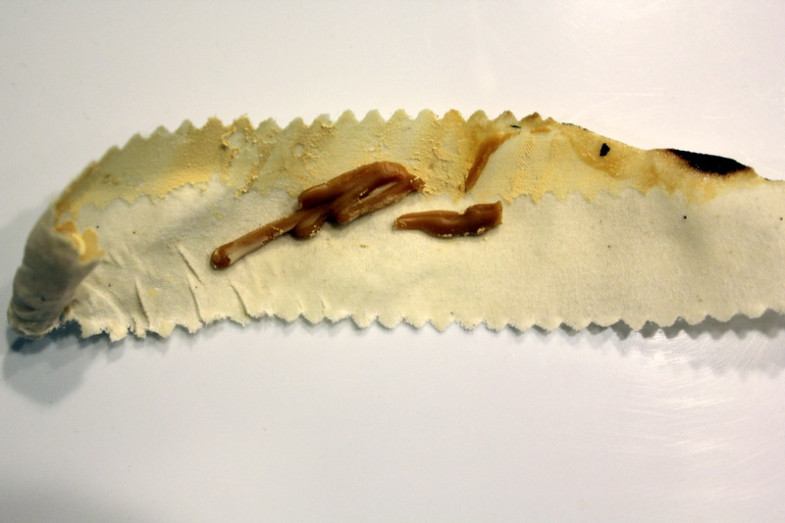 BUNCH 'O LYIN' SNAKES!
Makin' us think we had extracted all of the ear wax out of our ears!
Actually, we shouldn't really be surprised. On the package of the candles we used, it states:
"These multi-purpose hollow candles are intended and labeled for 'entertainment purposes only.' It is up to the customer to choose how they want to use their candles."
Entertainment purposes?! We were watching Wreck-It Ralph, but I hardly think we will continue to combine ear candles with every movie we watch.
So what are ear candles really for?
Well, according to the HealthPsych website:
"The smoke and warmth soften the hardened ear wax which allows your body to excrete it naturally. This claim is much more viable since studies show that the wax collected in the bottom of the candle is not ear wax but candle wax."
Also, it turns out that ear candling is a legit traditional practice. It dates back as far as 2500 B.C.
"This energy cleansing technique has been around for many thousands of years and has been found in nearly every culture since the beginning of civilization. Also referred to as ear coning, there has been archeological evidence found that this practice was even performed using glazed clay or stone pottery cones in antiquity. There is no argument to the fact that humans have been coning or candling for eons. The exact origin of candling is unknown, but there is a great deal of evidence indicating its use in many different cultures around the world." (source)
What do I think about ear candling now?
It was disappointing to find out we weren't extracting wax out of our ears. But I had heard that this was a myth before, so I wasn't all too surprised. I definitely think ear candling is a good practice for softening ear wax, especially if you tend to get buildup. After my husband's ear candling, we flushed his ears out with warm water and we were able to flush out a ton (I mean a TON) of wax. Yeah, not gonna take pictures of that one! Also, my son mentioned that he felt his ear draining while doing the ear candling, so that's a good thing.
What do you think? Are you surprised or have you always known that ear candles don't really extract wax? Will you continue or start to use ear candles now? Tell me your thoughts below!