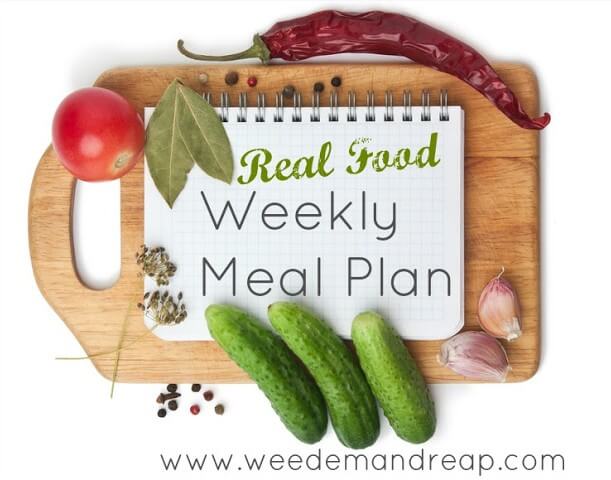 If you're new here, you may want to get caught up on
how I do meal planning
. If you are a die-hard reader bordering on stalker, then let's just get right to it!
I love eating leftovers the next day because I save myself time by turning dinner cleanup into packing the next day's lunches
into my awesome stainless steel lunchboxes
and let's face it, life is just plain easier when you only have to worry about providing a healthy breakfast & dinner! Real food can be easy! Let's begin, shall we?
Sunday
Omelets & smoothie from garden(we have a plethora of greens right now!)
Homemade Salsa & Organic Corn Chips or leftovers from last night's out-to-eat.
Monday
Eggs & Toast
LEFTOVERS from Sunday dinner.
LEFTOVERS from Monday dinner.
Creamy Spicy Lentil Soup — experimental recipe on this one 🙂
Natural yeast waffles(recipe coming this week!), butter, syrup, milk
LEFTOVERS from Tuesday dinner.
Tacos with grass-fed ground beef, homemade salsa, avocado, organic sour cream in lettuce wraps instead of tortillas. (It's hard to find true organic tortillas since most is GMO, so for tacos we use lettuce wraps)
Eggs & fruit
LEFTOVERS from Wednesday dinner.
LEFTOVERS from Thursday dinner.
Homemade pizza
(this is probably the one night when we don't use properly prepared grains…I've tried my natural yeast dough, but it gets weighed down easily with the toppings. If you want to try for mostly properly prepared grains then try using half sprouted wheat flour & half organic white flour)
& homemade soda night!
Leftover waffles, butter, syrup, milk
LEFTOVERS from Friday dinner.
Out-to-eat Night