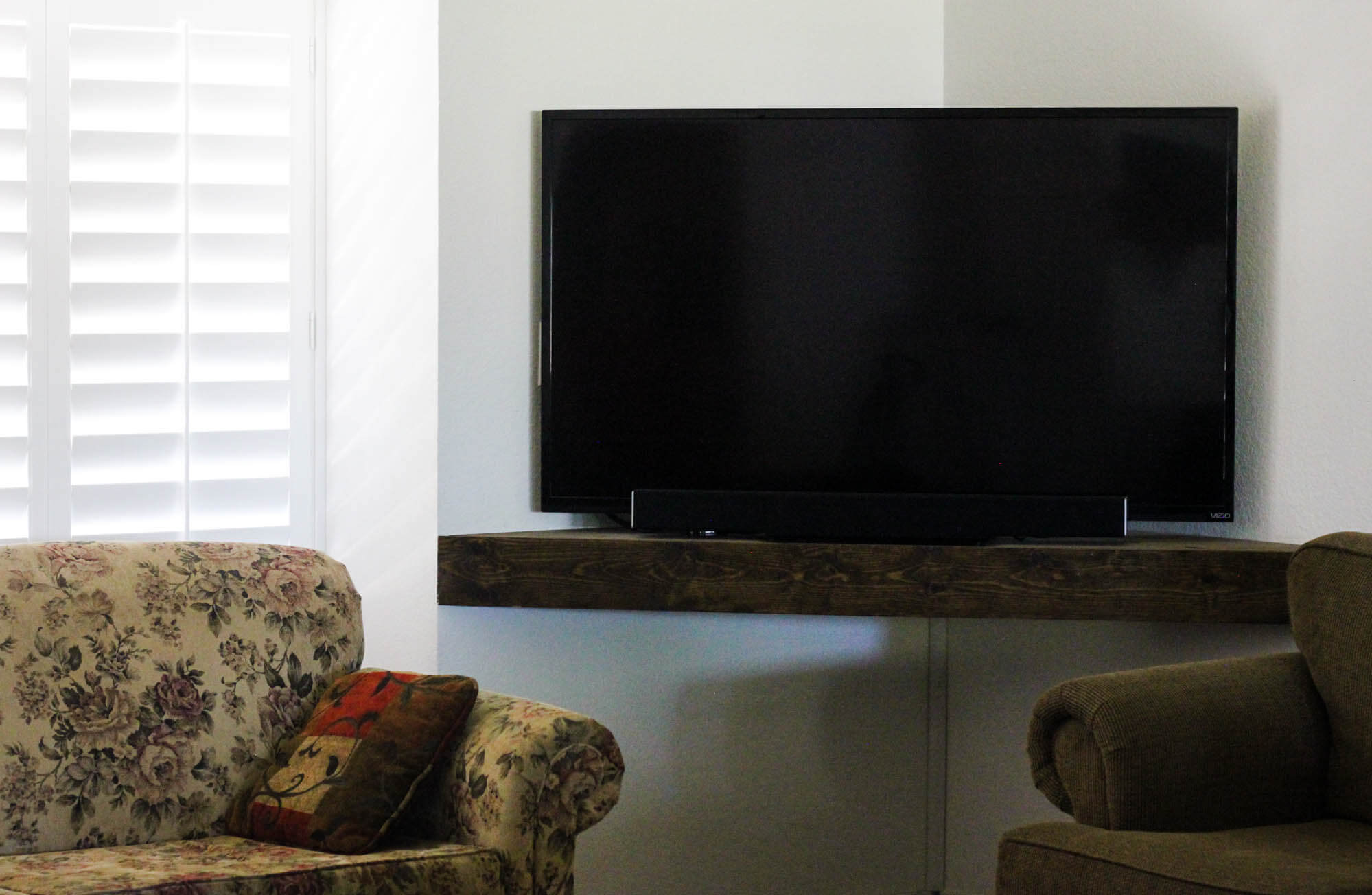 DIY projects.
Just the thing to test the strength of a marriage. And ours was definitely tested with this DIY corner floating shelf.
I've often wondered how people like Chip & Joanna Gaines can pull the endless-project-ness off. Oh, that's right. They have a crew of 30 experts to help them.
Alas, we do not. But what we do have is an idea-producing gal and an shortcut-engineering dude — so you can guess how most of our projects go.
Corner media cabinets are the worst.
Here's the thing…if you have a drawer, things are gonna be stowed away in it. And if you have a husband who likes to save every little thing in the world (including phone cords from 1937), then you can be sure your corner media cabinet will soon be a mess to trump all messes.
Allow me to present what was BEHIND my corner media cabinet…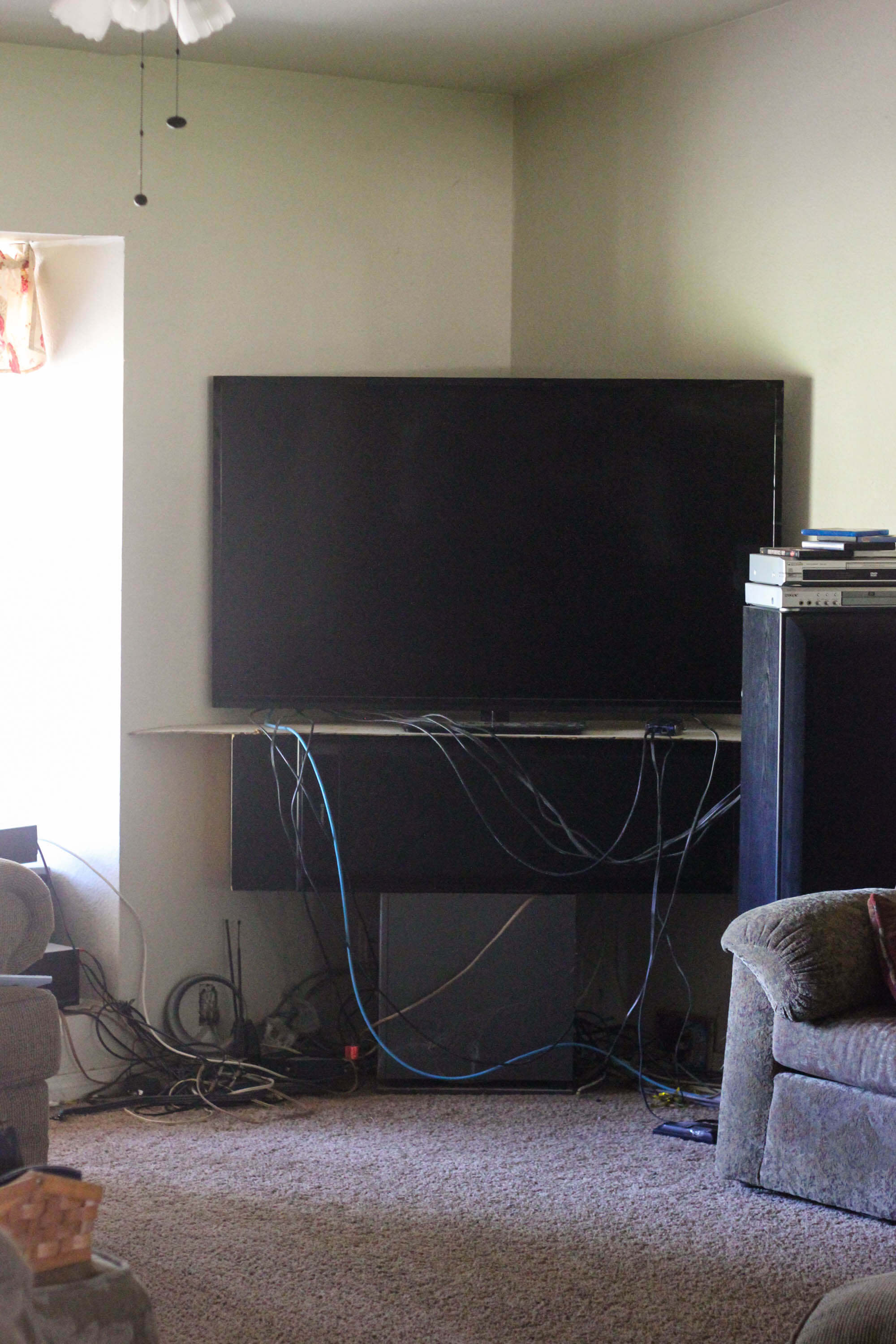 Are you shocked? Horrified? Me, too.
Just, why. WHY!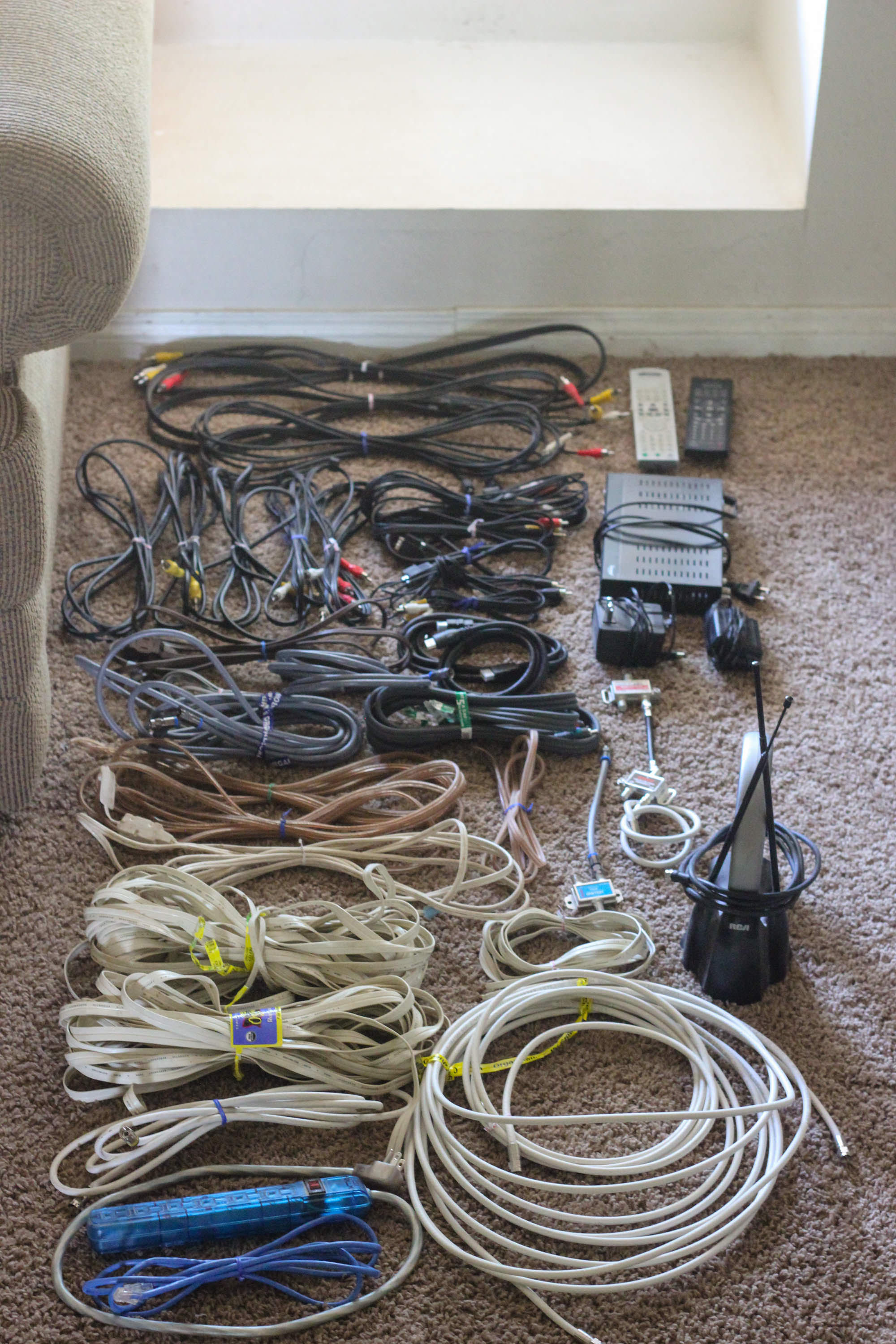 31 random cords, 1 power strip, 2 DC power adapters, 2 remotes (that don't belong to anything we own), 1 unused cable box, & an antenna probably made in 1997.
And THIS is why we made the corner floating shelf, folks.
Things had to be purged and cleaned and minimized — and this was the way to do it. I loved the idea of a floating corner shelf, but all the kits I found were standard floating shelves, and I needed a corner floating shelf.
And surprisingly, aside from a few hiccups, we were able to pull together a gorgeous floating shelf, for just under $20. Here's how we did it.
DIY Corner Floating Shelf
Step 1 – Support beams
Beams is a strong word. We used a small 1×2 piece of wood and screwed it into the studs of the walls. Pretty simple, as long as you can find those studs (a stud finder can save your life). Once you do this on both sides (be sure to level it!) you can move on to making a pattern.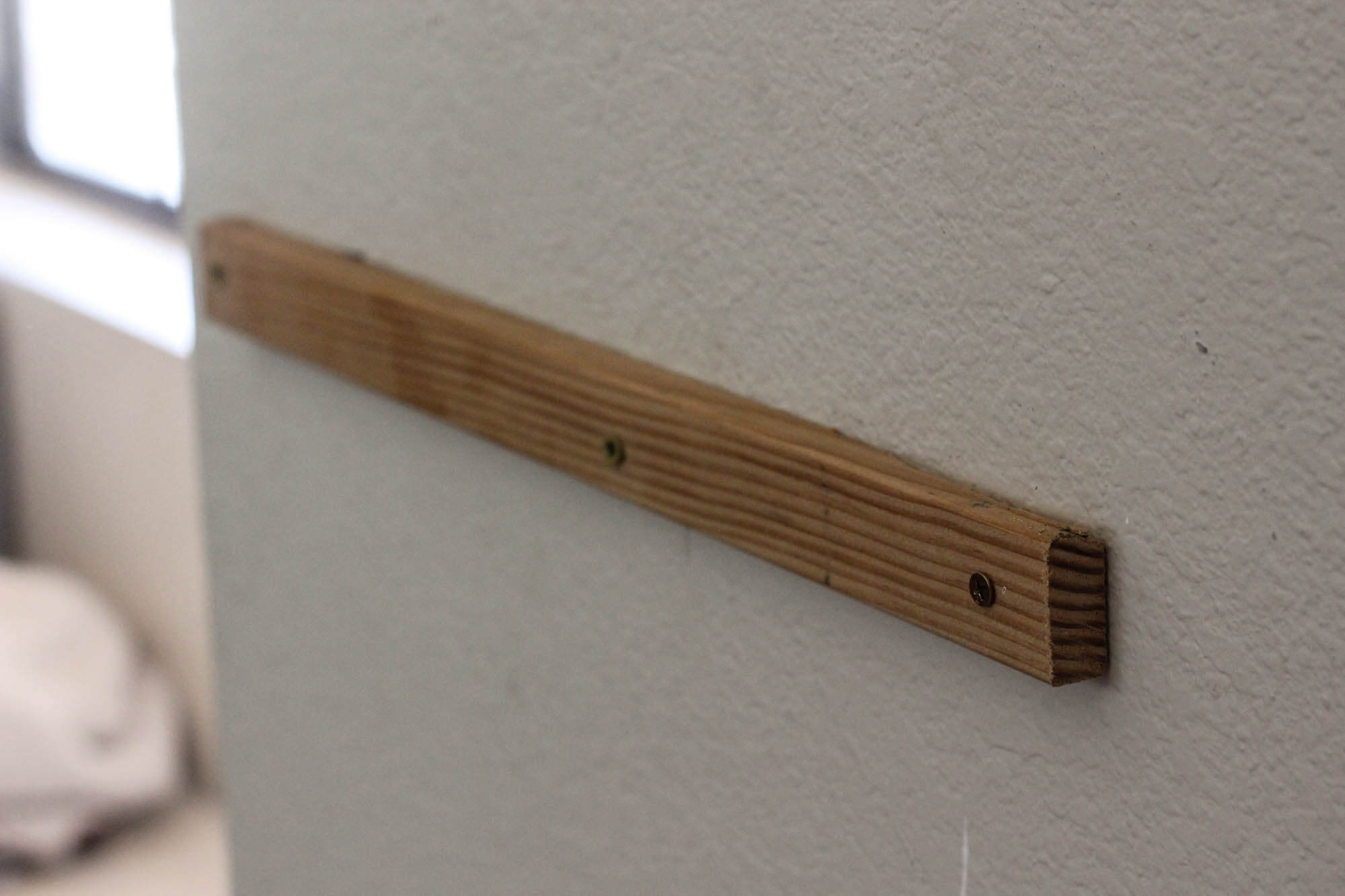 Step 2 – Pattern
Because the top piece of a floating corner shelf is difficult to cut (and your walls are probably not perfectly squared), it's a good idea to take a scrap of plywood or wainscoting and make a pattern from which to trace on your real wood. It took us a while, but with some good measuring we were able to figure it out. You could save yourself loads of time by getting this measuring tool instead. It's perfect for cutting odd angles like this.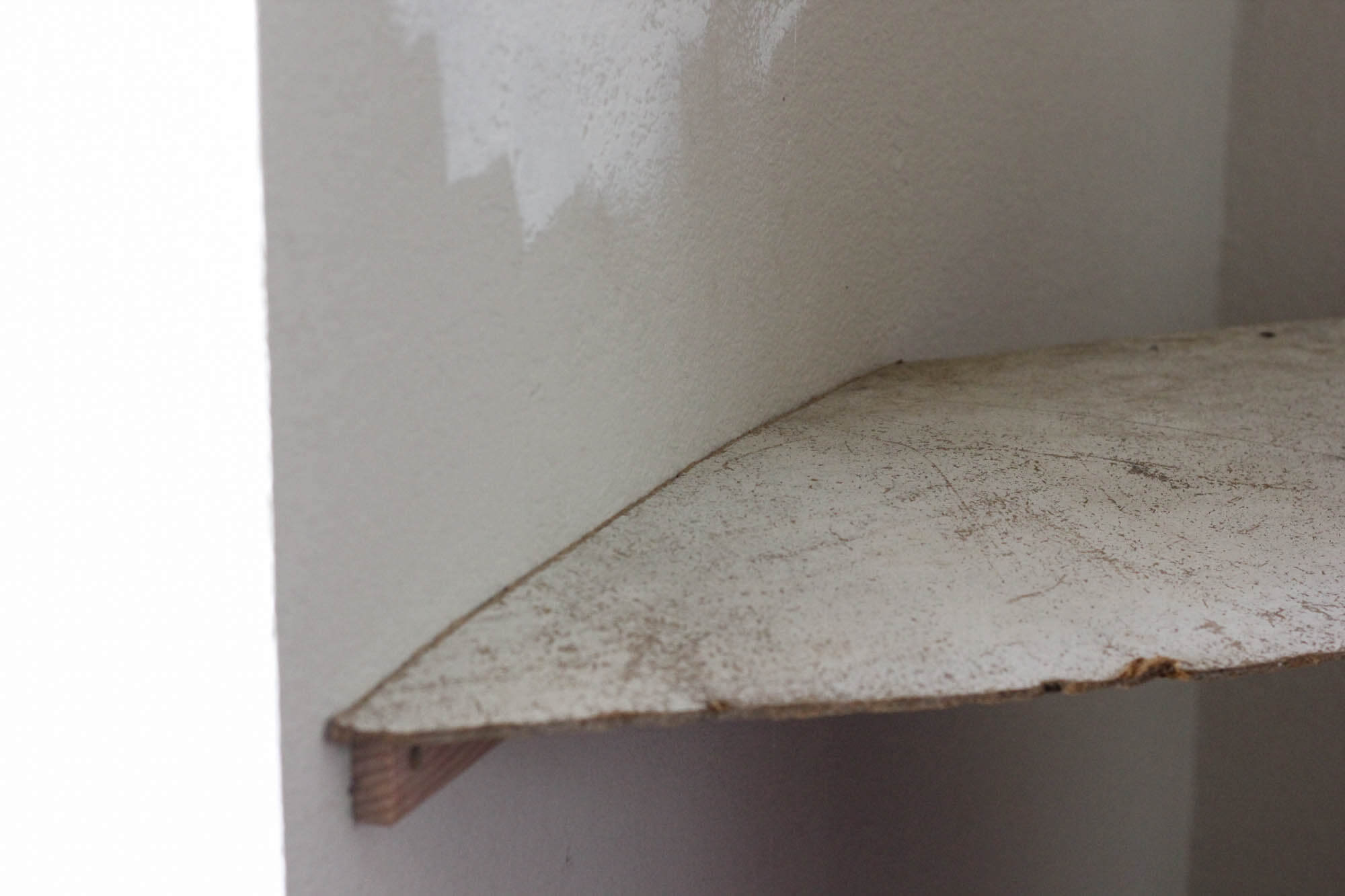 Step 3 – Install the top
Once your pattern is good, you can cut the real wood and stain it (we used this stain), then attach it to the support beams on the side. It was at this point we realized we needed another support beam below to be able to attach the bottom piece easily. So, be sure to add that as well.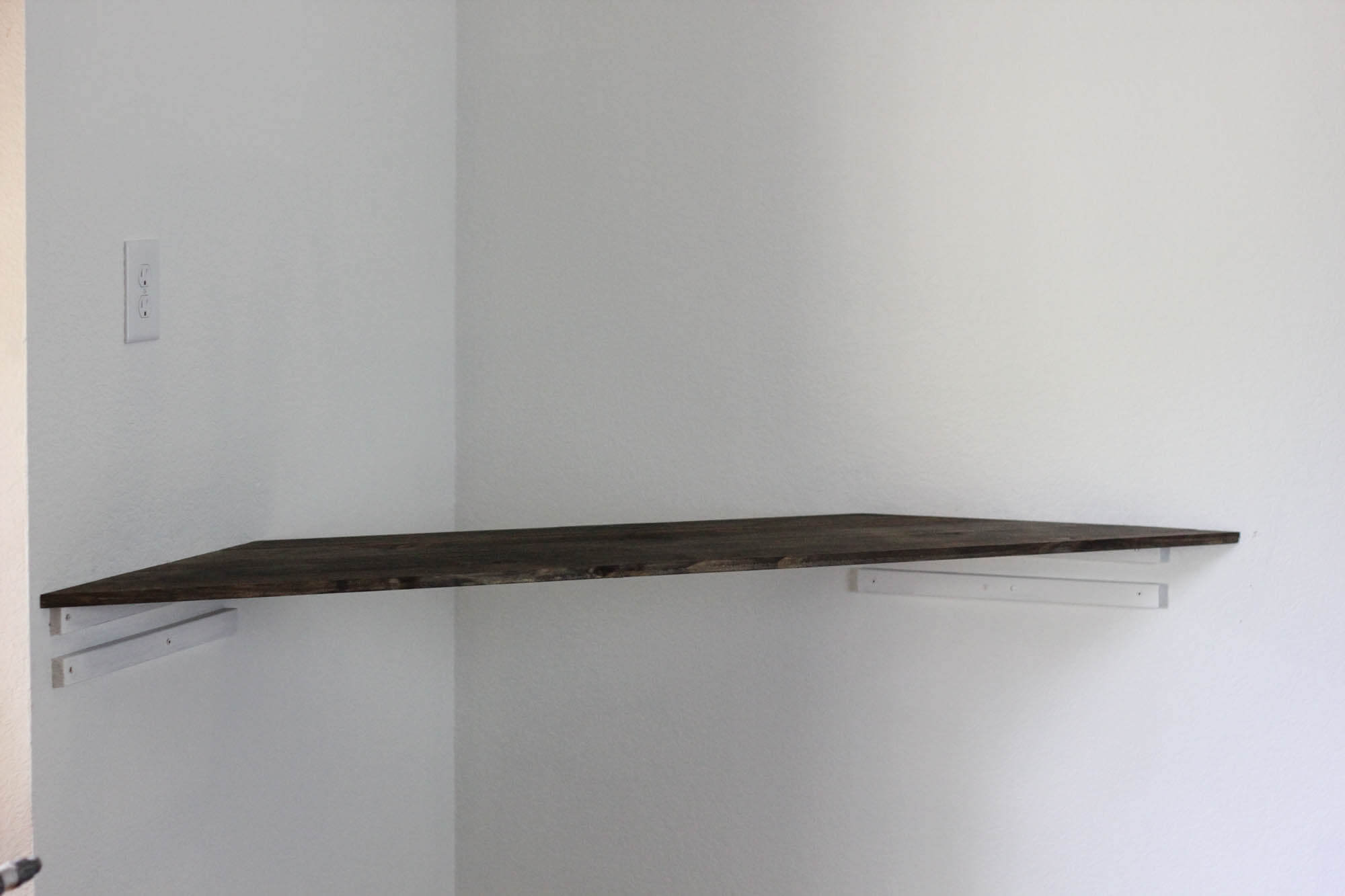 Step 4 – Install the bottom
Next step is to do the same to the bottom by cutting, staining, & attaching it.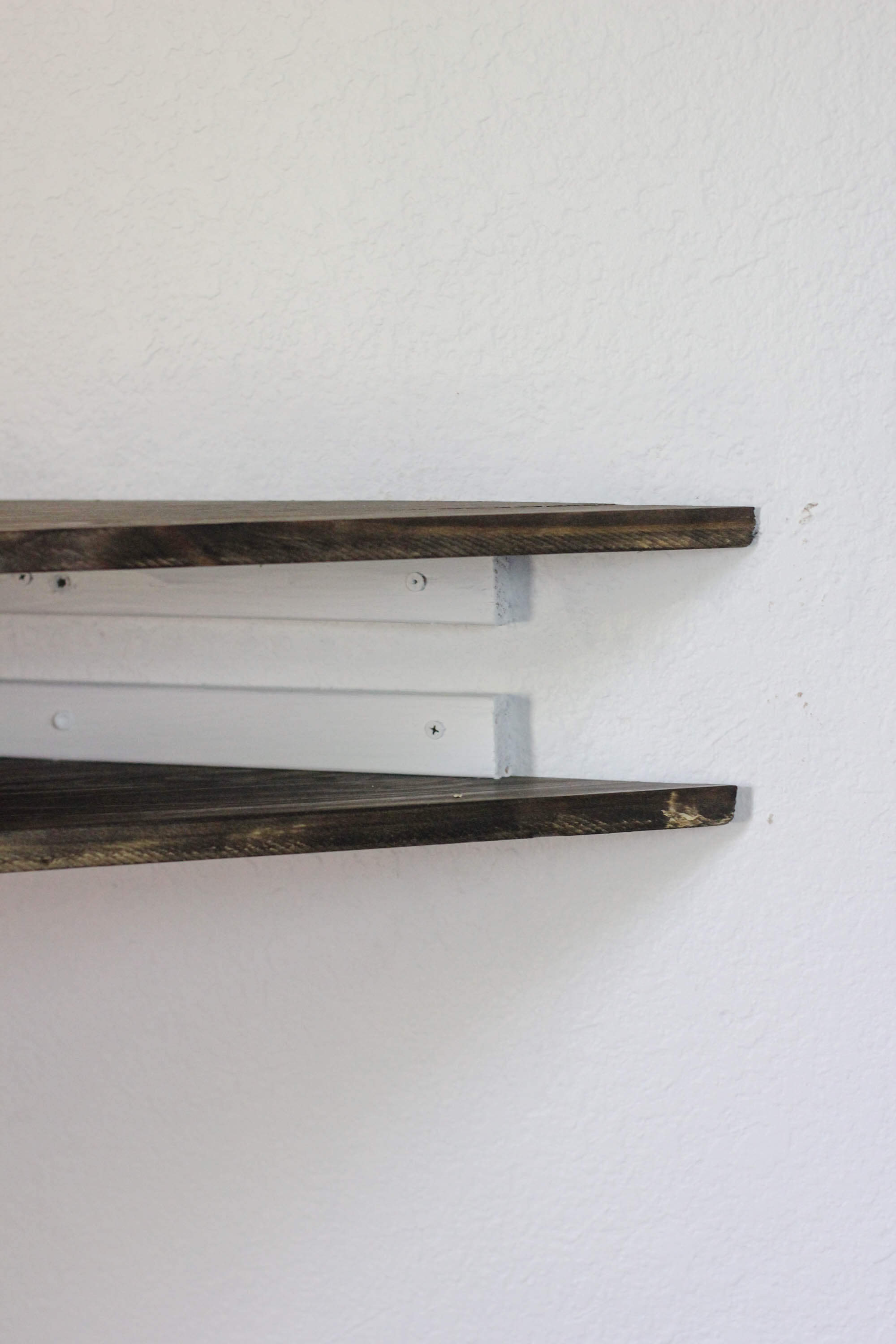 Step 5 – Install the front
The front piece shouldn't be too difficult, the only thing you need to make sure of is to plan ahead on the overall height of your floating corner shelf. Knowing this will help you determine where to place the support beams.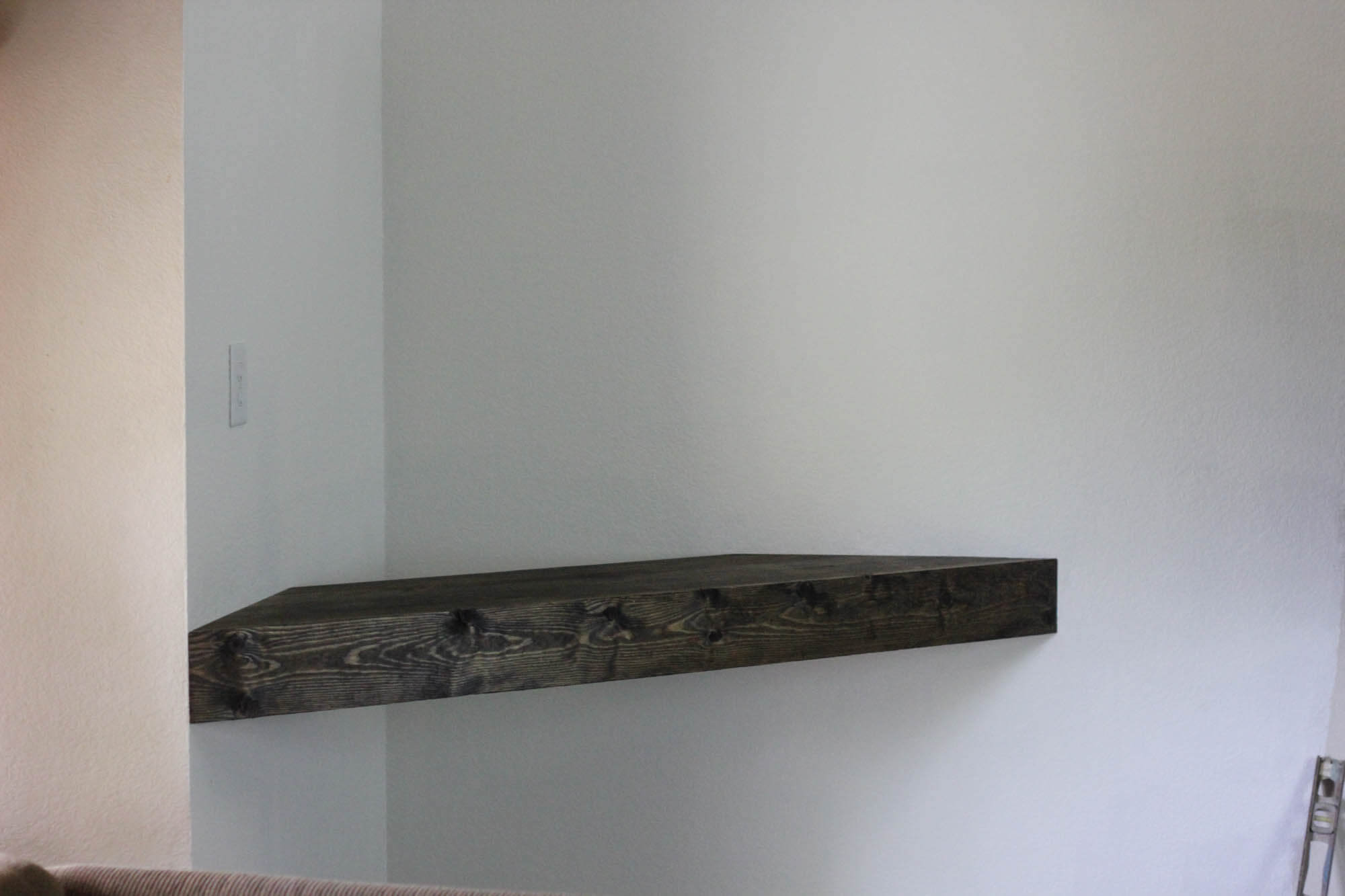 That's it!
You're finished! Now, we opted for leaving the back open so we could store a FEW cords back there. But if you'd like it closed you simply have to cut, stain, and install a back piece.
Now you have a gorgeous corner floating shelf that's minimalist and perfect for the no-tv-cord lifestyle.