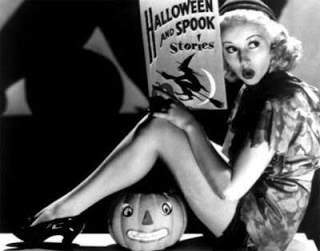 This is probably the MOST scary story because it actually happened.
TO ME.
Well, really it happened to me and my sister. Becky, if you're reading this….it's time to tell people what happened that night long long ago.
It was our first babysitting experience. Ever. Becky was 8…I was 10. Mom and Dad were taking our oldest sister Tara(12) to a girls camp with our church. They would be gone 1, maybe 2 hours at the most. Our littlest sisters, Jessica (3) and Candra(1), were fast asleep in their beds. All we had to do was sit there and not let the house catch on fire. Still, we were scared out of our wits. Not because we were too young to babysit, but because we were total wimps and scared of every single sound in that house.
So, off my parents go to take our sister and Becky and I settle down in Mom & Dad's room to watch TV.
(Let me just preface this with the fact that our neighborhood was perfectly safe with lots of young families. We practically didn't need to lock our doors, it was that safe.)
About 30 min. after my parents left, we heard a pounding at the door followed by the doorbell ringing a couple times. I went to the door and ALMOST opened it. But then I got this sick feeling inside and I instead locked the deadbolt. I looked through the peephole and saw 3 guys screaming and yelling to let them in. Becky and I started crying and I turned off all the lights and we ran back to my parents room. I ran to the phone, lifted to my ear and…
IT WAS DEAD!!!!!
NO DIALTONE!
All of the sudden it became very quiet. No yelling or pounding. The blinds in my parents room were shut so I crawled over to the window, slowly opened a section of the blinds and…
What I saw was a man's face, just staring, staring back at me. No smile, no expression, just staring.
I screamed and Becky and I did what any responsible babysitters would do.
We huddled together in the fetal position in my parent's closet.
(Yeah, sorry about that Jess & Candra)
After a couple minutes we heard the front door open!
Then we heard my parents call out our names and we ran to them and between sobs and blubbering told them the story. I remember they kept telling us to calm down because they couldn't understand what we were saying. My parents told us come with them outside because our neighbors were sitting out on their porch and we could ask them what they saw.
And guess what??
They said they didn't see anything!
WHAT THE HECK!?
They said they had been on their porch ever since my parents left and never saw or heard anything.
I seriously felt like I was in a nightmare. These guys were so loud there was just NO WAY our neighbors couldn't have heard them.
That story has freaking scared me my whole life. Who were those guys? What did they want? Why did my neighbors not see anything?
Pretty dang scary if you ask me.