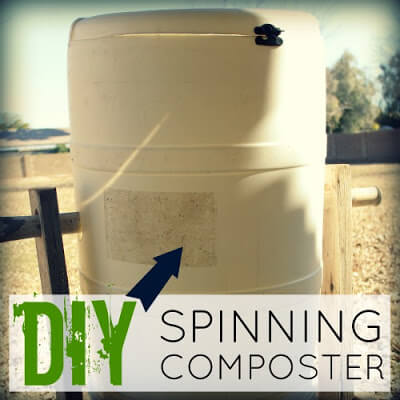 With spring just around the corner and my garden right after that, I wanted to build this awesome composter that I found on Pinterest.  And while you're there, feel free to follow me!
"You know you're a farm girl when you get excited thinking about a composter."
I LOVED the idea for this composter because, well, composting can be a real pain!  Have you ever tried it? I mean, as if it isn't enough work to add dirt, and kitchen scraps, then you've got to add water and mix it up!
Sheesh.
Ain't nobody go time for that!
But, I really wanted to make my own compost!  Although I have a lot of animals and therefore a lot of ahem, organic material…I also have a lot of waste with kitchen scraps and yard clippings and such.  With this Arizona clay, you can't get enough  organic material in your garden!
So, when I saw this spinning composter on Pinterest, I knew I needed to make it!
Here's what you'll need to make it:
Food Safe Water Barrel of some sort (We already had one of these laying around)
3″ ABS toilet flange (We nixed the need for this by cutting the 3″ PVC pipe long enough to stick out the end)
3″ PVC pipe (Cut it long enough to stick out the end.)
3″ PVC cap (We bought two of these and screwed holes in them to vent on both sides)
(2) 2 x 6 x 10 pressure treated lumber (We just used whatever lumber we had lying around.)
(2) hinges with appropriate sized bolts and nuts-don't use the screws in the package that comes with them 
(1) window sash latch with appropriate sized bolts and nuts-don't use the screws in the package that comes with them 
(1) galvanized pipe (We had a random pipe lying around.  We have a lot of junk lying around here on the farm.)
(8) wood screws 1 1/2″ ish 
It was SUPER easy, so check out the ORIGINAL TUTORIAL on the blog Potholes & Pantyhose if your feeling a little composty!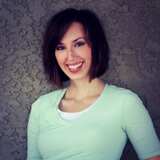 DaNelle is the creator of the blog Weed 'em & Reap, and author of the book, Have Your Cake & Lose Weight Too. DaNelle, along with her husband and children, raise goats, sheep, and chickens on their urban farm. DaNelle writes about the reversal of disease, weight loss through real food, common food diet myths, and her funny farm experiences and gardening adventures.
Full Disclosure/Disclaimer
DISCLOSURE: In order for me to support my blogging activities, I occasionally may receive monetary compensation or other types of remuneration for my endorsement, recommendation, testimonial and/or link to any products or services from this blog. However, I only recommend products or services I have personally used myself and trust.