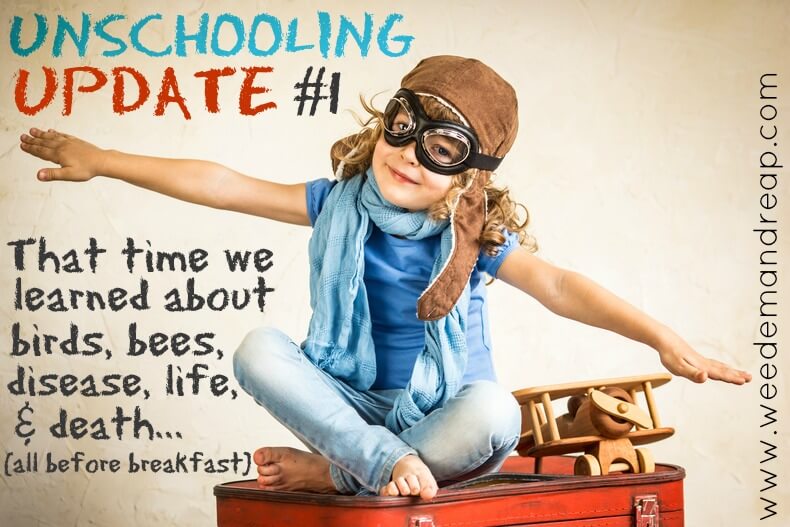 This is the first installment of a series of updates about our new adventure called 'unschooling'. That's right folks. We are officially homeschooling! We're taking it a step further and actually practicing a method of homeschooling called "unschooling". It's basically where you don't teach your kids anything and they turn out to be geniuses. Or something like that.
But seriously, here's a great definition of unschooling:
When people ask, "What is unschooling?" My answer is that we follow our interests – and our interests inevitably lead to science, literature, history, mathematics, music – all the things that have interested people before anybody thought of them as "subjects". A large component of unschooling is grounded in doing real things, not because we hope they will be good for us, but because they are intrinsically fascinating. (source)
You can read more about why we chose to homeschool/unschool here.
Unschooling Update #1: That time we learned about birds, bees, disease, death, & life. (all before breakfast)
The day started out just like any other – me sleeping in while my kids fight/play/argue/laugh as loud as they possibly can. When I say "sleeping in", I really mean, "sleeping in 'till 8am". Is that late? I don't even know what times other moms wake up these days. I have come to the conclusion that after years of having to wake up early with babies, I deserve the luxury of sleeping in. Perks of having an 8 & 10 year old.
I awoke to sounds of screams (the happy kind, not the sad or hurt kind) and as my eyes were adjusting to the new day, a little hand thrust something furry in my face.
"A baby bird!", my daughter exclaimed.
(yay)
Now, let me just say that my daughter has "rescued" many a baby bird in her life. And all of them have died. All of them. We've tried everything. We've fed them, rocked them, put them back in their nest, dressed them in doll clothes, but they all still die. And my daughter had just found another one.
(yay)
After the last baby bird had died, Kevin and I instituted the, "NO MORE SAVING BABY BIRDS EVER" rule. No sympathy over here. It's all 'survival of the fittest' in our backyard.
"But this one's different", my daughter begged. "It's so pretty and it has green feathers!"
Pretty? Green Feathers? What was I thinking! Bring that baby bird right in bed with me. Yep, right on my pillow. It does have green feathers after all. Let me smother my face in it's prettiness.
Um, no.
My son, always cautious, stated, "Wait. We MUST find out which species this is. We don't know everything about it. It could be mean. Let's look online"
This led to a great UNSCHOOLING MOMENT, where they researched different species of birds online and in our encyclopedias. I showed my kids how to search online and directed them to a couple sites, then I went out to milk the goats and take care of our farm duties. (I do the morning farm chores, and the kids do the evening ones).
About 30 minutes later, Ethan came to tell me the bad news.
"Well, we found out what species of bird it is. And it's the most diseased bird in all of Arizona!"
This led to a great UNSCHOOLING MOMENT of how diseases can transfer from one species to another. We had this moment over a vigorous hand washing session, of course.
Unfortunately, when we headed out to the backyard to check on the bird, yep, you guessed it.
It wasn't quite dead, but it was close. It was twitching, couldn't stand and had that "close to death" look. We decided to do some more research to diagnose the bird and after we narrowed it down to 2-3 different diseases it could possible have, we decided as a family we should probably put the bird down.
This led to a great UNSCHOOLING MOMENT where we talked about life & death, how we should be humane when killing animals, and how we should never hurt an animal for fun. We also talked about gun safety (BB gun).
While walking to the back of our property to dispose of the bird, we came across a row of bushes in bloom with hundreds of bees all over them snatching up that bright yellow pollen.
This led to a great UNSCHOOLING MOMENT where we talked about bees and their role in our ecosystem. This also let to another discussion about the mystery of why bees are dying off around the world. The kids were fascinated by this fact, and after disposing of the bird and saying their goodbyes to its pretty green feathers, ran off to research all about bees.



This all happened in about 2 hours, but sparked their interest for the entire day. In the evening, my son was in the corner with a big thick encyclopedia, reading about bees. My daughter also performed a rendition of The Circle of Life to end the day.
What I learned:
I learned that learning is easy and fun and doesn't take all day. I learned that life is fascinating and there is so much to learn if we let nature take it's course. I also learned that I shouldn't let my kids rescue any more baby birds. Our "NO MORE SAVING BABY BIRDS EVER" rule is back in effect.