In case you haven't noticed, burned food doesn't taste too good.
In the beginnings of my real food journey, I produced a lot of burned food. Who am I kidding? I still make the occasional burned food, I'm not perfect! The harsh facts are, eating real food means you gotta get in touch with your cookin' from scratch side (also known as the granny side). Grandma's cooking was always the best, right? Never burnt, always delicious.
True story: My great-grandmother raised chickens. She had them for years and years until one day we came over and there were, like, 10 chickens in her fridge and Grandma frying up some drumsticks on the stove. "Grandma!" we great-grandchildren exclaimed, "What happened to your chickens?!" To which she replied, "Those dang chickens live right outside my bedroom window, and last night they kept cawin' and cawin' and I couldn't stand them loud chickens anymore so I walked out there and wrung each of their necks, one by one. Want some fried chicken?"
Let's just say, after that we were sure not to cross Great-Grandma Alva!
Now, I'm not as good of a cook as grandmother was, but I have come a long way with real food. So without further adieu, I present…
The Busy Mom's Guide to becoming an Expert Real Food Chef!

Rule #1 – Stop trying to recreate every processed food you used to buy before REAL FOOD!

For heaven sakes, if I see one more homemade hot pocket recipe on Pinterest, I'm gonna slap ya'll silly. Yes, even you people who didn't even pin it. I'm just gonna slap you too, because you're here. Here's the thing; processed food is made in a factory. With probably like 100 or so workers. And franken-crazy ingredients. So, just accept the fact that you're not going to be able to recreate Wheat Thins, and Fruit Roll-ups, and Doritos, and Trix-flavored Go-gurts. It ain't gonna happen.
"What the heck, DaNelle! You have a homemade fruit snack recipe right here on yo' blog!"
I know, it's true. I do. But if I'm being totes honest with you guys, I rarely make them & here's why…
When I first became a real foodist, I was motivated. Boy, was I motivated! I made homemade poptarts, and fruit leather, and fishy crackers (yes in the shape of fishies complete with a smiley face), and I effectively trapped myself in real food HELL. I became strangely protective of my homemade goodies. I began to get mad if anybody ate them. I hid them so we wouldn't eat them so fast. Ironic, huh? And, in the end, I decided it was just too much work for this busy momma.
Don't get me wrong, it's not like those homemade goodies aren't healthy. They are! And props to you if you have the time to make them. But here's what I've found and what I tell everybody about real food. It's not about recreating every single dang dog snack in the grocery store. It's about eating real food. And do you know what the most amazing thing about real food is? Once you start feeding your family real, nourishing food, you'll find they don't snack. Hardly ever. It's really spectacular, how much we all used to snack and snack all day, and now it's such a rare occurrence. If we get hungry, we'll have one snack in the afternoon, but usually it's something simple like fruit or cheese or nuts. And let me tell you, it makes my life blissfully easier. So, take it from me, if you're feeling overwhelmed at the thought of having to become that homemade mommy, just relax. I just took a huge load off your shoulders. Just make balanced, nourishing meals 3 times a day, and call it good.
Rule #2 – Meal plan even if you don't want to.

There are two kinds of people in this world, those who like to meal plan and those who don't. Which one are you? Well, I'm definitely a meal planner, but I also get busy and don't always get one written down for the week. (Yeah, totally didn't do my meal plan post yesterday if you haven't noticed.)
When I do actually meal plan, you'll notice that I make it real simple. 'Cause that how I roll. Click here to check out how I do meal planning and see if my style would work for you.
Rule #3 – Get Help.

While a maid would be awesome for all of us, that's not what I'm talking about here. I'm talking about family. You know, those people who live around you that are cute and adorable and you love them to pieces? (Spoiler Alert: they also happen to be the same grubbers you are cooking and cleaning for). Well, I'm here to say if you haven't put those people to work, then you are missing out! Hello, free maid service!
One of my absolute favorite quotes from Joel Salatin, owner of Polyface Farms and author of the books, Folks, this Ain't Normal, You Can Farm , Pastured Poultry Profits , & Everything I want to do is Illegal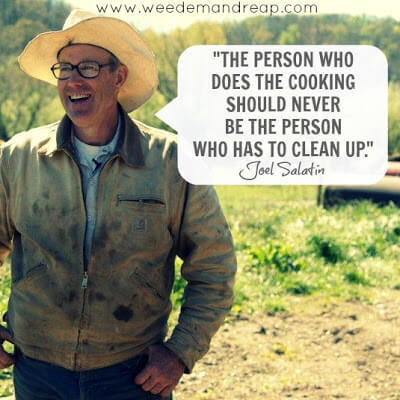 Good gracious, I love that man. Once I heard that quote, I took action. Now, my children do the dishes and Kevin helps me every night with dinner and sometimes (if he can pry my fingers from the stove), I'll let him cook a meal or two alone. As much as I'd like to say that they offer this service willingly and selflessly every time, it just ain't true. I have to ask for help. I have to remind them that I need help. I have to be willing to speak up for myself and not feel guilty about it. And it works. So, if you haven't got your family helpin' in the kitchen yet, I highly suggest it. And bonus, Kevin and I have come to love those evenings we spend together in the kitchen (while we kick the kids outside to play). It's sort of romantic too. That is, if you like that sort of thing.
Rule #4 – Learn to cook from the RIGHT PEOPLE.

Remind me, what's that poem about Pinterest? Oh, there isn't one? Okay, I'll just make one up.
Pinterest is fun.
Pinterest is cool.
But every recipe you make,
Always turns into poo.
Poetry. It's one of my many talents.
I really, honestly can't stress this enough. If you're going to all the work of spending your hard earned money on real food (unless you happen to have 10 chickens in your fridge), then you really need to learn to cook from the RIGHT PEOPLE. It's just no fun to make a dish from scratch and have it turn out like poo. It's also hard to get those loved ones to eat real food poo. (Ask me how I know.)
And that's why you need to get to know Shaye Elliott of The Elliott Homestead.
This girl. I seriously can't get enough of her adorableness. We're bloggy friends, but between you and me, I was her biggest blog stalker before I made friends with her through the blogging world. She's a downright amazing cook and every single recipe I've used of hers is amazing. Every single one. Her buttery soaked biscuits are to die for by the way. Lucky for us, she just wrote a cookbook. Well how 'bout that!
It's appropriately called, From Scratch, and Shaye just put it on sale this week for 50% off. I'd jump on that wagon if I were you. It's full of over 220+ recipes with color photos. She's such an amazing writer as well, and you really fall in love with this girl!
Click here to see more about the From Scratch Cookbook
The second person who I trust in teaching you how to cook real food is….drumroll…
So, what do YOU think? Are you ready to become an expert Real Food Chef? It's easier than you think!