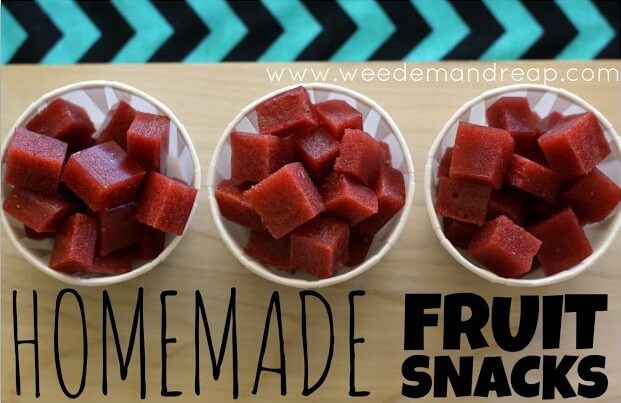 Today I became "that Mom" you guys. I actually made homemade fruit snacks.
Fruit snacks have been a thing of the past over here on the homestead. They're like a long lost friend, one that was bad enough that we needed to leave it behind, but yummy enough that we wish we could still be BFF's.
I decided it was time to make some good 'ol fashioned fruit snacks just like our great-grandma did.  Or did she?  Well, either way these things were delish and BONUS, they provide some awesome nutrients like grass-fed gelatin, which provides the body with a complete protein and even aids with digestion too!
Recipe below, yo…
Homemade Fruit Snacks
4 c. strawberries
1/2 c. lemon juice
8 TBS. honey
1/4 tsp. salt
1/2 tsp. vanilla
6 TBS. gelatin, found here.
Directions:
1. In a saucepan, heat strawberries and moosh (yes, I said moosh) while cooking.
2. Once all mooshed, add lemon juice, honey, salt & vanilla.
3. Slowly,(and I mean slowly) add the gelatin so it doesn't clump.  Cook an additional 2 minutes then pour into a glass pan and set in the fridge for 30 minutes.
4. Use a pizza cutter, or a cuter one such as this to create your fruit snacks.
5. Enjoy!