This Sprouted Hummus Recipe is a guest post written by Maria Allison from the blog, Ten at the Table.
In the past, I have definitely had my share of store bought hummus. I mean, I used to buy a container of the stuff on every shopping trip. So we ate a lot of hummus. Then, when I realized it was way better for you to soak your grains, I found a recipe, made it, adjusted it to my taste, and it was incredibly delicious. We make sprouted hummus at least once a week, and it gets gobbled up rather quickly. It's a good thing it's so easy to make.
If you don't already know why it's important to soak and sprout beans, you should really read this guide to soaking and sprouting grains, beans, nuts, and seeds. But to sum it up, soaking and sprouting breaks down the gluten, phytic acid, anti-nutrients into a more digestible form. It also creates the enzymes needed to digest it properly so your body can absorb a high amount of nutrients, minerals, vitamins.
The process for making this easy homemade sprouted hummus is quite simple, and can be summed up as:
Soak the chickpeas for 12 hours. To soak the beans, all you have to do is put the dry beans in a container , fill it most of the rest of the way with cool water, and let sit, absorb and break down. For a one pound bag of beans I usually use a gallon sized container. After a while you should see a white foam appear at the top.
Drain the chickpeas, rinse and return to the container. Let it sprout for twelve hours, covered with cheese cloth or a kitchen towel.
Cook the chickpeas until they are soft and tender. Which wont take as long as unsoaked, unsprouted garbanzo beans, so you are keeping more of the nutrients this way. You also have the option of leaving them raw, if you like that sort of thing. Really it's your call how you prepare the chickpeas beans in this step.
Process the ingredients in a food processor or a blender (this is my favorite blender) until smooth.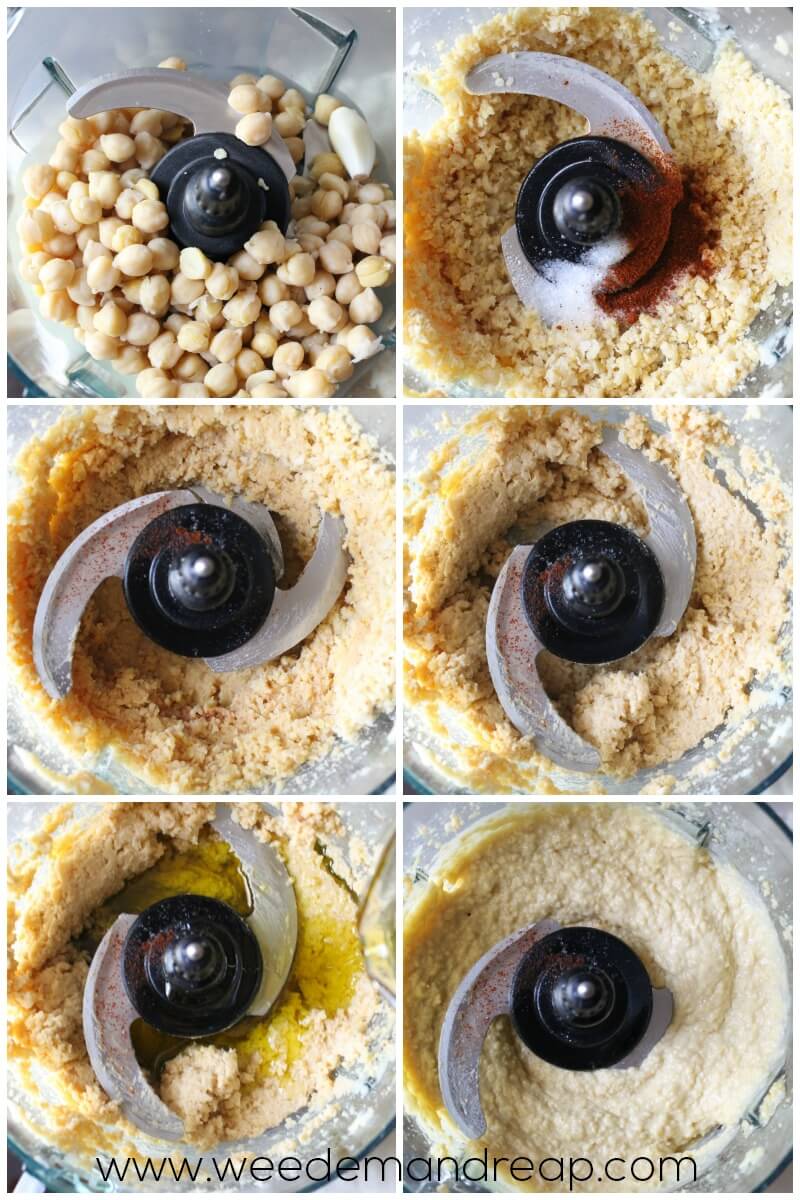 Start by pureeing the chickpeas and garlic together in the bowl of a food processor or in a blender. Add the spices and salt and blend again. Then it's just a matter of adding the lemon juice and olive oil until the hummus reaches a consistency that you like. And that's it. There's a little bit of planning ahead involved, but it's worth it in the end. You can enjoy your amazing hummus with crackers, chips, on a sandwich, with carrot sticks, celery, or even apple. Any way you eat it, it's good stuff and I can never get enough.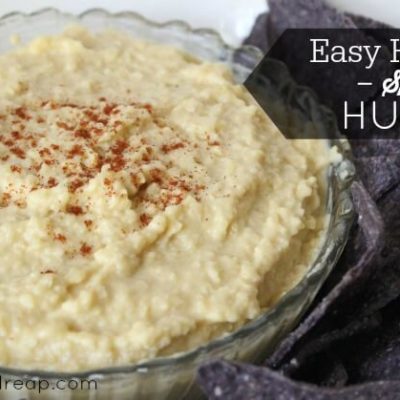 Homemade Sprouted Hummus
Print
Instructions
Place the sprouted chickpeas, tahini, lemon juice, and garlic in the bowl of a food processor or blender. Pulse until well-processed.

Through the feed tube, drizzle in the olive oil while the food processor is running. Salt to taste. Serve immediately or refrigerate.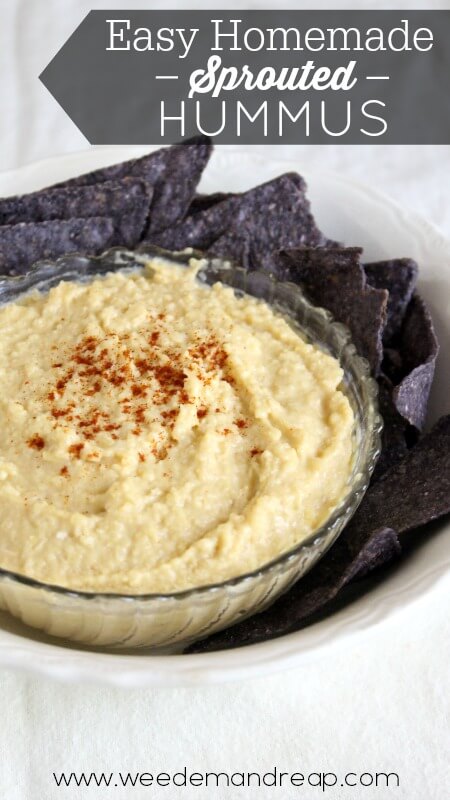 Maria Alison is family-focused Christian, who's finding new ways to feed her family quality home-cooked food on a budget. She understands how difficult it can be to prepare a meal from scratch with such a busy schedule. On Maria's blog, Ten at the Table, you will find time saving recipes that are friendly to your budget and your health.