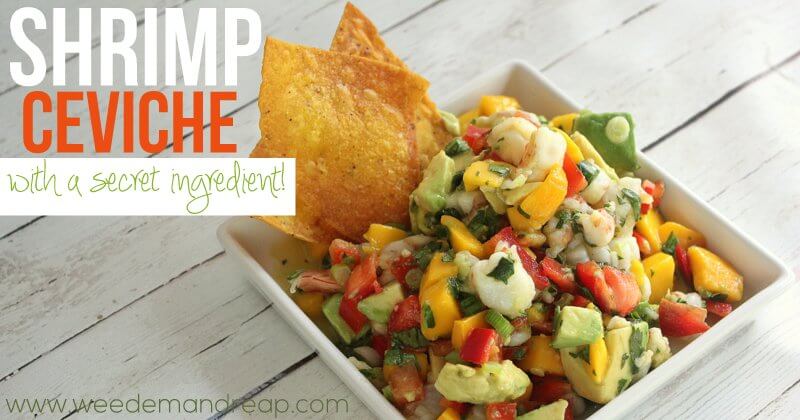 I swear, you haven't taste heaven until you've tried Shrimp Ceviche!
It's like the perfect summer salad of sweet, tangy flavors with a nice salty crunch from tortilla chips! OH YUM, I'm salivating just thinking about it.
I think shrimp ceviche will have to go on my menu tomorrow now. It's THAT delicious. Even my kids devour this stuff, so you know it's good!
What exactly IS Shrimp Ceviche?
Ceviche refers to a raw fish or seafoood dish that is marinated instead of cooked. I know what you're thinking. Stop it. Ceviche is amazing and here's the breakdown of what happens when you marinate it.
Ceviche is typically marinated in the acidic juices of various citrus like lemon, lime, & orange. The acidity in the citrus actually "cooks" the seafood. In fact, it will actually turn shrimp from it's gray color when raw to a nice pink "cooked" color. It's crazy! Within about 6 hours, the shrimp or fish resembles their cooked versions.
Why not just cook the shrimp or fish? Well, my friend, you are leaving out all the goodness that comes from a raw, marinated shrimp. Raw seafood has all the enzymes and co-factors needed to give your body optimal nutrition. It's just something you have to taste to believe! Believe.
My secret ingredient in my shrimp ceviche recipe!
Most shrimp ceviches don't have this one ingredient. I think it adds the perfect sweetness to the dish. It's mangoes. Oh yayuh! Mangoes are the perfect addition to this dish. The tartness of the lemon marinade combine with the sweetness of the mango — you just can't imagine its goodness!
This recipe is so simple and so perfect for a hot summer day. No cooking and minimal prep. Just throw this together, sit it in the fridge and at dinnertime you have it perfectly "cooked".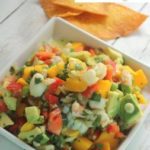 Shrimp Ceviche
A sweet, tart & tangy dish that's perfect for any summer dinner!
Print
Ingredients
4

limes

4

oranges

6

lemons

1

lb

shrimp

, diced

1/2

c

cilantro

, minced

1

red bell pepper

, choppped

4

small mangoes

, diced

1

bunch green onions

, diced

1

clove

garlic

, minced
Optional Homemade Tortilla Chips
Instructions
Juice the limes, oranges, & lemons, then set aside.

Prepare the rest of the ingredients, then pour into a ziploc bag.

Pour the juice into the ziploc bag and seal tightly with removing as much air as possible.

Marinate in the fridge for 6 hours, making sure the juice is covering all the shrimp in the bag.
Homemade Tortilla Chips
Heat coconut oil in pan on stove to at 315 degrees (or just medium-high heat)

Slice tortillas into fourths, and cook in coconut oil until lightly browned.

Remove and sprinkle salt on top of chips.