Hello fellow food and farm enthusiasts, it's Shaye Elliott from The Elliott Homestead!
So glad to meet you… even if it is digitally. I'm always humbled by the community that exists around a common love for animals, farms, and good food. Which is obviously why you're reading DaNelle's blog in the first place! It's a beautiful place to hang out and be inspired. I'm humbled she's invited me to share in a bit of that love.
I brave my honeybees to make this deliciously authentic dessert, but you don't have to! Honey is the secret weapon in this rustic carrot cake and its cream cheese frosting. Who knew eating vegetables could "bee" so sweet?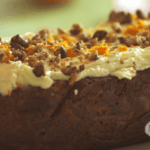 Rustic Carrot Cake
Print
Instructions
Preheat oven to 350 degrees.

Carrot Cake

Combine the butter and sugar in a mixer. Whip until light and fluffy. Drizzle in honey and continue to whip. Add egg yolks one at a time. Add vanilla extract, flour, baking soda, cinnamon, nutmeg, walnuts and carrot. Continue mixing until combined.

Pour batter into parchment-lined or heavily buttered loaf pan. Bake for about 40 minutes. Check if done by inserting a toothpick into the middle of cake. When it comes out clean, remove from oven.

Let cake rest until cooled.

Cream Cheese Frosting

Combine cream cheese, honey and vanilla in a mixer until light and fluffy. Remove cake from pan and spread frosting on top – garnish with walnuts and orange zest.