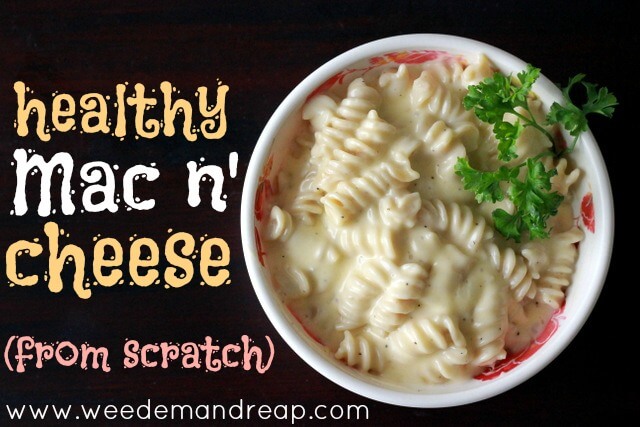 Cheese. Butter. Pasta. More Cheese. Mix it up, then eat it.
Don't cha wish recipes were that simple?
Sometimes I just want food and I want it in my belly now, know what I mean?
The great – no the fantastic – thing about this recipe is that once you learn how to make mac n' cheese from scratch, you can feed your family and their hungry bellies in less than 20 minutes.
HALLELUJAH!
If you're new to real food, this is a great recipe to start with! It's creamy, cheesy, and filling to boot! So, grab some pasta, grab a pot, and get cookin', my friend.
You can use regular pasta, organic pasta, gluten-free pasta, wheat pasta, sprouted wheat pasta, einkorn pasta, spelt pasta, emmer pasta, etc. Basically any pasta. But you do have to pronounce the word "pasta", with an Italian accent. My pasta always turns out better if I pronounce it all stylish and all. It just makes it more legit.
Healthy Macaroni & Cheese
Serves 8
Ingredients:
16 oz. pasta (my latest favorite is Einkorn pasta)
8 TBS. butter
6 TBS. organic corn starch
3 c. whole milk
3-4 c. shredded cheddar cheese
salt and pepper to taste
Directions:
1. Cook pasta according to instructions.
2. In a pot over medium heat, melt butter, then add organic corn starch and stir well.
3. Add milk and bring to a simmer while stirring constantly.
4. Add shredded cheese and stir until the cheese is melted and the sauce has thickened.
5. Remove from heat and add to cooked pasta, then add salt and pepper to your taste.
Now fill your belly with that pasta!