The following Guest Post was written by
Ashlee at The Crunch Moose:
Hello everyone! I'm Ashlee from The Crunchy Moose, a blog about naturally living. I am a stay at home mom who is passionate about whole food and the local environment. I started my natural journey several years ago after 3 years of back surgeries. Making some simple changes in my life stopped the seemingly endless back surgery cycle immediately and I'm now stronger and healthier than the doctors said was possible. I recently sold my retail store to spend time with my growing family. My son was adopted last year and is now 15 months old. I am also a volunteer at a local, organic farm. I grew up in the mountains of North Carolina and now live with my husband & son in the suburbs of Dallas.
My son will be 15 months old next week. He has been a great eater…..until recently. I made all of his baby food and added lots of herbs and spices hoping that we would skip the "plan and dry" stage of toddler-hood. It's not working as smoothly as I hoped. So I'm learning how to hide his vegetables. I hide eggplant in his marinara, stuff his lunch meat with steamed carrots and roll it up, and now I puree radishes in his meatballs.
Today I'm going to show you how to make some stellar meatballs with "hidden veggies".
You can use this "hidden veggie" technique with any vegetable (squash, broccoli. peas, carrots, kale, turnips, etc.). Just add about 1/2 cup of vegetables to the mix. If your vegetable makes the mix too dry, add some olive oil. If your vegetable makes the meatballs too watery and hard to form, add more bread crumbs.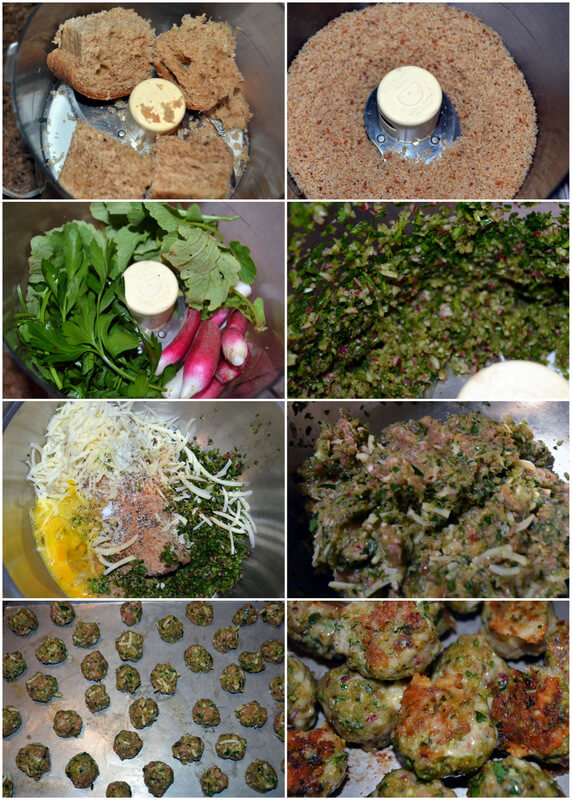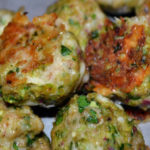 Homemade Meatballs with hidden veggies
Tasty & delicious homemade meatballs the whole family will love!
Print
Ingredients
1

pound

chicken sausage

3/4

cup

fresh bread crumbs

about 3 slices

about 6 radishes with greens

2

tbsp

parsley

1/2

cup

grated Parmesan cheese

1/2

tsp

each of salt

pepper, and nutmeg

1

egg
Instructions
Preheat oven to 400.

Process the radishes, radish greens, and parsley to a food processor.

Combine everything in a bowl. Mix with your hands. It's a dirty job, but somebody's gotta do it! Form small, toddler size meatballs, about 1-1.5".

Place them on a buttered cookie. Space the out so they don't touch. Bake for 12-15 minutes. They are done when they are golden brown.
My son (& husband!) devoured these. I planned on freezing some and having them handy for a couple weeks. But they didn't last even 2 days! Next time, I will quadruple the recipe so I can freeze them. To freeze, cook as directed. When they cool, lay them out on a cookie sheet with wax paper and put in the freezer for about 3 hours. This will let them freeze without freezing together. Transfer to a freezer bag. Thaw by placing the amount you need in the fridge overnight. Hocus pocus, you have homemade meatballs with hidden veggies whenever you need them!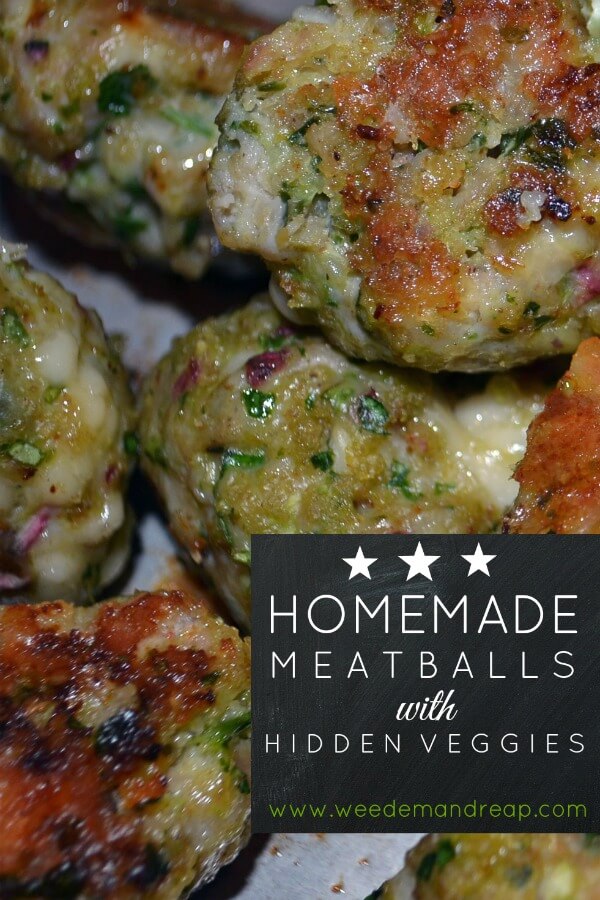 Ashlee is a stay at home mom who is passionate about whole food and her local environment. She recently sold her retail store to spend time with her growing family. She is a volunteer at a local, organic farm. Find her on her website, The Crunchy Moose, and on her facebook page.