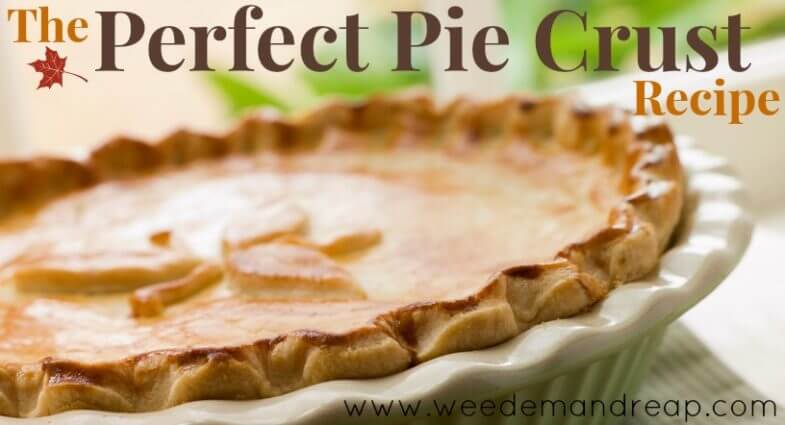 Whoa nelly, have I got a recipe today for YOU!
I know you. You have been thinking about Thanksgiving, haven't you?
You want to make a stellar pie crust, but you just aren't sure where to look.
You want your family to be amazed. You want praise, maybe even a light applause.
I mean, you'll act humble, of course. But inside you'll know you really are kind of a big deal. After all, you've just made the perfect pie crust. I mean, is there anything BETTER than that?
I submit that there is not!
The Perfect Pie Crust
Now, what makes a perfect pie crust, you ask?
#1 – LARD or TALLOW. Yep, that's right. Good old fashioned lard or tallow is the KEY to making a great pie crust. Lard is the rendered back or internal fat from pigs and tallow is the rendered kidney fat from cows or lambs. Now, before you start thinking of the words "cholesterol", "weight gain" or "heart disease", why don't you read my article here on the TOP 3 Reasons Why YOU Should be Eating Lard. That should clear up your worries in a jiffy. If that doesn't help, you can read my other article, How long did your Ancestors live while eating Bacon, Lard, & Whole Milk? That's right folks. Traditional fats like lard, butter, & tallow are healthy, and modern factory-made fats like Crisco, Canola Oil, & Margarine are no bueno. Muy no bueno.
#2 COLD EVERYTHING. Cold lard, cold butter, cold water, & even cold flour are the keys to keeping your pie crust light and flaky. I use cold lard & butter straight from the fridge, ice cold water, and I am sure to freeze my flour in the freezer the night before to make sure it's freezing cold. So, we're all on the same page now, right? Cold everything, got it? Okay, let's get bakin'.
Start with 1 1/4 cups of cold sifted flour and 1/4 tsp. of salt. You can use whole wheat flour if you like,
but I prefer to use half white flour, and half sprouted wheat flour.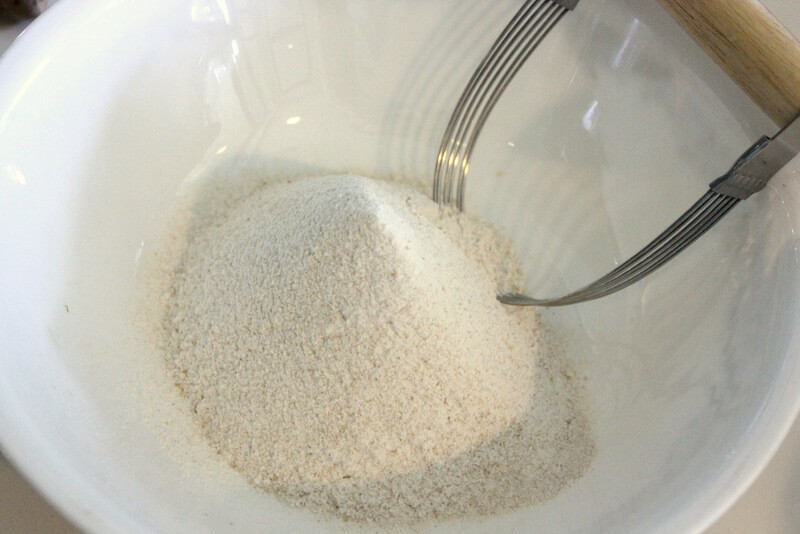 Next, you'll add 2 TBS. of butter and 3 TBS. of Lard or Tallow. I've found this ratio works the best. You don't want to make a pie crust with ONLY butter. Using butter as the only fat will make it TOO flaky and it'll fall apart when you try to slice it.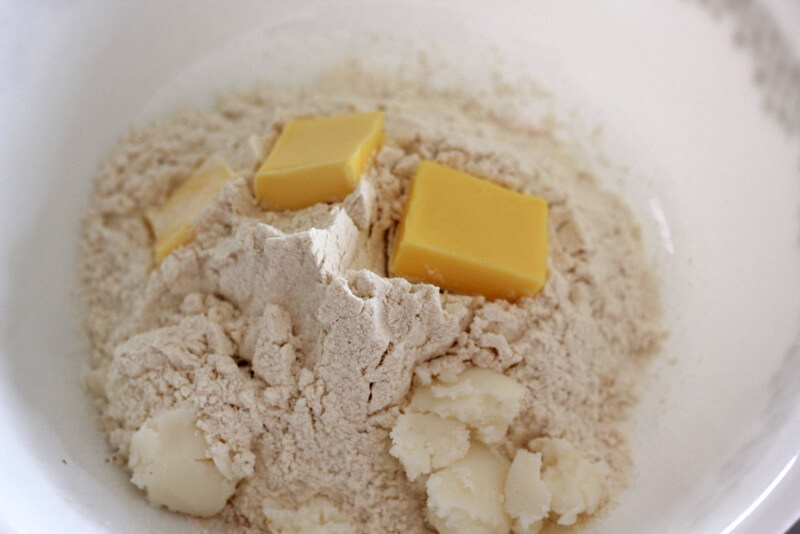 Now it's time to "cut" your fat into your flour. Use can use a pastry cutter or a fork, but either way you'll want to cut it in until you have small pea sized chunks.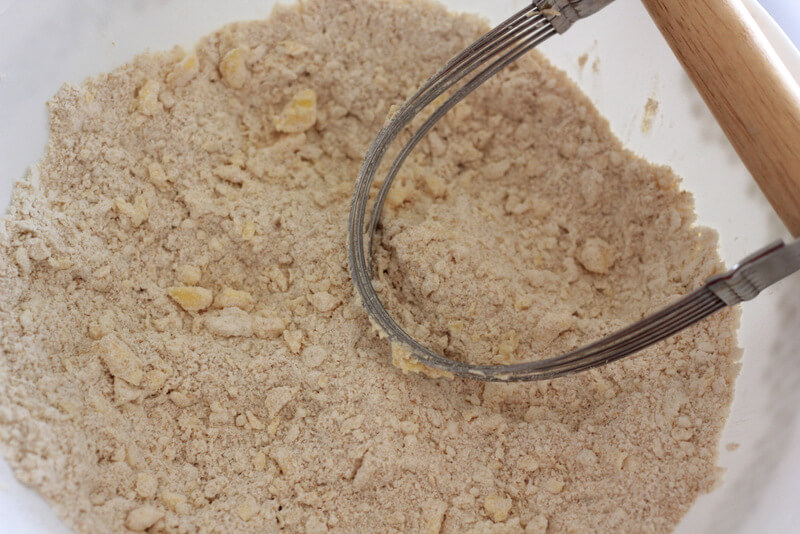 Now you'll add 6-8 TBS. of ice cold water and mix together with a spoon until it comes together. Add just enough water until it comes together. Start with 6 TBS. and then evaluate. Use your hands to form it into a ball. If you aren't planning on baking your pie right away, then you need to refrigerate your dough until you're ready to bake it.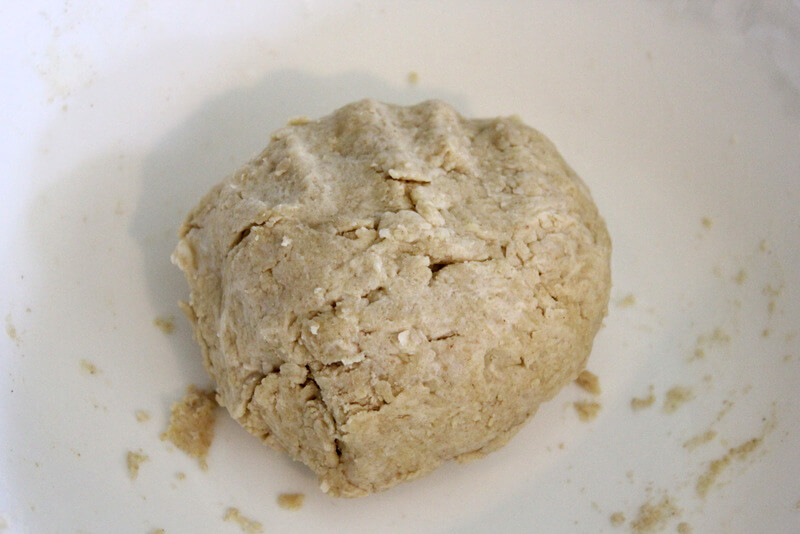 Now this is my Grandma's tip for rolling out the perfect pie crust. Take a fine dishcloth or just a scrap of cotton fabric and dump a handful of flour on top of it. Yep right on top of it. This will prevent your dough from sticking to your counter top. TRUST me, you'll LOVE this method!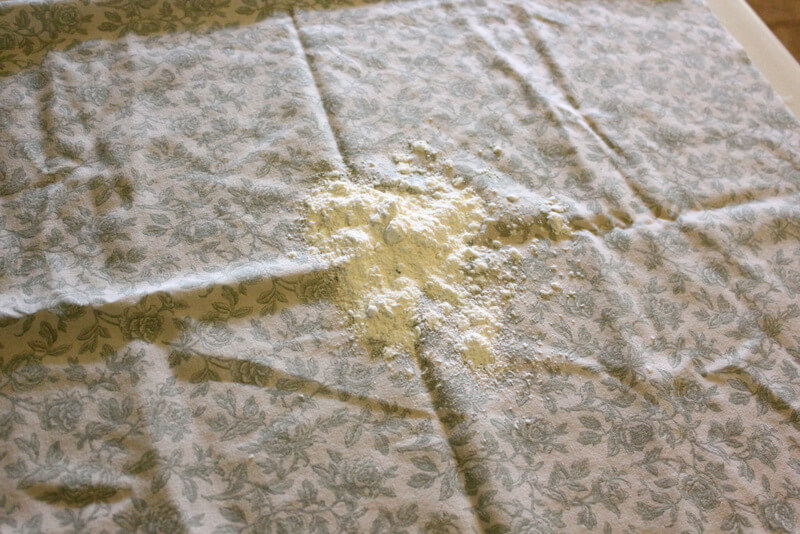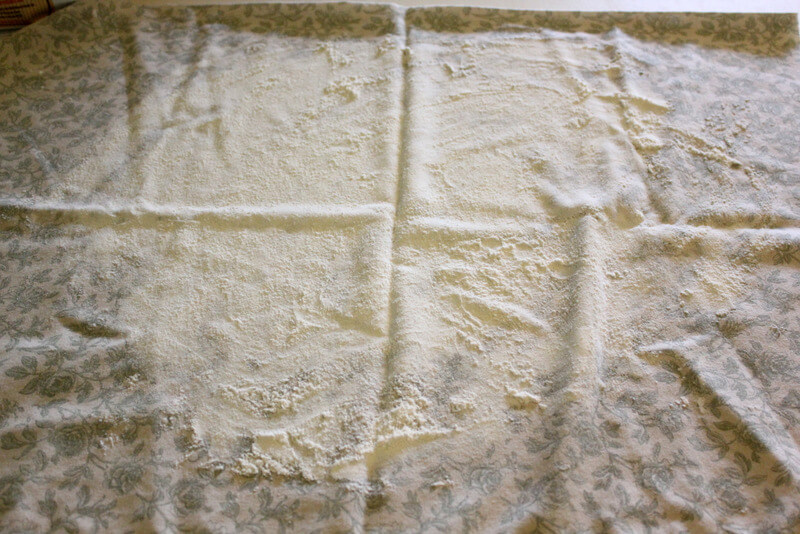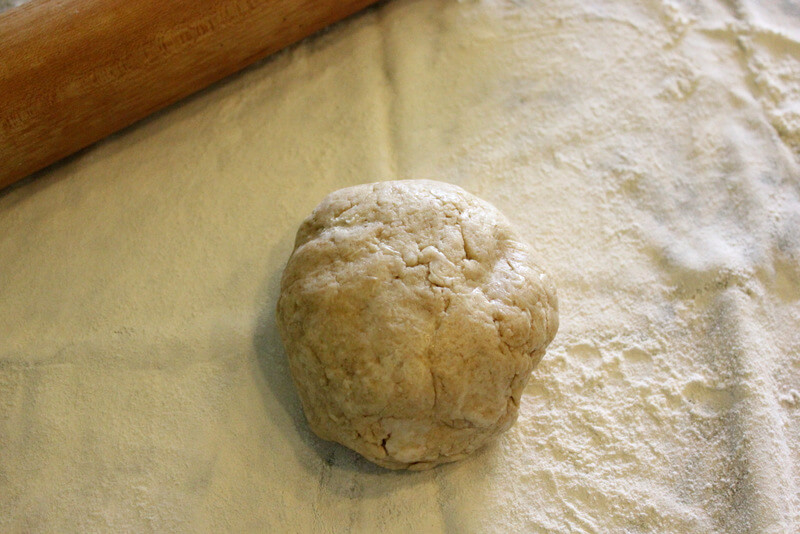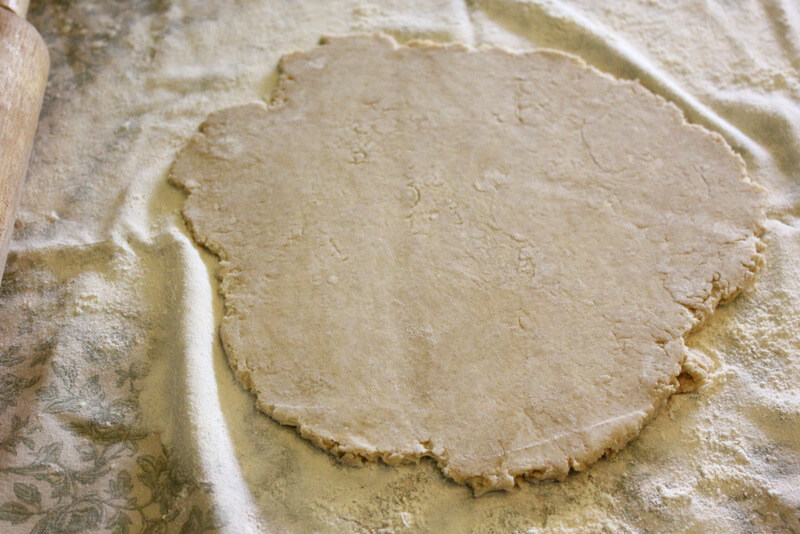 After you've rolled out your dough, you can hold your pie plate right above the
rolled out dough to make sure it's big enough.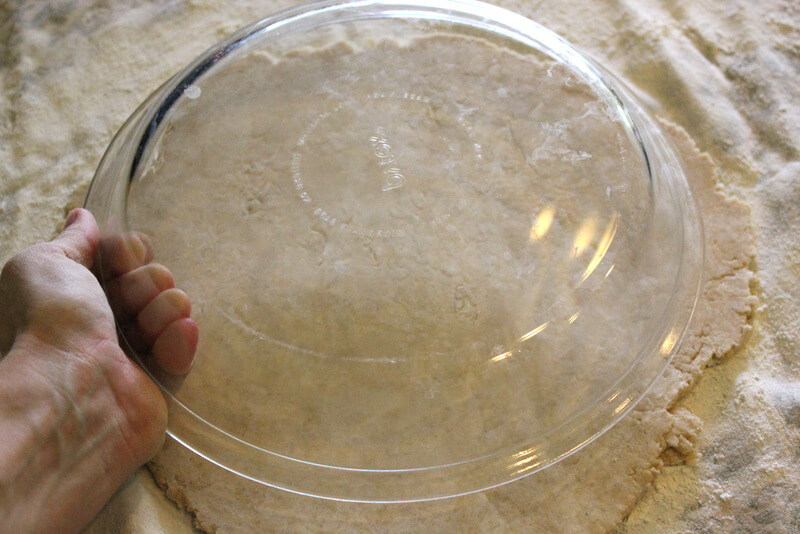 When you're ready to transfer it to your pie plate, simply used your rolling pin to roll it all the way up,
(it won't stick together) and then unroll it in your pie plate.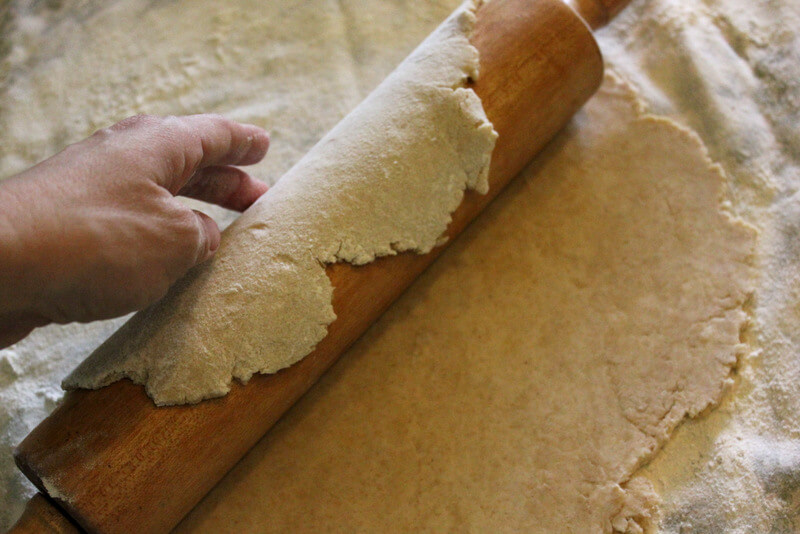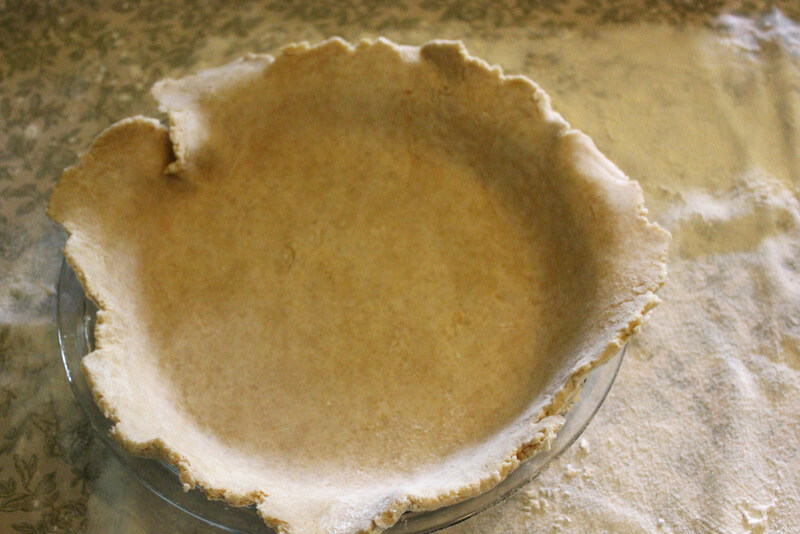 Form the edges with your fingers to make everything smooth.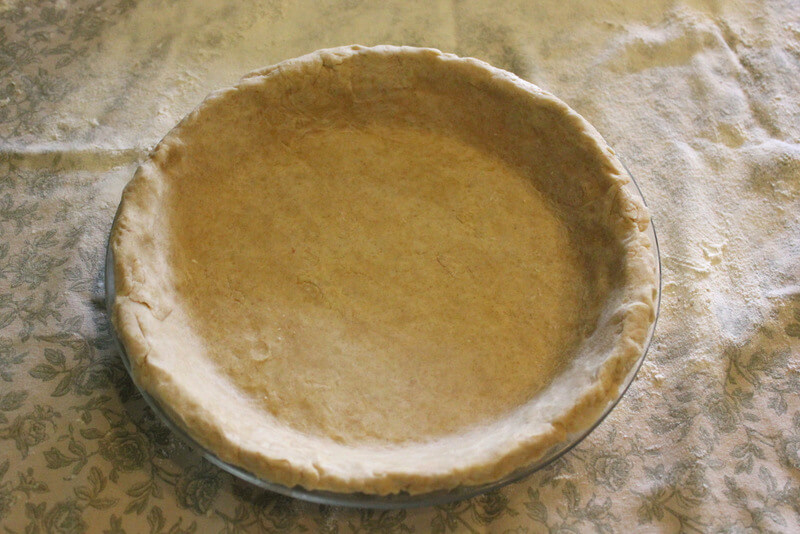 And now you and make any pretty edge you want. Here's my fancy pancy design.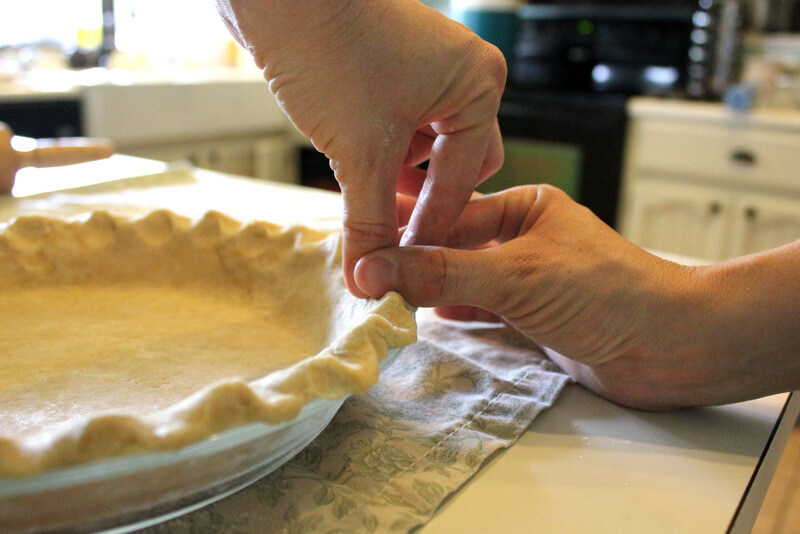 Now, if you're making a custard pie, you'll need to pre-bake the pie crust before you add the filling. You'll also need to add a weight to the bottom so it doesn't rise while baking. You can purchase these pie weights, or you can just use some parchment paper and some dried beans.
A typical custard recipe will have you pre-bake for 15 minutes at 375 degrees and then let cool for 15 minutes before filling.
If you're making a fruit pie with a top crust, you'll need to double this recipe and then you can just bake it straight away.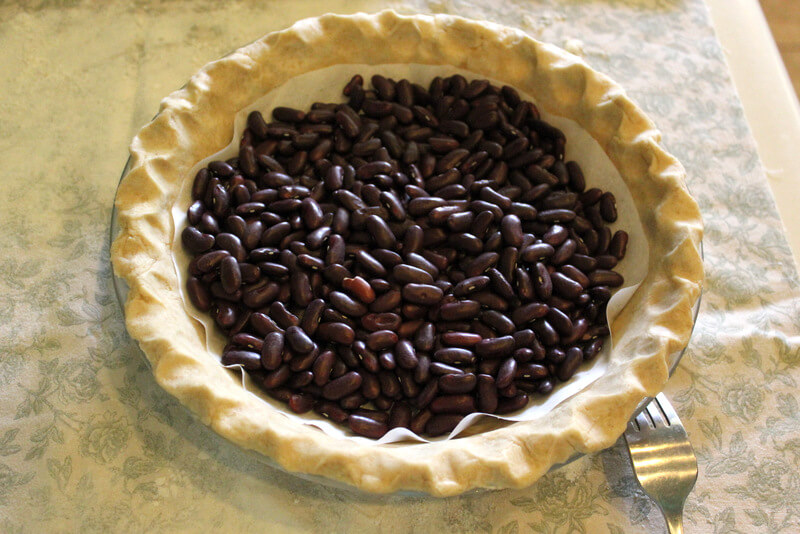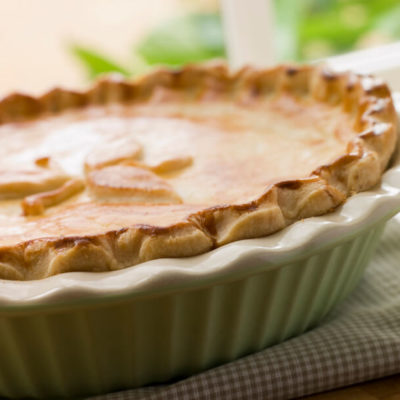 Perfect Pie Crust
A delicious, flaky pie crust, made with real ingredients!
Print
Instructions
Sift flour into a bowl and add salt.

Add butter & lard and "cut in" using a pastry cutter.

Add ice cold water and mix with a spoon, then form a ball using your hands.

Flour a fine cotton towel or piece of fabric, and roll out your dough using a rolling pin.

Once your dough is rolled out to the desired size, use your rolling pin to roll up the dough and transfer to your pie plate.

If you are making a custard pie, pre-bake for 15 minutes at 375 degrees. Be sure to add pie weights during this pre-bake time.