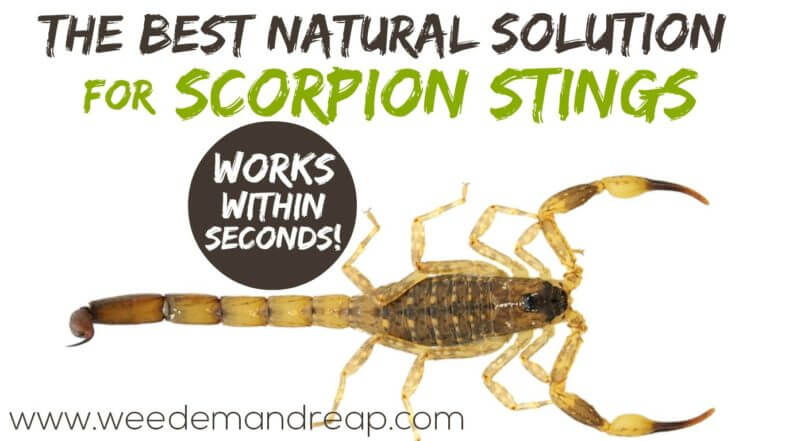 I know two correct things about scorpions.
I hate them and they are evil. I've been stung and let me tell you, it hurts! One little pin prick can turn into an agonizing stinging and burning feeling that can last for days. Did you hear me? I said DAYS. When I was stung on my foot, I felt the stinging rise up my leg to my heart, and that burning feeling lasted for a good 3 days. I couldn't sleep and no amount of medication could ease my pain.
Living here in Arizona, coming across scorpions is pretty common. During the summer months, the scorpions rise out of their evil caves to torture us humans. There IS an anti-toxin that can be administered, but it is typically reserved for children only.
So, what is my natural solution for scorpion stings? Well, let me tell you, when I found this solution I ran around screaming in excitement. Every year we find a few scorpions in the house, and I'm always afraid one of the kids is going to get stung.
Enter the essential oil Frankincense
Frankincense (also known as Boswelia frereana) is native to northern Somalia. The locals use it by grinding it into a paste to support healthy joints & muscles, as well as support a healthy immune response. It has been used by physicians & priests, with notes of its uses dating back thousands of years. In 3000 B.C, Frankincense was more valuable than gold.
Most of the world's frankincense comes from the gum resin tears extracted from trees in Oman, India, Somalia, Yemen and other areas of North Africa. The best Frankincense oil comes from Oman.
So how does Frankincense work on scorpion stings?
Because Frankincense (& other essential oils) are lipophilic, they can absorb into the skin, pass through the cell membrane and work at a molecular level. Frankincense has a very special set of compounds called sesquiterpenes. Frankincense is cherished because of it's unique ability to help with even the worst bites & stings. Many countries use Frankincense for toxic bites of various insects & snakes.
By applying ONE drop to the skin, you can feel normal once again within seconds!
How much does Frankincense Cost?
Frankincense costs 23 cents per drop.
FRANKINCENSE OIL ADD TO CART (free shipping)
Because Frankincense is so valued, a bottle can cost you $93. The benefit of purchasing through me means you can get it for $69.75 instead of paying the $93 retail price. Paying $69.75 for a 15 ml bottle of anything may seem expensive to you, but to relieve a scorpion sting in seconds for only 23 cents, trust me, it's worth it! The good news is that Frankincense has many other uses and shouldn't expire for 15 years!
What other uses does Frankincense have?
Promotes healthy immune response
Immune support
Supports mood stabilization
Support Memory & Focus
Support healthy cell function
Promotes Circulation
Balances emotions
Bug bites, bee stings, scorpion stings
There's a saying in the essential oil world.
It goes, "When in doubt, use Frankincense."
Trust me, if you keep Frankincense on hand, you won't be worried about scorpion stings anymore.
FRANKINCENSE OIL ADD TO CART (free shipping)