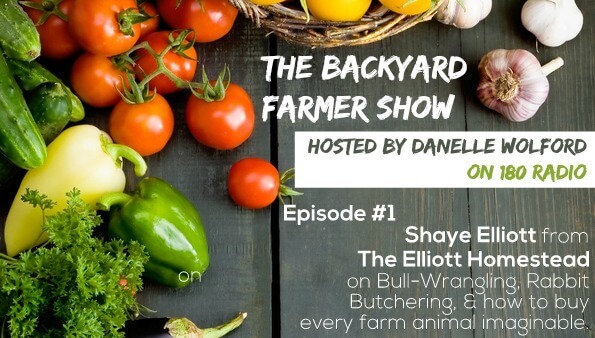 I have incredibly exciting news today!
I was asked to host a radio show on 180 Radio and, well, I said yes! I am so excited I could burst! 180 Radio is a brand new site with lots of amazing shows coming. You know those online conference recordings that are incredibly expensive? Say goodbye to those. It's time to listen directly from your favorite bloggers and listen to the shows YOU are most interested in!
My show is called The Backyard Farmer (because backyard farmers are awesome, of course.)
I will be interviewing fellow backyard farmers for inspiration, advice, tips, and hilarious stories! Come on over to 180 Radio and join me as I learn from fellow backyard farmers who are changing the world, one goat at a time. And chicken. And pig. And cow. And bee.
In my very first episode, I interview Shaye Elliott of The Elliott Homestead!
Master blogger and cow-milker extraordinaire Shaye Elliott of The Elliott Homestead shares with us her deepest darkest secrets — about farming & life on the homestead. From her humble beginnings as a bull-rider, to her amazing rabbit-food-foraging adventures, Shaye takes us right into her home and gives us the scoop on what led her to farming.
Move over men, women are taking backyard farming to a whole new level, and Shaye is the perfect example of a woman who's not afraid to milk a cow (or birth 3 children). That's a brave woman right there.
Join us and listen as Shaye shares with us her tips on how to buy every farm animal possible. Because, farming. Her ambitious drive and contagious charm will have you wanting to be her best friend and follow her everywhere. But not in a weird way or anything. Shaye's newest animals, her pigs, are by far her favorite species on the homestead. She says it's because they are adorable, but we all know by "adorable" she means "delicious".
How to listen to my show, The Backyard Farmer, on 180 Radio
180 Radio offers a FREE 30-day trial, and after the trial period ends there is a monthly fee of $2.99 to continue your full access to all the shows on 180 Radio. Just like any other free trial, you will be asked to enter payment information before it begins. You can cancel at ANY TIME.
It's as simple as that. Just head on over to 180 Radio, sign up for your FREE trial, and listen to my interview & others!
Click here to go to 180 Radio & listen to
my interview with Shaye Elliott!
Here's a treat, you can listen to a preview of our interview below…
Now head over and listen to the full interview!