Remember that time when you were hiking one bright, crisp morning and you came upon a clear, sparkling river?
Remember when you realized you were SUPER thirsty and so you reached down with your hands and took a refreshing drink of that clear, gorgeous water? Ah, wasn't that wonderful?
And then remember when you got diarrhea for 2 weeks because you forgot this was a family campsite and who knows what was lurking in that water?
Don't remember that, eh?
Well, don't worry. You won't EVER have to run into that horrible situation in your life. (Nothing says "Family Camping Fun" like a case of the squirts – family style.)
Big Berkey Water Filters are here to save the day!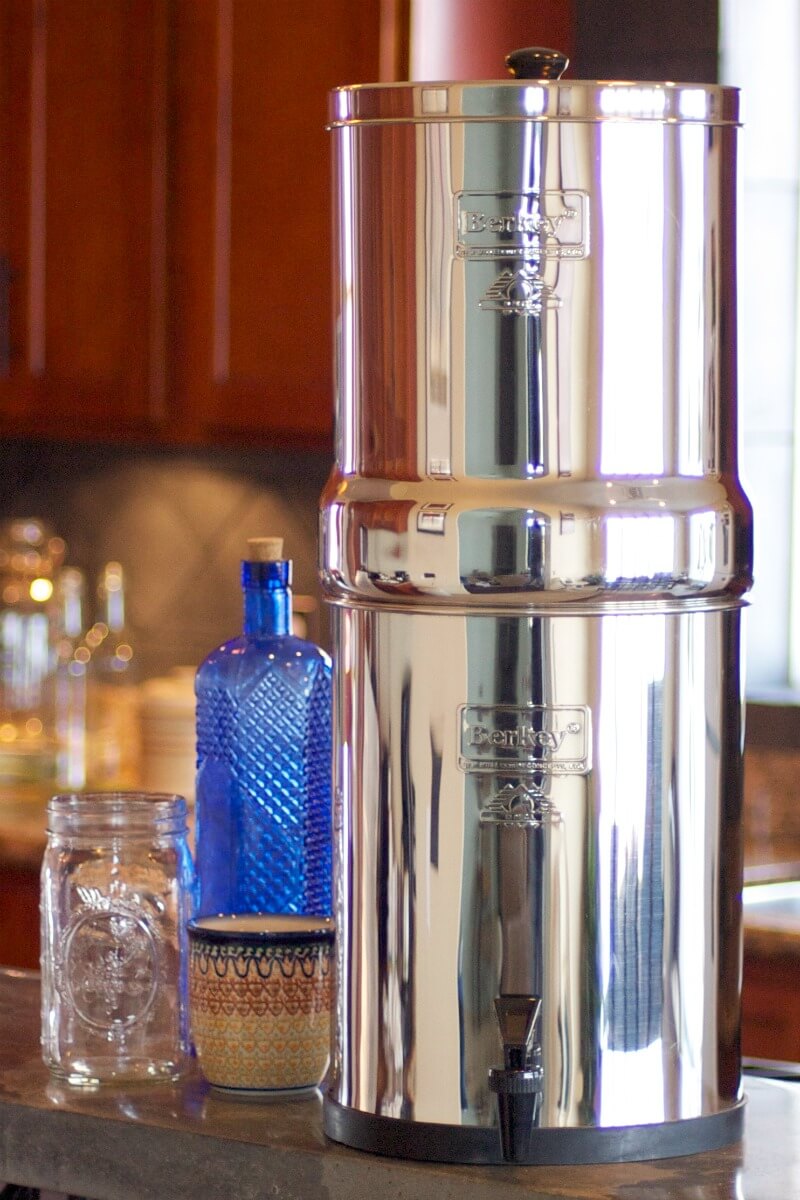 You guys, these Berkey Water Purifiers are AMAZING! They remove chlorine and they also can remove fluoride with the addition of a fluoride filter, and yes, the even remove 100% of pathogens!
Black Berkey® purifier elements are far more powerful compared to competitors' water filters. We tested the filters with more than 10,000 times the concentration of harmful pathogens per liter of water than is required by industry standard test protocols. This concentration of pathogens is so high that the water exiting the filters should be expected to contain 100,000 or more of pathogens per liter (99.99% reduction – the requirement in order to be classified for pathogenic removal). Incredibly, Berkey water filter elements removed 100% of the pathogens. Absolutely no pathogens were found in the effluent or were able to be detected. This set a new standard, allowing us to classify all systems containing the Black Berkey® filters as purifiers. The revolutionary Berkey purifier elements are so powerful they can remove food coloring from the water without removing any of the beneficial minerals your body needs. (source)
What are my THREE favorite things about Berkey water purifiers?
They're legit. (meaning they come from a trustworthy company, and the filters ACTUALLY filter your water exactly like they're supposed to – unlike some other water purifiers) The purification elements that come with the Royal Berkey Water Purifier can BOTH purify treated water (like your tap water) AND untreated water (like water from lakes, streams, canals, & stagnant ponds). Imagine what a great thing this would be for not only everyday use, but also for use in emergencies or while camping.
They're portable! (meaning you can take them with you during the zombie apocalypse. Or less dangerous situations like simply moving out of your home or camping with the fam)
They're budget-friendly! (meaning you won't have to sell your firstborn to afford clean & pure water. Whew! That was a close one!)
And guess what? You're in luck! Because I'm giving away one of these sweet Berkey Water Purifiers to one winner!
How to Enter to win a Royal Berkey Water Purifier