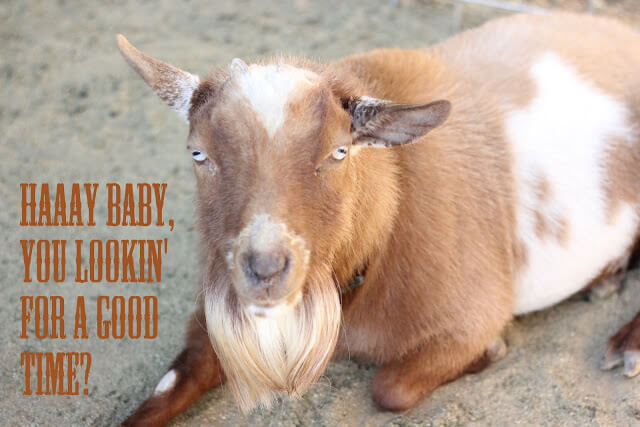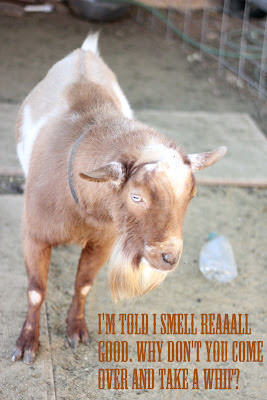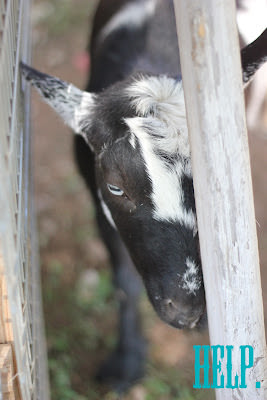 It's breeding time on the farm! Ah,you can smell the love in the air. Wait a sec. No, no that's not love. No. That's the disgusting smell of a buck(male goat). *GAG*
FYI in case you didn't know, BUCKS ARE DISGUSTING. Actually, disgusting isn't bad enough a word to describe them. Revolting, maybe? I don't know. All I know is I never want to own one. That means during breeding season here on the farm, we have to "borrow" one.
To transport goats, I usually just throw them in my minivan. Partly because it takes too much time to hitch up the trailer and partly because I enjoy all the odd stares from other drivers. Mostly it's fun to wave and act like I have no idea a goat is sitting in the passenger seat. Then I look over and act really shocked. How did this get in here?! Then I drive off.
Transporting bucks is another story! It's worth it to hitch up the trailer for them. They are smellier than you can ever imagine. They smell because of their surging male goat hormones. Oh and also because they pee all over themselves. They think this makes them more attractive to the does(female goats). It doesn't.
So…yeah, just be thankful you are not a goat.