Ah, I love the holiday season, but I'm also so glad when it's over! Kevin listens to way too much Christmas music, I know you don't think that's possible but it IS! He even listens to it
after
Christmas. Christmas this year was fun, I think the highlight was making fires in our fireplace every morning. Kevin is so fun around Christmas because he loves to "shop" for the kids. And by shop, I mean frequent Goodwill, Savers and Craigslist. He does seem to find the best toys though, I don't know how he does it. The kids got Zhu Zhu Pets and Pirate Legos and movies and things. Kevin is a kid at heart and can't sleep the night before Christmas, it always makes me laugh. We thought we were being so sneaky for our gifts for each other, but we ended up buying each other THE SAME THING! A toaster oven. So we have 2 really nice toaster ovens. Christmas Day was spent frantically driving back and forth to all the families houses, but that's what makes Christmas fun! Now on to the New Year! A couple days before the New Year Kevin and I decided we needed to paint our house, and we had our good friend Gary Bluth do it. I was going for a gray house with white trim, it's a classic country look, which I love. Here is what I was going for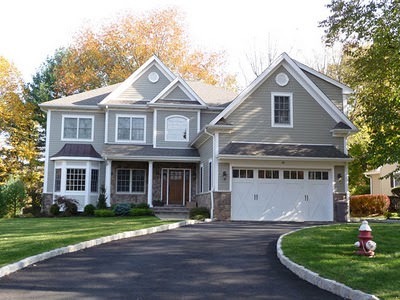 The first day we painted, the gray I chose looked green,
The second day we tried again, and the paint looked blue…(i was in tears at this point) Mostly because I had wasted so much money on paint. Kevin was so sweet he told me to just try again no matter how much I wasted.
The third day, we finally got it right!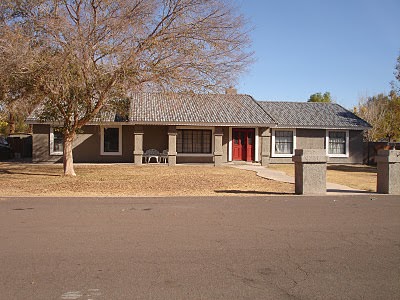 It's kind of a brown gray but I DON'T CARE! At least it's not green or blue or purple! We were so exhausted after doing all the prep work and we are NEVER going to paint our house again!
Now on to the NEW YEAR! Yea! I love the New Year because it makes everything feel different and exciting. I am looking forward to a lot of things. One thing I am so happy about is how good I feel. This past November my Vertigo & Dizziness got even worse and I was feeling really depressed that it's been 4 years and I can't get a diagnosis. I have felt so limited and so alone in my suffering but after a lot of research and talking to family (finding out my great grandma was epileptic) and doctors I was able to get put on an Anti-seizure medication, and I cannot express how good I feel. I just want to cry when I think about it because I had forgotten what it felt like to be normal. I worry about my dependence on this and how over time my body will react to this medication, but I have to live right now and be the healthiest I can. Everybody's resolution is to lose weight, but mine is to just be healthy. I'm so excited for the spring when we can build our big garden and get chickens. And don't forget the goat milk! Life is good and Kevin and I are excited on what this year brings. I can't believe this August Lydia will be in Kindergarten! I hope everybody's Christmas was wonderful and hope you (and me) can stick to our resolutions!